InkGarden Deals & Coupon Codes

All working InkGarden discount coupons and promo code's are listed in the table below. InkGarden offers discounts and promotions for their wide selection of products on a regular basis. This page displays a complete list of all currently valid offers.
To claim your discount, click the red "Apply Promo Code" button on the offer of your choice in the table below. This will take you directly to the corresponding deal, where the discount will be auto-applied in most cases.
InkGarden is one of the best online printing companies if you want to print unique, highly individualized (gift) items such as mugs, iPhone cases, pillowcases, blankets, tote bags, T-shirts and products of similar nature, at very competitive prices.
50% Off Anything at InkGarden.com
1 Use per customer, S&H not included. Expiry: Dec 31, 2014
Apply Coupon
Custom Pillowcases - Just $4.99
Save $17! Use Code: PILLOWFUN. S&H Not Included. Expiry: Nov 22, 2014
Apply Coupon
Custom Placemats - Just $3.99
Save $5! Use Code: FUNPLACE. S&H Not Included. Expiry: Nov 10, 2014
Apply Coupon
Custom Notebook for $3.99
Save $9! on custom notebooks. Use Code: MYJOURNAL. Expiry: Expired
Apply Coupon
Custom Travel Tumbler - Just $6.99
Save $15! Use Code: TUMBLER. S&H Not Included. Expiry: Expired
Apply Coupon
How to Claim Your Discount Code
Claiming your discount is easy, in most cases the discount at Ink Garden will be auto-applied after you click the "Apply promo Code" button on this page. In some cases you need to copy the code and paste it into the "Gift Certificate / Coupon" field at checkout (see the image below).
You can check if the discount has been applied in the "Order Total" collumn on the right side at checkout.
Please note: You will not see the discount right away when you open the site, it will be displayed at checkout.
Review of Ink Garden Printing Services
Inkgarden.com specializes in personalized products and lets its customers create unique designs on a large range of items via their feature rich online designer software.
Their stylish print jobs places an emphasis on the personal touch through highly individualized products, from basic business actions like placing a company logo on a business card to more complex tasks such as putting a family photo on the side of your ceramic mug. The company augments this personal touch by deploying a service model that works with its customers closely in order to ensure that every aspect of the print job goes off without a hitch from start to finish.

Company Overview
Based in Maryland , Ink Garden boasts a database of over 3,500 designs crafted by a stable of professional artists. While they do devote some of the their model to traditional prints such as business cards and invitation cards, their main emphasis is highly individualized print jobs for personal materials and gift items such as mugs, pillowcases, blankets, tote bags, plates, mugs, iPhone covers and products of that nature.
Because they create such specialized products, they created a user-friendly tool that allows customers to submit their own photos and other personalized design items to be incorporated into the print job.
Ink Garden's promise is to provide high quality print products with a low impact on budget. They back up this promise by offering a money-back guarantee if you are not satisfied with the end product.

A few examples from Inkgarden's personalizable gift items.
Services & Specialities
Ink Garden offers a wide range of print services and customizable products. Some of these include:
Office supplies - Examples include business cards, notepads, calenders, and laptop cases
Drinkware - Examples include ceramic mugs, tumblers, travel mugs, and water bottles
Home decor - Examples include blankets, pillowcases, wall decor, place-mats, and tote bags
Apparel - Examples include T-Shirts, Sweatshirts, Hoodies, and Long sleeve shirts
Awards & recognition materials - Examples include wall plaques, canvas prints, and ceramic
As their product range indicates, Ink Garden is not your standard run of the mill printing company. Just like Cafepress they stand out amongst the crowd be-course of their ability to make everything highly individualized and unique. You can design original unique gifts, and turn basic household items into things that capture the essence of your personality. And they make this customization easy for their customers to utilize.
Design Options
Inkgarden's website features an impressive online customization tool for both novice as well as for advanced users, that offers several cool editing tools. Although these tools are supposed to make designing the look of your preferred product simple and effortlessly interactive, we did run into a few problems with their software. However, with the help of their friendly support team these were solved quickly. Problems aside: their software offers a huge amount of options and tools that will push your creativity. When you add their library of 3,500 design templates and their extensive selection of clip art into the mix, you're left with a seemingly endless array of design options to choose from.
What You Get for the Price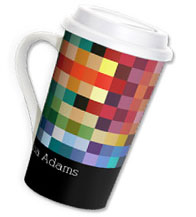 Aside from high quality personalized items in a very wide range, Inkgarden offers a few features that makes them stand out.
Their recently renewed interactive design tool is actually the most feature rich we have seen, and truly it will give you plenty of bang for your buck. But just because you have the power to do things on your own, the design process does not solely rest upon your shoulders.
The company will provide guidance for less experienced designers and can help you with every step of the design phase if wanted, so you can be sure that the product you end up with matches the product that exists in your imagination.
Ink Garden's support team is stand by Mon - Fri (9am - 5pm ET) via phone or Email. And in the event that the product does not turn out as you imagined for any reason, Ink Garden does offer a cost refund.
The Price: InkGarden's prices are reasonable and often the best around. When you are shopping for a personalised item it's worth the effort to compare prices with their main competitor (Cafepress). Without the use of a discount coupon, Ink Garden charges $8.99 for a customized mug - Cafepress's charges $12.99 for the same. For a custom fitted basic T-shirt Cafepress charges $22.99, while Inkgarden's price is $19.99.
Especially with the use of the 50% OFF Coupon that Ink Garden offers, their prices are the best you can find.
What We Like About Ink Garden
We really like the wide array of products that Ink Garden has to offer. The materials that they can use to create individualized products are extremely fun and give the company the impression that they aren't some stuffy entity to work with. This vibe is further extended by the way their website is designed. Going there does not put you in the presence of some cold entity that feels like it is nothing but business. Rather, the overall warmth and easy to follow website makes using the site to find what you need inviting. This is important especially since the site does contain a bevy of interactive design tools.
We also appreciate the site's Tips and Tutorials section; a special place on the website filled with information and ideas on how you can get the most out of your print job - especially when the job is designed to be gifted to large groups, such as employees or business clients. These tools have the potential to inspire you to do some "outside the box" thinking that could in turn boost employee loyalty and strengthen business relationships.
InkGarden Summary
Ink Garden's main forte is providing unique print jobs for unique mediums. While they do offer custom print jobs for more basic needs such as business cards, they specialize in the types of print jobs that provide an individual touch, such as putting a picture on a blanket or scrawling a person's name on an employee of the month mug that you may hand out during your monthly business meeting. While this may seem like fluff to some, the fact is that these type of jobs that Ink Garden specializes have become increasingly important in establishing basic business building blocks like client and employee loyalty, and therefore should not be ignored.
Ink Garden certainly knows the importance of these types of products, and they demonstrate this by offering a wide range of design options for you to choose from. They also make it very simple for you to not only add your own design or logos to projects great and small, but also to play around with them on the website in order to get them set the way you want them to be set. The result of all this is a highly individualized product that is cost-effective in nature, regardless of how big your job order ends up becoming.
Ultimately, this personal touch that Ink Garden brings to the table regardless of the print job is strong enough to make them worthy of your consideration, regardless of what kind of job you want to execute.

Read InkGarden Customer Reviews
Consider sharing your experience with Inkgarden printing services, or are you looking for reviews?
You can read user experiences and customer reviews on Ink Garden and submit your own experience with their services here.
InkGarden Contact Details
Other Useful Resources
User Comments
Saved $19 with coupon, just in time for the holidays!
Posted on December 21, 2014 by Rosanne
Inkgarden are probably my favorite printers. There custom stickers are great for branding packages. The prices are great but I always end up spending a fortune there as they have so much great stuff.
Posted on November 17, 2014 by Alex London
50% off at Ink Garden?! Who wouldn't take advantage of this. I actually used the coupon code to order twice what I was originally planning on ordering. I still spent what I wanted to but I got two times the product and the people at Ink Garden are fast when it comes to shipping!
Posted on October 29, 2014 by Megan Thomas
I just snatched a premium blanket for HALF the price, $33 for a custom blanket really is super cheap! This is the first time I'm ordering something that isn't business related but I couldn't resist when i saw the price! My son will be head over heels with this blanket (I used a karate theme) as he just started taking a karate class and he loves every second of it.
Posted on October 24, 2014 by Kennedy
This coupon saved me $47 dollars on my order! Thanks for posting these!
Posted on October 15, 2014 by Sandy
Submit Your Comment