Moo Promo Codes & Discount Coupons

All MOO discount offers and promo code's are listed in the table below.

Moo offers several ongoing, as well as a few expiring promo offers. We offer a complete list of currently valid promotional deals from Moo. To claim your discount, simply click the "Apply Promo Code" button on the offer of your choice in the table below.
This web-page is updated on a regular basis and lists ALL working MOO Promo Code's and Discount Coupons. Please add this site to your bookmarks for future reference.
MOO is our favourite business card printing company for several reasons. Moo Offers the best Quality - highly customizable - business cards, and delivers a variety of other high quality printed products for individuals and small companies at competitive prices.
20%OFF Greeting Cards
Discount Code: WFDSRC. Expiry: Ongoing
Apply Coupon
Free Shipping
Free Shipping first order (over $40) Discount Code: M2YX6N6. Expiry: Ongoing
Apply Coupon
MOO Business Cards
50 Double sided business cards from $19.99. Expiry: Ongoing
Apply Coupon
Printfinity Business Cards
Every one of your business cards is unique! Best deal! Expiry: Ongoing
Apply Coupon
Mini Business Cards
50 Moo Mini cards 50 (Double sided) from $19.99. Expiry: Ongoing
Apply Coupon
Moo Postcards
10 double-sided Postcards from $9.99. Expiry: Ongoing
Apply Coupon
Moo Stickers
90 Custom Stickers and Sticker books from $9.99. Expiry: Ongoing
Apply Coupon
10% OFF your order
10% discount on anything - Coupon Code: 8yfwcy. Expiry: Unknown
Apply Coupon
How to Claim Your Discount promo
Redeeming your promo code's is easy: simply click the "Apply Promo Code" box in the above list of promo code's. This will open the MOO.com website where the promotion code will be automatically applied. Once you checkout at the MOO website you will receive the discount.

Review of MOO Printing Services
In online printing services, MOO provides some of the most state of the art designs. On each of your postcards, MiniCards, or their speciality business cards, you can have a different background printed using MOO's exclusive Printfinity technology.
So, for each unique business opportunity or client, you can have an array of different business cards ready.
(Learn more about MOO's Printfinity technology in this video).
There are a variety of different services and features that make MOO worthy of your business. Keep reading to learn more!
MOO Company Overview
In a small warehouse space, there were only a few members of the "MOO Crew," the moniker they have bestowed upon their staff, when MOO launched in 2006. Now, with a team that spans offices in Providence, Boston, and London, they have gotten quite a bit bigger.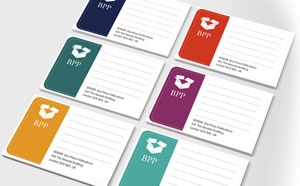 MOO's focus is on making it easier for their customers to share information about their business or themselves in the real world. So, while they offer many other products, MOO is best known for their business cards.
MOO is best known for it's high quality customizable Business Cards
A love of top quality, beautiful printing is what inspired MOO to start up. Their goal is to both improve how they print as well as bring down their printing costs. With remarkable new products that bring unparalleled high standards and great design to the web, MOO aims to set a new standard for printing. And, central to all that MOO does is design.
Moo Services & Specialities
MOO provides a variety of printing services. In addition to printing business cards, they also print custom:
Greeting cards
Stickers
MiniCards
Postcards
Accessories
Letterhead
But, of course, business cards are their speciality and will serve as the focus in this review. To help inspire you in your process of creating your business card, the MOO site has a section showing how other businesses have used MOO's printing technology to market their brand. Software companies, artists, retail stores, and photographers have used MOO business cards as portfolio pieces, promotional cards, gift tags, and product tags.
When compared to their competition, MOO's ready-made business card templates are unrivalled. Professional, modern, and fun are the best adjectives to describe them. MOO only hires talented graphic designers, and it shows. There are also a variety of customization options available. You can choose your business cards to be vertically or horizontally oriented and single or double sided.
What You Get for the Price
If you just look solely at cost per a business card, MOO is more expensive than cut rate printers you can find online. But the quality of the prints and the overall presentation is of a very high standard. With MOO your business cards will have an impact, and people will be more inclined to take your business seriously. With the cheapo printers, - in my experience - your card is much more likely to end up in a trash bin.
Like with anything in life, presentation can mean everything.
For the purposes of this review, I ordered 200 business cards on their classic paper, which currently runs for $69.99. Included in that price is a special business card holder, something you have to pay extra for with other printers. I used to have the boring business cards that were black ink on white card stock.

When I would hand them out at conferences, I would rarely hear back from the potential leads. With the MOO cards, I handed out about 50 of them at a recent conference and was contacted by half. So, instead of looking at the cost per card. Look at it as the cost per sales conversion. You get a good deal with MOO.
Hint: Use the MOO Promo Codes on top of this page to receive a nice discount on your MOO order.
What We Like About MOO
What we like best about Moo is their incredible customer service. This company will go all the way to make the customers buying experience a positive one. Moo is always there to help you, and offers the best customer service of all online printing services in our experience.
Next to that, two of the biggest things that sets MOO apart from their competition is their near field communication (NFC) technology cards and their Printfinity technology.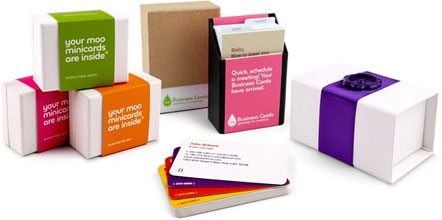 By simply tapping the card against a tablet, smartphone, or other mobile device, you can share your business card information thanks to an embedded microchip inside of the NFC cards. This is great if you are like me, and you convert all of the business cards you get into a digital format.
Moo Pay's great attention to print and paper quality, as well as their packaging.
A unique touch that MOO uses to help their clientèle stand out from the networking crowd is Printfinity. In a pack, you can print a different design or photo on every sticker, postcard, or business card with Printfinity. With this option, you can show off your favorite products, help people remember your business, start conversations, and carry your portfolio in your pocket. This definitely sets MOO apart.
Another thing that sets MOO apart from the budget printers is its high end packaging. Moo pays great attention to detail to their printing jobs, it's materials as well as the packaging of their products.
Summary
The marketing possibilities with MOO's business cards printing services, their bread and butter, are endless giving you the ability to print 100 different images on a pack of at least 250 business cards. Plus, you can also use your business cards to advertise products, display your portfolio, distribute promotion codes, and much more.
With MOO's services, you are not limited in how you use your business cards. By providing customers with modern day marketing tactics (NCF Cards & personalized Business Cards), MOO helps their clients step out of the everyday business world box.
Moo is not the cheapest online printing company, but quality/feature wise, MOO is one of the best online printing services in the industry.

Read Moo Customer Reviews
Do you have first hand experience with Moo's online printing services or are you looking for customer reviews?
You can read user submitted customer reviews on Moo and submit your experience with this company here.
Moo Contact Details
Website: Moo.com
Contact Form: Moo Contact Form
Support: Moo Service Center
Phone: 401 680 4933

Address:

Moo Printing Services
985 Waterman Ave
East Providence, RI 02914.

Hours of Operation

Mon-Fri 03:30am - 9:00pm (EST)
(closed on national holidays)
Other Useful Resources
User Comments
Just ordered new businesscards for my boss and co-workers. Saved $39 on my order.
Posted on January 15, 2015 by Robert
Thanks, saved $17 on my order.
Posted on December 27, 2014 by A Anderson
Funny name, great company to work with. Moo made me some professional business cards and had them shipped to me before the other guys could even come up with a design. I didn't know about the coupon codes before, but now that I do, I will use them on my next orders.
Posted on November 10, 2014 by Mike Edwards
The free shipping code just saved me over $20! The bad thing is that I used that $20 to order more product! Either way, it's a win situation for me and my company!
Posted on November 06, 2014 by Jacob Henson
I haven't tried Moo yet, but seeing the benefits that you get from them is quite attractive. I like having a card that will stand out without being gaudy. I need something that will bring that kind of return on investment. I know now that most of the cards I give out now get thrown out into the garbage and don't get used, which is a waste of my money. Something that I can't afford to lose. I'm thankful for your review and information along with the coupons, which will save me more money in the long run. Thank you for the information and the savings to come.
Posted on November 05, 2014 by Sarah Thomas
Nobody has better letterhead and business card graphics than Moo! The discount coupon saved me some money and introduced me to a company that I had heard good things about but never used. The shipping took longer than I had anticipated, but the cards were well worth the wait.
Posted on October 29, 2014 by Joseph Harrison
Has anyone else used PrintPlace? I just used one of the coupon codes there and am not sure if I placed my order correctly. They have some beautiful graphics and good ideas, but their site confused me a little.
Posted on October 27, 2014 by Francis Woods
Thank you for the coupon code! I just used one at MOO and saved a ton of money! Still even with the discount these business cards are a lot more expensive compared to Vistaprint where i usually order. I hope the cards from MOO will be worth the extra investment. Keeping my fingers crossed & i'll submit a review when they arrive.
Thanks, Sarah
Posted on October 26, 2014 by Sarah Evanston
Wow, nice discount coupons, I'm super glad I decided to look for coupons before ordering. Usually I rush into placing the order and then I happen to bump into a huge deal and get super annoyed. I used the postcards coupon and saved a nice amount.
Posted on October 24, 2014 by Brooke
I use Moo for all our companies business card printing needs, they simply are the best. Thanks for posting the "Free shipping" coupon! Saved me a nice amount of cash!
Posted on October 17, 2014 by J Marshall
Submit Your Comment