NFC Business Cards Explained
Posted by Pascal on September 04, 2014
---
Near Field Communication, or NFC, is a wireless communication protocol used by many smartphones on the market today. Now, the technology is making its way to business cards.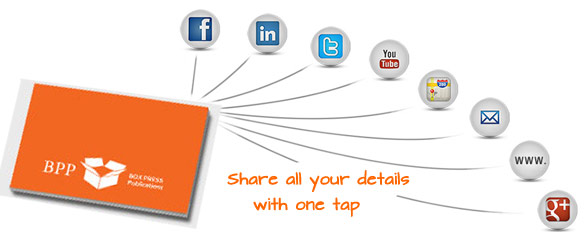 NFC enabled business cards can share all your contact info in one tap.
Quick Tip: Looking for the best business cards? Check out our reviews of the top business card printing services. Prices start at $0.10/business card!
If you have ever sent a photo to a friend by touching your phones together, chanches are, you have already used NFC. The technology was developed for touch-less payment systems, so you can store your payment information in your phone and pay by waving your phone in front of a terminal. Now you can buy NFC enabled business cards that allow you to share any data with mobile phone's and other NFC enabled devices.
QR Codes are on the way out, NFC is a new and approved approach to that concept. this posts explains what you can do with NFC technology and why it's better then QR codes or bluetooth.
How NFC Works
NFC is a way to send data from one device to another using radio waves. Though similar to Bluetooth technology, it is much faster and consumes far less power.
The two devices must be close together. NFC does not work over long distances. NFC only works if the two devices, are within a few centimeters to a few inches away from each other. Passive devices, such as NFC tags and chips, can be used to send information to other NFC devices without their own power source.
How NFC Business Cards Work
An NFC business card is like having a third side your card, on the inside of your card. There's a small microchip embedded in the card, and this microchip tells a smartphone what to do, whenever it is touched to an NFC compatible phone. You control what the NFC chip is told to do, so you can put your business card to work doing more than saying who you are, what you do, and how to reach you.
Let's say you just handed a prospective customer your business card. You tell him about the NFC chip, so later on, he remembers he has the card. He touches it to his phone, and bam! The information you want him to see loads on his phone instantly.
Since the chip itself only holds a small amount of information, it is best to call for the card to pull information from the web. NFC chips have a very small amount of usable memory. Each chip only holds about 137 bytes of information, which is roughly 137 characters. This gives you enough room for a highly complex web address, so you can send your prospects off to pretty much anything you want.
When you order your NFC business cards, you will get an NFC app that will let you reprogram the NFC chip over and over again, changing what it does as often as you would like. Plus, you do not have to be highly tech savvy to learn how to use the app to reprogram your NFC data chip whenever you want.
What are the Benefits of an NFC Business Card?
NFC business cards have numerous benefits to you as a business owner.
You can update the chip to change what it does as often as you need to. If you want it to point to your portfolio today, great. If you are working on your portfolio and don't want it to be the first thing someone sees right now, simply change the NFC to point to something else until you are ready for your portfolio to be viewed again. You could change it to a map of your store location, with your store hours. You could change it to a video promo about your business. You could link to your social profiles, making it easier for the card recipient to engage with you there. Grab the potential customer with social media from the instant you meet them, instead of hoping they will remember to look at your Facebook page later.
The possibilities of NFC Business cards are virtually endless.
Your cards are never outdated. You can control what information people get from the card even after you've handed it out. There is no need to worry about sending your cards to reprint if you change your location or phone number.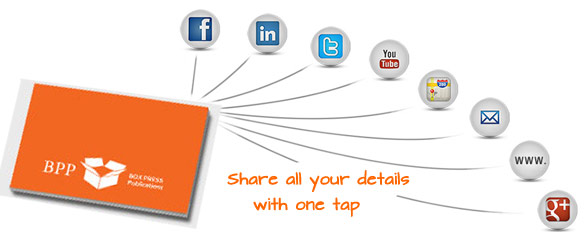 Perhaps the biggest benefit of NFC business cards is that once your card is touched to a person's phone, you are added as a contact in their phone, so there is no need to worry about them losing your contact information. When you are in their contacts, they see your name and number each time they go through their contact list to make a phone call, which keeps you at the forefront of their mind.
You will be miles ahead of your competition. You will stand out from the crowd. Your contacts will remember you because of how unique your business card is.
What Can You Do with an NFC Business card?
Send people to a registration form that will sign them up for your email list.
Send people to a web page of your choice
Send people to alternating content.
Send people to your contact information, Facebook page, Google Plus Profile etc. etc..
Send people to download your app.
Send people to a discount coupon or special sale that they will not find anywhere else.
Tap to Call
Tap to Email
Tap to Text message
Where Can You Buy NFC Business Cards?
MOO is currently one of the only places where you can buy NFC business cards. Their program has yet to launch, but you can enter your email address to be notified about when the cards will become available. You will want to get your hands on them soon, because they will become mainstream quickly once they start to catch on.
NFC business cards could change the way you think and feel about handling your business cards. The quick-response (QR) code once was the way to allow users to load information from your business card, but this is like a new and approved approach to that concept. Instead of having a code that goes to a single place (the cards and code would need to be re-printed if a change was made) that you cannot change after the card has left your hands, the NFC chip gives you the same functionality of accessing online information from the card, with the freedom and flexibility to make changes after the fact.
Related Posts
» Best Business Card printing companies reviewed.
» Inspirational Business Card designs.
» Dimensions and Standard Business Card sizes by country.
User Comments
Leading NFC Business Cards supplier in the USA. http://www.nfcbusinesscards.us
Posted on January 16, 2015 by NFC Business Cards
Submit Your Comment