2014's Best Business Card Printing Services
When you are on the market for business cards, there are a lot of companies you can choose from. Obviously you want the best quality for the best price.
In this review we are taking some of the guesswork out of it for you, by comparing business cards from the top online business card printing companies: MOO, Vistaprint and Overnight Prints.
Review Background
In August 2013, Lifehacker conducted a Poll amongst their users, asking them to vote on the best business card printing company. Almost 3000 people participated in the Poll. Moo came out as the big winner of this poll, earning almost 56% of all votes (1637 votes). Vistaprint ended second with 26% of the votes (765 votes) and Overnight Prints ended on the 4th place with 6% of all votes (172 votes).
For the purpose of this review we ordered business cards from MOO, Vistaprint as well as from Overnight Prints.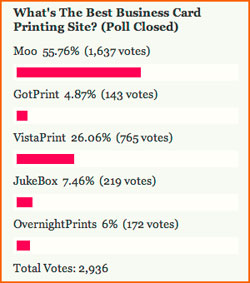 Lifehacker Concludes: "Moo easily took the top spot with close to 56% of the overall vote. The service, which offers great customer service, a broad set of designs and card options, and great-looking cards that you can customize almost every inch of, took the lead early in the voting and just never gave it up.

In second place with 26% of the overall vote was the budget-friendly VistaPrint, which offers super-cheap (and in some cases, free) business cards if you have the right coupon codes."

All three companies offer ready-made business card designs, and the ability to upload a fully designed card. All three companies offer discounts for quantity, but let's take a closer look at what you can expect from each.
Moo Business Cards
Moo business cards are priced about three times higher than Vistaprint and other business card printers. They promise an exceptional value, and they do offer a quality product. But, for those who are just getting started, it can be hard to justify the expense.
A single set of 50 business cards, the lowest quantity you can order with Moo, will cost you $19.99. If you need to add rush printing, this will cost an additional $14.95. Standard shipping and handling, which averages 9 business days will cost additional $5.50. This means, without rush printing, your order will cost: $25.49. This comes to a cost per card: $0.50 (price without the use of a Moo discount coupon).
The more cards you order, the cheaper the per card costs becomes. The most you can order at one time is 8,000 cards, which will cost you $1840, plus $9.75 shipping and handling, for a seven day turnaround. If you need rush printing on a job at this scale, you will have to pay an extra $40. Without rush printing, the cost per card is: $0.23
Moo offers a variety of cardstock choices, giving you the ability to create a thicker, more durable card. While this is a nice touch, it comes at a premium ($34.99 for 50 cards), which makes the cards even less affordable for those who are on a budget. They also offer a line of "green" cards that are printed on durable recycled stock, at $22.99 for 50 cards.
Our Verdict
| | |
| --- | --- |
| | Ordering at Moo.com was a fun and straight foreward experiance. Their online design tool is a breeze to work with and the whole order process was by far the most aesthetically appealing of all three companies. |
| | Delivery took 5 days after we placed the order, which was much faster then expected. Moo obviously has eye for detail, the enveloppe and packaging is very appealing. The cards come with a nice businesscard holder at no additional cost. |
| | The Quality of the business cards is very high. Accuracy of the printed colors was perfect and bright. Cut was perfect, and the feel of the card stock and the finish are definately of the best quality you can get. |
| | Moo's Business cards were the most expensive in this review. But the quality of the cards is impeccable. If price is not an issue, MOO is the best choice for printing your Business cards. |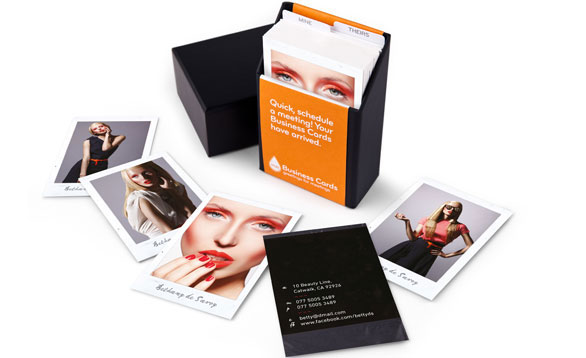 Moo perfectly packaged cards in free holder.
VistaPrint Business Cards
While VistaPrint does offer a small selection of free cards to help get you started, we're taking a look at their Premium business card selection. In addition to the ability to upload a completed design or logo, or to design your own logo right within VistaPrint, they also have a number of pre made templates you can use. For $20 plus $4.99 shipping and handling (slowest shipping speed available, 8 days), you will get 250 cards. This brings your cost per card to: $0.10 (price without the use of a Vistaprint discount coupon).
The more cards you order, the cheaper the cost per card becomes. The most you can order at one time is 10,000, for $160. Since shipping and handling costs are based on the total cost of the order, you will pay an additional $12.99 on orders over $100. This brings your total cost per card to: $.017. That is less than two cents per card, and significantly cheaper than the cost of the Moo card even at high quantity.
Another thing to consider is the fact that VistaPrint now offers metallic finish cards. This is a nice touch to make your card stand out from the competition. Though the cards usually start at $40 for 250, using a coupon code will bring them down to $25 for 250. That is more expensive than what you would pay for the standard VistaPrint cards, but still the same price you would pay for only 20% of the cards you would get with Moo.
Even though you do not get a choice of card stock with VistaPrint like you do with Moo, the cardstock you do get is still a highly durable, professional looking card. Spending a few extra dollars on just 50 cards, adds up quite significantly if you were to increase the quantity to the starting point of 250 cards you get with VistaPrint.
Our Verdict
| | |
| --- | --- |
| | Vistaprint's online design tool was fun to work with and their site is surprisingly easy to navigate. Our order ended up somewhat frustrating as we were bombarded with all kinds of upsell and cross sell offers before we managed to check out. |
| | Delivery took 7 days after we placed the order, which is an average turnaround time expected. Vistaprint delivers the business cards in a simple rectangular postal box which contains a smaller cardboard box that holds the business cards. |
| | Clarity of the colors turned out perfect with Vistaprint and the cut was perfect. Unfortunately the colors were not very accurate. The base stock card feels rather thin and flimsy. |
| | Vistaprints offer the absolute best price for business cards while quality is very respectable. If you are on a budget you will get great value for money at Vistaprint.com. |
Overnight Prints Business Cards
Like the other companies Overnight Prints offers the possibility to upload your own design, or you can choose from several thousands of pre-made business card templates. A third option is to start from scratch and create your own design in their online designer tool. Price for the minimum amount of business cards you can order (50) is $7.95 which comes to only $0.16 per card.
Like with the other printing companies, price per business card decreases significantly if you order a large amount of cards. If you order 5000 cards (currently the largest quantity option) you pay $80.45 which comes to $0.016 per card (less then 2 cents per business card).
You can add a glossy UV coating and rounded edges to your card optionally. This does increase the price slighly but especially the coating will make your cards look professional. For the purpose of this review we ordered the standard cards.
There are several delivery options to choose from at Overnight Prints. The "ground Economy" shipping option is cheapest ($5.34) but it takes a whopping 23 days before the cards will be delivered. We needed these cards quick, so we choose their most expensive "Next day Air" shipping option. This added an amount of $34.06 to our order total.(almost 5 times as much as the actual card costs).
This raised the price per card to $0.81 (next day shipping included).
Our Verdict
| | |
| --- | --- |
| | Overnight Prints advanced online design tool was relatively easy to work with and offers a large amount of options and templates to choose from. Checkout process was pretty straight foreward. |
| | Delivery took 2 days after we placed the order. We did pay extra for rush delivery. This is the fastest turnaround time we have ever experienced with any online printing company. Our businesscards were delivered in a cardboard box that holds the business cards tightyly. |
| | Frankly we were not happy with the print quality. The clarity and colors were not upto our standards, the biggest problem however, was that Overnight Prints had resized our design. |
| | Overnight Prints cost per card is high if you opt for "next day air" shipping but, delivery is crazy quick. We found quality to be sub-par. Prices are much lower if you choose standard delivery, but if you are not in a rush, frankly there are better options. When in a rush consider buying your business cards from Overnight Prints. |
And the Winner is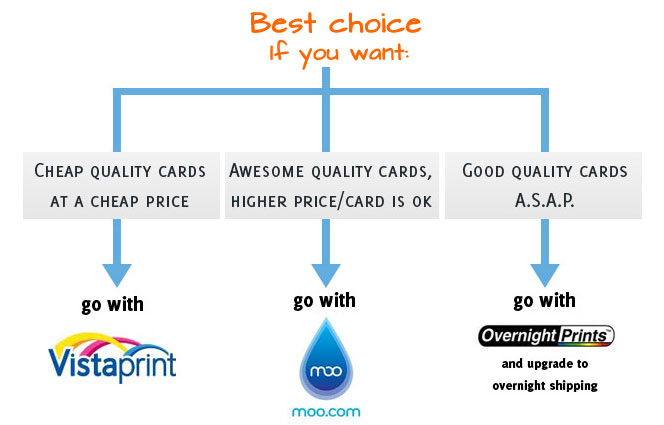 If you are on a budget, then Vistaprint is definitely the way to go. You will get a good quality business card that will likely land you a nice return on investment, and you will get it at the best possible price.
If you need the best possible quality and customer service: Use Moo.
If you need good quality business cards real quick, then Overnight Prints is the way to go.
Using coupons can save you lots of money, so make sure to check the current deals and discount offers before ordering.
Related Posts
» 27 Inspirational business card design idea's.
» The future of Business Cards: Near Field Communication Business cards.
comments powered by