Overnight Prints Postcards Promotion
Deal: Get cheap Postcard printing with Overnight Prints: 58% Discount coupon.
(1000 premium custom postcards (5x7Inch) for $96.35 only).
This post is for you if you want to use a classy way to reach friends, family, or customers.
Whether you are a business or an individual, more and more people are using the internet to send correspondences. Companies hope to attract more customers by sending out emails that often just end up in spam folders, and messages from friends on social media are mostly read trough quickly and briefly.
Digital communication has become less personal and more distant. If you have an important announcement to make, what is more personal then a paper printed postcard or invitation card? Paper postcards are simply a lot more personal and will bring a message across far better then digital postcards.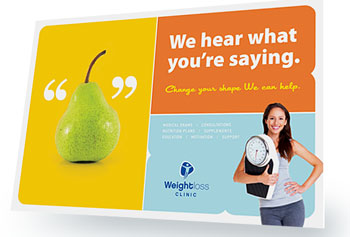 Graphic designers and small businesses have known about Overnight Prints for years now. Now, slowly consumers are turning to them for their personal needs as well, and for a good reason:

Overnight Prints offers excellent quality postcards printed on environment friendly paper at very competitive prices. Postcards are becoming one of the more popular offerings available from Overnight Prints. And, currently, they are offering a discount coupon that saves you 58 percent off postcards.
Postcard design by:Stock Layouts.
If you need postcards done quickly and correctly, you may want to consider this offer.
We will give you information about personalization options and go into detail about what this offer entails in this post. If you do not have any particular interest in postcards have a look at other offers from Overnight Prints.
Postcard Styles and Options
When you want to reach people, postcards are a highly efficient and effective way to do so. You will get the best quality postcard printing using environmental friendly methods and materials delivered on time at Overnight Prints, whether you are announcing your wedding date or promoting your enterprise.
Starting with the classic 5" x 7" and 4" x 6" formats that are great to send as appointment reminders and to promote sales, Overnight Prints offers an array of six postcard sizes. You can help your message stand out from the crowds with the 5.5" x 8.5", 6" x 11", and 4.25" x 5.5" sizes. If you are interested in sending flyers, the 8.5" x 11" handbill sized postcard is your best choice. And the 4" x 9" rack card is ideal for panoramic scenes.
Design Options for Postcards
There are three main ways you can design your postcards:
Online Template Designer
This online design tool allows you to create your postcards quickly. First you select a background that you want to use, then you choose a preferred pre-made layout that you can customize with your own texts. Frankly this tool is rather simplistic and not suitable for creating advanced designs. Also the thousands of design backgrounds seem a bit outdated.
Online Advanced Designer
The "Advanced Designer" is our preferred tool if you want to create your Postcard online. This feature rich design tool offers great freedom in designing your perfect Postcard. You can upload your own images, rotate them and make them (semi) transparant. You can freely add texts, choose preferred font and size, and you can add shadows as well as shapes.
This tool automatically add's a bleed to your design, so you can be sure that the printed card turns out the way you intended it.
Upload Your Design
The best option for graphic designers and professionals who created their own postcard design.
After you choose the size of your postcard you can upload your design file. Accepted file types are: PSD/PDF/AI/Word and (surprisingly) .jpg. Make sure your document is set to 300 DPI resolution, uses CMYK colors and has a popper bleed area. After you upload your design you will be shown a preview on how your postcard will turn out. Once you accept that, select the amount of postcards that need to be printed, and you are all set.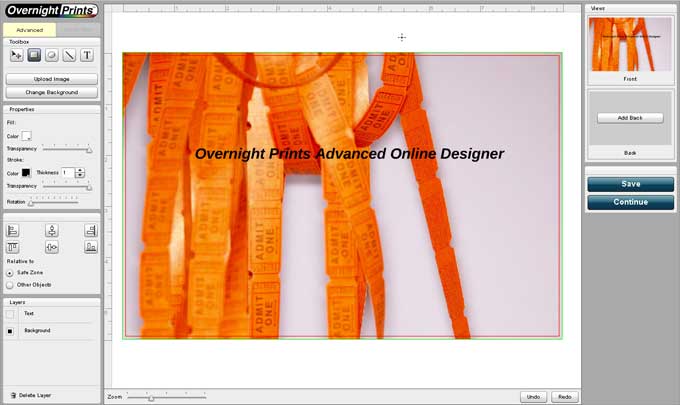 The online "advanced designer" software from Overnight Prints is our favourite tool to create quality postcards.
Available Postcard Sizes
If you decide to work with one of their online design tools (template designer/Advanced designer) postcard sizes are limited to:
4" x 6"
4.25" x 5.5"
5" x 7"
5.5" x 8.5"
But if created your own design file that you wish to upload, you can also choose from the following additionally available sizes:
6" x 11"
6" x 9"
8" x 10"
8.5" x 11"
Stock Quality and Finishing Options
Perfect for postcard handouts, flyers, and mailers, 15PT card stock is what Overnight Prints uses standard. There is a slight coating on both sides of the paper, (C2S) witch improves the quality of the print, especially if you use images in your design.
110# uncoated premium paper stock is another paper option. However, these do not have the same clarity as 15PT stock. The 110# uncoated stock is best for vector art and illustrations or if you are going for a more sophisticated look and feel.
They offer all postcards with either square or rounded corners.
There is no proofing offered, so if you have your own design, make sure to print your own proof before you upload. The offered order quantities are 25, 50, 100, 250, 500, 1,000, or all the way up to 100,000 postcards. The price per unit improves the more you order.
Coupon Details
With this discount deal, you can get as much as 58 percent off your purchase of postcards from Overnight Prints. This promotion includes an array of different options you can choose from, including various finishes, several sizes, adding envelopes, multiple sides, and whatever quantities you need. The minimum order just needs to be 25 postcards. You can also choose whatever design you want using the aforementioned interactive tools. Plus, you can use the coupon as many times as you want.
Benefits
Even without using this coupon, Overnight Prints prices for postcards are inexpensive when compared to other online printing services. And though you can order as few as 25 pieces, the savings only increase when you order more.
If you need add-ons, there are endless options to choose from that are well worth (nominal) extra charges. Since you see the biggest savings with large orders, we recommend using these guys for your more sizeable print jobs.
The greatest benefit of using this coupon is that you instantly save money.
With this coupon code you get 1000 premium custom postcards (5" x 7") for less then $100!
If you are in need of good quality postcards are very good prices, using this offer is simply a "no brainer".
Limited Time Offer
As with everything great in life, this coupon offer must come to an end at some point. While Overnight Prints lists this coupon code as "ongoing", this typically means that it could disappear tomorrow without warning. Consequently, you need to act now to make sure you are not shut out of this great deal. If you are considering having postcards made, we strongly recommend that you take advantage of this coupon offer today before it expires. Those postcards will just be a little bit more enjoyable knowing you did not have to pay full price!
How to Claim Coupon
It is very easy to claim your discount. By simply clicking the red "apply now" button below, the discount should be activated automatically as you are whisked away to the Overnight Prints website. The coupon will be applied once you are on the Overnight Prints site.
There may be some instances where you must copy the coupon code and paste it into the discount field at checkout before you can experience your savings. If this happens to be the case for you, the coupon code you can use is "ONPPC".
In summary, Overnight Prints is great for your next printing project if you need your job done correctly and on time. And, with this promo offer, there has never been a better time for you to get postcards made
Claim Your Coupon
58% OFF On Postcards
up to 58% Off on Postcards & Invitations. Expiry: Dec 31, 2014
Apply Coupon
Before you pay, you will see the discounted amount at the checkout.
comments powered by