Cafepress Coupon & Promo Codes

All Cafepress coupons, discount offers and promo code's are listed in the table below & are verified.
Cafepress has several continuous deals, and several expiring coupon offers. Below you will find a complete overview of valid discount coupon deals from Cafepress.
To claim your discount, simply click the "Apply Coupon" button on the offer of your choice, or copy the coupon code and enter it at Cafepress checkout page.
Cafepress is best known for their customizable product printing. If you are looking for a unique personalized gift, like a T-shirt, a custom mug or personalised iPhone cover, or even a custom printed monopoly game, chances are Cafepress can deliver! Cafepress is specialized in printing on just about any product you can imagine.
Todays Deal
Cafepress Discounts - Daily deals. Expiry: Ongoing
Apply Coupon
Sitewide Extra 20% OFF
20% Extra Discount with coupon code:DEAL20. Expiry: Oct 31, 2014
Apply Coupon
Free Shipping on $45 Plus
Free (Economy) Shipping on orders over $45 - coupon code:SHIP6ZG. Expiry: Ongoing
Apply Coupon
$24 Off orders above $48+
$24 discount on orders bove $48 coupon code:CAJAHR1029. Expiry: Nov 2, 2014
Apply Coupon
Cafepress 15% OFF on Water Bottles
Custom Stainless Steel Water Bottles Sale 15% OFF. Details Expiry: Expired
Apply Coupon
Cafepress 10% OFF on Duvets
Custom Bedroom Decor: Duvet Covers 10% OFF. Details. Expiry: Expired
Apply Coupon
20% OFF Birth Announcements
Custom Birth Announcement Stationary Sale 20% OFF. Details. Expiry: Expired
Apply Coupon
$7 American Pride T-shirt
American Pride or USA Flag T-shirt for $7. Expiry: Expired
Apply Coupon
25% OFF Sitewide
25% Discount on all products. Details. Expiry: Expired
Apply Coupon
How to Claim Your Coupon Code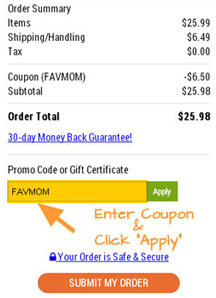 Redeeming your promo coupon is simple: just click the "Apply Coupon" button in the table above. Clicking this button will open the Cafepress site, and it will auto-apply the discount to your order.
You should see the discounted amount on the checkout cart before you pay.
In some occasions you will need to copy the Cafepress Coupon from our site, and enter in into a text-field at checkout as you can see in the image on the right side.
Review of CafePress's Printing Services
Cafepress specializes in personalized gifts and is best known for their T-shirt and apparel printing services (similar to Ink Garden). They also offer a service for small business owners looking to turn a great idea for a greeting card, shirt, or bumper sticker into a money making product, they offer a variety of services for making money from your creative idea's.
Read on to learn about CafePress.

Personalized Gift idea's from Cafepress.
Company Overview
Cafepress.com is an online retailer of stock and user customized on demand products. Though they were founded in San Mateo, California, their headquarters and production facility are now located in Louisville, Kentucky.
In 2001, CafePress won the People's Voice Webby Award in the Commerce category. As a privately owned company, CafePress was founded fifteen years ago by Fred Durham and Maheesh Jain.
The site has more than eleven million unique visitors each month and hosts 2.6 million online shops with more than 325 million products. Each week, an average of around 135,000 new designs are added. Whether it is your favourite interests, causes, activities, or hobbies, pop culture phenomena, or political scandals, CafePress makes it easy to find unique designs and merchandise.
Services & Specialities
Mugs, bags, t-shirts, calendars, wall clicks, you name it and most likely Cafepress can deliver & print it. CafePress has the widest variety of product offerings. Customers can upload and add text, graphic designs, and logos to any of the products offered by CafePress. They also have on demand printing services for wall art and stationery.
CafePress offers clients the opportunity to open up a Virtual Shop that includes services like:
Fulfillment
An online storefront
Website hosting
Customer service
Order management
Payment processing
If you need to create a bulk order of 30 for your employees or customers of a product featuring an image you designed and edited, CafePress's services are both quick and efficient.
I always seem to end up in circumstances where I need shirts made in a hurry. CafePress is well-known for their custom t-shirt marking services, so for this review, I had some shirts made.
When it comes to buying customized products, CafePress does not limit you to just bulk purchases. You can buy just a single piece from any of the 600 different item types. Though their prices are not unreasonable when you create just a single order, the prices do get better when you have larger orders.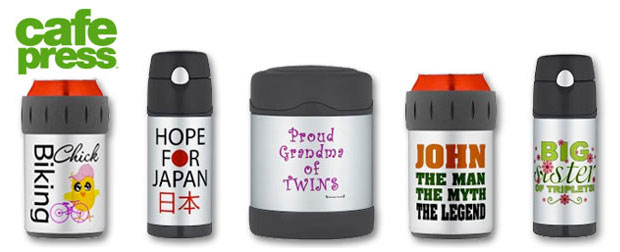 Cafepress is best known for their product printing - They can customize just about anything you can imagine.
What You Get for the Price
If you are designing your own products, CafePress usually is less expensive compared to other online printing services. When you buy multiple copies of a product, the price advantage just improves. You also cannot find much better shipping rates than what CafePress offers. Take advantage of the Cafepress coupon codes listed on top of this page to get the best possible (discount) deal.
If you need shirts for a one-time event and price is all you are interested in, you can choose a lower quality material and get a great deal. Or, if you prefer quality and want something that will last, CafePress also offers high quality products at competitive prices.
Essentially, with CafePress, you get a good deal on what you want.
This is one of the benefits of going with one of the industry leaders in product printing.
What We Like About CafePress
Especially if you are looking to set up a virtual shop, Cafepress is great: they do everything for you. If you just want to create and print tee-shirts, mugs or any other product for personal use, they offer good deals and matching quality.
We especially like the extremely wide product range Cafepress offers, and their online designer is very impressive. Working with this tool inspires a lot of different ideas.
I was really pushed creatively to make something great with the editing tools CafePress offers. For dropping in shapes (like arrows, stars, or hearts), adding text, and changing fonts, you get a wide selection of additional tools. If you are an amateur and have a design in mind, CafePress's tools make it easy for you to create your idea. You can create exactly what you want.
CafePress Summary
CafePress is known for having the most diverse and widest array of products.
They are your ideal solution if you are interested both making money off of your ideas or if you just want to create brilliant products for your own personal use. Compared to their competitors, they offer some of the best quality items around.
If you want to create products at an affordable price and have them at your door quickly, I recommend picking CafePress. Their user-friendly product printing services are unmatched.

Read Cafepress Customer Reviews
Care to submit your experience with Cafepress printing services, or are you looking for reviews?
You can read user experiences and customer reviews on Cafepress and submit your own experience with their services here.
Cafepress Contact Details
Website: Cafepress.com
Contact Form: Contact Form
Support: Help Desk
Phone: 919-323-4480
Alternative phone (via Gethuman): 877-809-1659

Address:

Cafepress Inc
6901 Riverport Dr,
Louisville, KY 40258.

Hours of Operation

Mon. - Fri. 8:00am to 10:00pm EST
Sat. 9:00am to 6:00pm
Sun. Closed
Other Useful Resources
User Comments
I have always wanted a custom made Monopoly set and cafepress offers one. It isn't cheap so the discount codes will come in handy. I can't wait to have my custom set! :)
Posted on November 13, 2014 by Virginia Kay
It sucks that Cafe Press coupon codes are so small, but i guess they don't really need to offer huge discounts to get people to shop with them and i understand why. Their glassware is really durable and the print lasts through the dishwasher, but their thermos' should be hand washed (the ink will start peeling away if you don't). I will shop with them again and again!
Posted on November 09, 2014 by Nathan Jersey
For several years as a Christmas present, we get a family photo printed for my mother on different items. Last year we got the photo printed on a mouse-pad for her. I've seen other companies that make mouse pads and when they are used frequently the edges peel up and it's rather ugly. But I've never had a problem like this with CafePress.
Currently looking for inspiration on their site for this years family photo.
Posted on November 05, 2014 by Rob
Thanks, i saved $18 using the daily deal coupon. I hope the products (customized tote bags) work out nicely as well!
Posted on October 30, 2014 by Linda
CafePress already has unbeatable prices and with the first coupon slashed the price even more. Kinda bummed the 20% off birth announcements coupon has expired, my cousin will give birth next week more likely and that was a sweet deal. I'm gonna check back and see if some new coupons popup until then.
Posted on October 27, 2014 by Bailey
Submit Your Comment