Cafepress Steel Water Bottles Discount Promo Code
Coupon Offering 15% OFF of all Stainless Steel Water Bottles!
Cafepress is an absolute megastore with millions of designers and items to choose from. It boast over 2 million shops and with nearly 350 000 new designs added every week, you would be hard pressed not to find something to suit your needs.
In 1999 there rose an idea to use special printing techniques to let people articulate their thoughts and feelings on customizable T-shirts. Today Cafepress is a multi-billion dollar company that brings together 11 million customers to their sites every year.
While Cafepress has always been well know for its T-shirts, they have also expanded into home ware, drinking apparatus, materials, stationery and many more.
The main emphasis of this post is going to be on their line of Custom Steel Water Bottles; there is a mind-boggling amount of options when it comes to the bottles, from large to small sizes to designer printing and Sippy Cups. And now Cafepress offers a 15% off coupon on ALL Stainless Steel Water Bottles.
If you don't think that this deal is the one for you, then please feel free to have a look at our many other printing coupon offers. Below we will look at the details of the 15% Promo offer, as well as the details of the bottles, such as sizes, design options, topics, themes and benefits of each.
Size and Style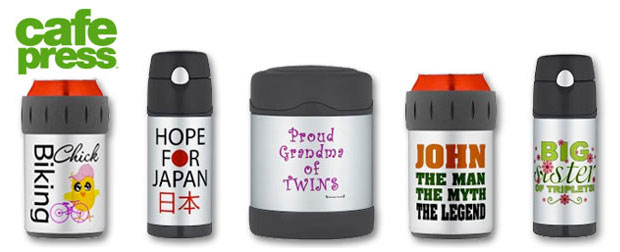 Example Pre-designed steel water bottles from Cafepress.
There are four different types of size and styles of stainless steel bottle's in this specific promotion, they are:
Large bottles
Small bottles
Bottles for Kids
Sippy cups for toddlers
Every model is made out of the same 18/8 food grade stainless steel, and has it's own design and specific features, that make them a convenient and stylish accessory to own, no matter what age you are!
Features and Available Models
Features of the Small Bottle
The small bottle in this range holds up to 0.6 liters of liquid, making this bottle compact and easy to carry around with you. It is made up of 18/8 food-grade stainless steal and therefore holds no BPA that could be found in plastics, and it's free of other toxins. This bottle is extremely durable and will to fit into most drink holders and bike grasps. The lid is a screw on top for easy on and off manoeuvrability, and it's recommended to only hand-wash this bottle if it needs cleaning.
Features of the Large Water Bottle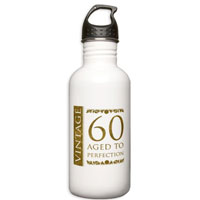 The carrying capacity of this bottle of 1 liter, which makes it a good choice for hot days or sports people, there is a wide mouth that ensures easy drinking. Like the small bottle, it must hand washed only, and it has a similar screw on lid.
Features of the Bottle for Kids
This is the smallest bottle available, holding 0.35L only, this bottle is perfect for little ones. It will fit into lunch boxes and sports bags, keeping your child hydrated throughout the day. Once again the bottle is Bisphenol A and toxin free due to the high quality of the stainless steel used in making it. This bottle is extremely tough and can withstand all the drops and bumps that it might encounter from small hands.
Features of the Stainless Steel Sippy Cup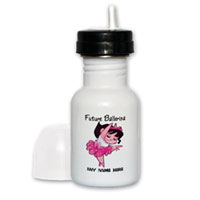 The Leak-proof sip top prevents spills and makes for easy cleaning, the bottle itself also has a 0.35L capacity for holding water, meaning it will be light enough to be carried around by a toddler. There is no lining in the Sippy Cup and it is free of toxins. The steel is extremely strong and unlikely to be damaged in the event of a fall or throw, the bottle doesn't hold onto any previous flavors, preventing the growth of bacteria's and ensuring your little one won't be put off by any lasting taste from yesterdays drink.
Quick Tip: Looking Sippy Cup Inspiration? Check out this post on Babble
Topics and Design
Every bottle can be fully customized by choosing a design that you would love to have on the front of it. Templates can be chosen on the Cafepress site, there are thousands of different pictures and sayings to have a look through and you are bound to find the perfect look for your bottle. Topics to choose from include hip, men, women, retro, silver, fun and food.
While there is an endless supply of designs such as art, animals, humor, careers, cool, kids, school, sport and holidays.
If you cannot find something that is to your taste in this expansive supply of options, then they offer you the option to design your own label and picture. To do this you will need to work on the Designer at Cafepress and it can help you implement your unique look.
If you have any problems in the process of buying the stainless steel bottle that you want, give one of the experts at Cafepress a call, and they will be more than happy to assist you in whatever way that they can. There is a water bottle to suit everyone in this range, and with this promo code you can now get 15% off any Stainless Steel Water Bottle.
Coupon Details and Conditions
In this particular deal the coupon gives you 15 % off all Stainless Steel Bottles. While you can use this promo as many times as you would like, it cannot be combined with other deals.
You cannot use this discount on a bulk order, and it doesn't include gift wrapping, tax or transport costs. This offer is not available for any of the other water bottle ranges that include: Sport Water Bottles, KOR Water Bottles or SIGG Water Bottles.
Limited Time Offer
This promotion expires on the 28th September 2014. If you want to take advantage of this deal, you have to make a move soon, or you will miss out.
Benefits
Cafepress is a hub of new, young and exciting designing minds, who have come together with bright, innovative ideas which will guarantee you will find something interesting in one of their millions of stores. The great thing about shopping at Cafepress is that if you have an idea in your head that you would like to see on any item, the chances are that they can help you achieve this.
Claim Your Coupon
Getting this deal couldn't be easier, simply press the red "Apply Coupon" button that you see below. This button will take you to the Cafepress Marketplace and website, where you can buy your Stainless Steel Bottle with a minimum of fuss. Once you select your bottle, you will automatically get 15% taken off the price of the product.
This Stainless Steel Water Bottle range is incredibly diverse, and you will be guaranteed to find a unique and eco friendly bottle to suit you and your family's needs.
Cafepress offers the most varied product range when you compare them to other companies in the same market. Here you will find amazingly unique items for a very good price, if all this appeals to you, then Cafepress is the site that you need to be shopping on.
Cafepress 15% OFF on Water Bottles
Custom Stainless Steel Water Bottles Sale 15% OFF. Expiry: 28 Sept 2014
Apply Coupon
View All Cafepress Promotions
Other Printing Deals
comments powered by