Snapfish Coupons & Deals

All currently working Snapfish coupons are listed in the table below.
Snapfish has various ongoing, as well as a few expiring coupon deals. We offer a complete list of currently valid promotional deals from Snapfish. To claim your discount, simply click the "Apply Coupon" button on the offer of your choice in the table below.
Snapfish is by far our favourite printing company for any type of photo printing. Snapfish offers incredible Quality - highly customizable - photo prints. When it comes to photo printing, value for money doesn's get any better then this.
45% OFF Sitewide
Save 45% on everything (restrictions apply). Coupon Code: 45XSITE Expiry: Unknown
Apply Coupon
Free Shipping
Free economy shipping with Coupon Code WELCOMEFS. Expiry: Unknown
Apply Coupon
50% Off Popular Products
50% off if you use Visa Card - Coupon code 50VISA50. Expiry: Jan 31, 2015
Apply Coupon
Free Shipping + 35% Off Sitewide
35% off and free shipping - Coupon code SHOPSNAPFISH. Expiry: Expired
Apply Coupon
How to Claim Your Coupon Code
Redeeming your promo code's is easy: simply click the "Apply Coupon" box in the above list of discount offers. This will copy your coupon code and it will open the Snapfish website where you can enter the coupon code at checkout, like you can see in the image below. Once you enter the code at the Snapfish website you will receive the discount.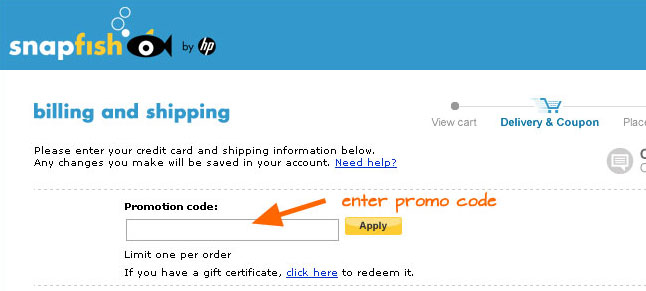 Review of Snapfish Printing Services
Snapfish.com is originally known as photo sharing and upload service, and is used by individuals and business owners from around the globe. Whether it is capturing pictures of marriages, prom, science projects, your child's first steps, babies, graduations, first dates, sports successes, or the family trip to Disney World, having just a digital copy of an image is never as satisfying as a photo you can hold in your hands. This photo sharing/upload service grown to be one of the best digital photo printing services online. Below, I will review what makes Snapfish's services great.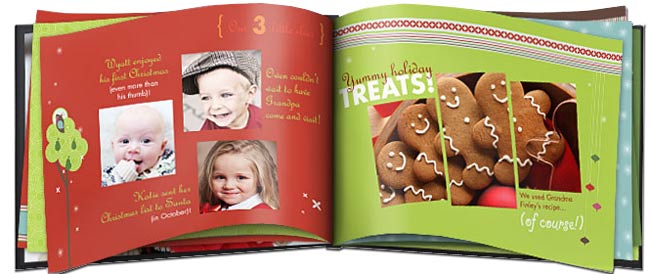 Snapfish photo book example.
Company Overview
Owned by Hewlett-Packard, Snapfish is a web based photo printing and photo sharing service. Unlimited photo storage and free file uploads are available to members.
Business partners Suneet Wadhwa, Rajil Kapoor, Shripati Acharya, and Bala Parthasarathy launched Snapfish fifteen years ago. Snapfish was then purchased by HP in 2005. Based in San Francisco, California, Snapfish hosts more than two billion digital pictures and has over 90 million members.
Features on Snapfish are free for the most post part. While providing the best value, their mission is to help their customers enjoy, make the most of, and preserve their memories.
Services & Specialities
From your camera, Snapfish allows you to upload both your digital videos and prints whether you are a videographer or a photographer. With PictureMover, an application you can install on your computer, Snapfish provides its account holders with a tool to make the printing process simpler. You pictures can be moved to your Snapfish account directly from your media devices, camera, computer, or memory card with PictureMover.
To upload photos to your Snapfish photo album, you do not have to download PictureMover. The Photo & Video Organizer is another way you can do it. You can import photos straight from Flickr and Facebook accounts in addition to uploading photos from your computer with this feature. Snapfish also gives you the following organizing features once you have uploaded a photo:
Tag - You can create face tags and tag photos by event.
Share - Through social networking sites or email, you can share albums and photos with friends and family.
Rearrange - You can sort photos into albums according to name, date, event, or place to keep them organized.
Search - You can search for photos by phrases and keywords once you have tagged or captioned your photos.
Create - From directly within your photo album, you can choose to create a variety of projects.
Caption - To know what exactly you were feeling or doing at the time a photograph was taken, you can add a caption.
View - To see a larger image, you do not have to open each photo individually. Instead, you can just roll over it and click on the magnifying glass.
You can also use the editing tool to add boarders, remove red eye, change tint, rotate photos, and make other minor adjustments. You can also have captions printed on the back of your photos.
What You Get for the Price
For the purposes of this review, I am going to focus on the pricing for printing digital photos on photo paper, but I would be remiss if I did not point out that you can have your photo printed on just about anything with Snapfish. Their bestsellers are photo mugs, games, clothing, office items, ornaments, jewellery, mouse-pads, stationery, blankets, posters, calendars, cards, photo canvas, and more.
Snapfish always has discount deals going on, Check the top of this page for the latest Snapfish Coupons and deals. If you want to print Photo invitation cards, these Tinyprints promotions will actually give you the best deal. For Albums, Snapfish is best. When you register, you get 55 free prints. And, after that, the standard photos are just nine cents each. These prices blow away the competition. And, the photo quality is incredible.
Plus, if they do not get it right, they will fix it.

Snapfish can print your photo's on many different items.
What We Like About Snapfish
Next to their incredible high quality photo prints and great value for money, Snapfish offers several other services and features that we enjoy.
A few things that we like in particular about Snapfish:
Free uploading from your mobile phone
Free online photo editing tools
For as low as nine cents each, you get prints of professional quality
Subscription storage and video sharing plans
For sharing with family and friends, private group rooms are available
From photo mugs and photo books to jewelry and posters, there are more than 100 customizable photo gifts
Unlimited and secure online photo storage and sharing
Snapfish Summary
Snapfish is a brilliant service that offers an incredible print quality, great value for money and offers many custom printing options. They are the best online printing company for any type of photo project online, period.
A Feature I really like that you can share your albums through social networking sites, and you can also upload your photos direct from your Flickr and Facebook accounts.
Their support team is very helpful, and always ready to help you with any questions that may arise. Last but not least its worth to mention that the Tips & Idea's section on their site offers a lot of creative tips and idea's and certainly is worth a visit.
We strongly recommend Snapfish to anyone interested in printing and sharing photos.

Read Snapfish Customer Reviews
Consider sharing your experience with Cafepress printing services, or are you looking for reviews?
You can read user experiences and customer reviews on Snapfish and submit your own experience with their services here.
Snapfish Contact Details
Website: Snapfish.com
Contact Form: Live chat
Support: Help Desk
Phone: 800-634-4500
Alternative phone (via Gethuman): 800-634-4500

Address:

Snapfish CA
303 Second St
South Tower, Ste 500
San Francisco, CA 94107.

Hours of Operation

Mon. - Sun. 24/7
Live chat: 24 hours per day, 7 days per week
except for Christmas and New Year's Day
Other Useful Resources
User Comments
Hi, I think your site might be having browser compatibility issues. When I look at your website in Firefox, it looks fine but when opening in Internet Explorer, it has some overlapping. I just wanted to give you a quick heads up! Other then that, awesome blog!
Posted on December 24, 2014 by Joanne
Snapfish is one of the easiest sites I have ever used! I was able to design some photo coffee mugs, place the order, use my coupon of course and send the order all within about 15 minutes!
Posted on November 13, 2014 by Haley Fox
If you want an affordable photo book, don't go to Snapfish, but if you want a high quality photo book that you can show off to all of your family and friends, don't go anywhere else! Snapfish has the quality I want and the coupon codes bring the prices down to reasonable levels.
Posted on November 09, 2014 by Tanya Wilson
Nice coupons, but the is code not accepted for in-store pick-up orders.
Posted on October 30, 2014 by Jayden
Submit Your Comment