Tiny Prints Coupons & Promo Codes

All Tiny Prints coupons and discount promo codes are listed in the table below.

Tiny Prints has several ongoing, and a few expiring coupons. Below you can find a complete list of currently valid Tiny Prints Coupons & Offers. To claim your discount, click "Apply Coupon" button on the offer of your choice in the table below. This will copy the coupon code that you must enter at checkout to receive the discount.
This webpage is updated on a regular basis and lists ALL working Tiny Prints coupons, deals and promo offers currently available. Please add this site to your bookmarks for future reference.
Tiny Prints is the best choice when it comes to custom invitations and announcement cards. Tiny Prints offers a large selection of stylish cards that you can customize to your needs. Print Quality and Paper quality is high, and their Customer service is outstanding.
Ongoing Deals: Save upto 35%
Ongoing Discount on many Products. Details. Expiry: Ongoing
Apply Coupon
Deal of the Day
Tinyprints deal of the day - upto 70% Discount on Thursdays! Details. Expiry: Ongoing
Apply Coupon
Bundle Deal: Save upto 35%
Buy more, save more. Tinyprints Bundle discount upto 35% Details Expiry: Ongoing
Apply Coupon
Free Stationary Samples
Free Samples - Coupon Code 3FREESAMPLES. Expiry: Ongoing
Apply Coupon
Sitewide 25% OFF
25% OFF Everything - Coupon Code: SWSALE25. Expiry: Expired
Apply Coupon
Free Shipping With Orders of $49+
Shipping for free - Coupon Code FREESHIP49 . Expiry: Expired
Apply Coupon
How to claim your Coupon Discount Code
To receive your discount from Tiny Prints, you need to copy the coupon code from the above list. You can also click the "Apply Coupon" button on the offer you want. This will open the Tiny Prints website, and copies the code for you.
When you finish shopping at the Tiny Prints website you will first need to register before you can checkout and enter your shipping details. Right underneath the shipping address there is a "Promotion and Gift Certificate" box where you can paste the coupon code. This will apply the discount on your order.
The Image below illustrates where you can enter the coupon code: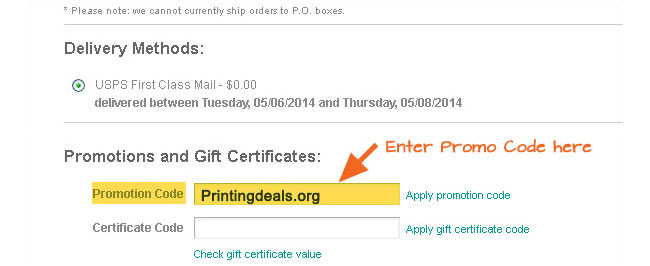 Review of Tiny Prints Printing Services
For any occasion, you can create a picture card using the custom photo card services from Tiny Prints. Tinyprints.com features stunning designs and an extensive feature set.
Along with the professional appearance, most of the design templates were creative and gorgeous. There is also an assortment of tools to help you design your own card and order it. (Use the discount coupons on top of this page to get the best possible deal). For the amateur card designer, this is an excellent service.
We really enjoyed working with Tiny Prints, To learn why, read on!

Tiny Print stylish custom invitations and announcements. Use Tiny Prints coupons to get the best deals.
Company Overview
To customers around the globe, Tiny Prints offers personalized stationery, stylish cards, photo books, and invitation. From greeting cards to photo cards, announcements, party invitations, and beyond, Tiny Prints has had continued success in an array of markets due to their emphasis on top quality products, a perfectly delightful customer experience, and fresh design.
Since their purchase in 2011 by Shutterfly, Tiny Prints has quickly become a household name beloved by top designers, stylish shoppers, and celebrities alike.
Services & Specialities
Tiny Prints has a lot to offer when it comes to features that the site provides. You get a list of product details once you choose the design template you want to use for your card. The resolution and photo size requirement, the card ink colors, the card's printing process, and more are included in the information. Before you spend the time to design your card, this area lets you know exactly what you are getting and is very helpful.
You can also choose to have your envelopes pre-shipped in the product detail area. Your envelopes can be ready to go and already addressed by the time you get your cards this way. Your cards can even be delivered for you by Tiny Prints mailing service.
All of your cards can be stamped, stuffed, addressed, and sent for you. Because of the cost of printing envelopes and the price of stamps, this feature does cost you a bit more, but it also saves you a lot of time.
Using Tiny Prints to upload your photos is simple. From your computer or other services like Facebook, Picasa, Smugmug, Flickr, and more, you can upload your photos directly.
RSVP Manager is definitely one of the standout features offered by this picture card service. On your printed invitation photo cards, you can include a web address where guests can go to indicate whether they are going to be able to attend your event with RSVP Manager.
Tiny Prints specializes in templates for:
Graduation announcements and invitations
Baby showers and announcements
Birthday party invitations
Religious celebrations (baptisms, bar mitzvahs, first communions, etc.)
Invitations for any party
Thank you cards
Business cards
And a vast array of customized gifts (calendars, mugs, iPhone cases, notebooks, etc.)
What You Get for the Price
For the purposes of this review, I ordered cards for our most recent life event: a birth announcement for our baby boy.
There was a vast selection of over 300 templates to choose from. For nominal costs (fifteen or twenty cents), you could choose fancy trim. There is also a variety of different card stock you can choose from with some, such as DoubleThick Matte, costing more. If you are not sure of which card stock you want, you can request that they send you free samples.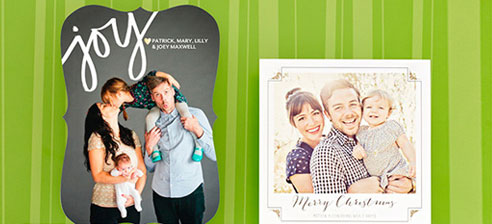 Tiny Prints Fancy Trim vs Regular Trim cards.
The price: Compared to other photo card print services, Tiny Prints is very reasonable. It is also much cheaper than trying to do it yourself. The best part about the pricing is that you do not need to order massive amounts in order to get discounts. I was able to get a 35 cent discount for ordering just 25 announcements.
Tiny Prints always has several promotions and discount deals going on. Keep your eyes peeled for the latest Tiny Print Discount Coupons on the site to get great deals.
What We Like About Tiny Prints
When it comes to card printing, the benefits to using Tiny Prints are seemingly endless, the quality of both their print as well as the paper used is outstanding.
Other Tiny Prints features we particularly like are:
Great Quality, Great Customer service
RSVP Manager
No need for huge orders
Complete mailing services
Design templates for every occasion
Ability to directly import photos from various media
I would be remiss if I did not also mention how well the customization worked. It is simple and fun to make a card of your own with Tiny Prints. To get at your preferences, the interface takes you through a series of question. You can substitute your own text for the template text. And, you can drag and drop photos wherever you want them.
TinyPrints Summary
Tiny Prints is one of the best sites for creating photo cards on the Internet.
Their customer service is top notch, Product Quality is outstanding, and the prices are reasonable.
For a vast variety of gorgeous cards, you cannot beat Tiny Prints. Compared to many others, Tinyprints.com stands out because of extra features like RSVP manager. For all the events in your family's life, we think that Tiny Prints is the best partner to help you create beautiful cards.

Read Tiny Prints Customer Reviews
Did you previously order from Tiny Prints and care to share your experience, or are you looking for reviews?
You can read customer submitted reviews on Tiny Prints and submit your own experience with this company here.
Tiny Prints Contact Details
Website: Tinyprints.com
Contact Form: Contact Form
Support: Service Center
Phone: 877 300-9256
Chat: Live Chat

Address:

Tiny Prints Head Office
4655 Great America Pkwy
#601 Santa Clara, CA 95054.

Hours of Operation

Mon - Fri (6am - 9pm PT)
Sat - Sun (8am - 6pm PT)
Other Useful Resources
User Comments
Placed an order for wedding invitation cards after falling in love with one of their designs. Our wedding is months away, but i prefer handling things in a timely manner! Saved $47 Dollar on my order with the sitewide coupon and could not be happier with the end results.
Posted on January 17, 2015 by Priscilla, WY
My Christmas cards just arrived, they turned out how i wanted them plus i saved $17 with your coupon. Enjoy the Holidays!
Posted on December 21, 2014 by Julia
Their custom stamps and embossers are amazing - I love them! Their already a decent price but with a coupon they are incredibly cheap for the quality.
Posted on November 17, 2014 by Alex London
I wasn't very happy with my order from tinyprints and if I didn't save money with the coupon, I think I would have returned my order. The staff was friendly and offered to fix the order, but I didn't have the time to wait all over again.
Posted on November 11, 2014 by Patrick
TinyPrints does not have a tiny price! I am glad that I found the discount offer on your site. I have seen their work first hand and it is well worth what they ask, but the discount is nice and I feel like I'm getting a much better deal. If you order with them, be sure to call and talk to someone about any special order requirements. It will save you a lot of time later.
Posted on November 07, 2014 by Franklin Connors
Every six months I make a new photo book for my boys. I want to make sure that I don't miss their lives as they grow up. I have tried several different places to get the books, but the quality wasn't as good with them as it was with Tiny Prints. I try to find coupons every time I use it, but it's hard to search the internet and know which coupons are good or not. I'm glad to have found your site.
Posted on November 04, 2014 by Tami Wilson
Awesome service and awesome savings every time I shop with Tinyprints! I always wait for the best coupon codes and you guys seem to always have them!
Posted on October 28, 2014 by Kyle
Wedding invitations can be expensive but not with Tiny Prints! Throw in the promo code and they are even cheaper. I did have to change the style that I wanted to use, but it saved me a lot of money so it was a good trade-off!
Posted on October 27, 2014 by Shannon
Keeping my fingers crossed for the Tinyprints deal of the day "up to 70% Discount" on Thursdays! I hope the coupon is still working next Thursday as i need to order some new business cards. Last week I received my X-mas cards and I could not have been happier, they're perfect!
Posted on October 25, 2014 by Caroline
Submit Your Comment