Tiny Prints Deal of the Day
Tiny Prints currently offers as much as 70% OFF with their Deal of the Day.
If you have ever purchased stationery, you know it is not cheap. The prices are even more expensive if you go to a brick and mortar store where discounts are rare. Many consumers are turning to the Internet for their stationery needs because it is less expensive. And, with Tiny Prints' Deal of the Day the prices are better than ever before.
Every Thursday, Tiny Prints has a new deal that offers a deep discount of up to 70 percent on specific products.
Unfortunately, for this post, we were unable to find out what offers they were going to provide in the future. This is a closely kept secret and offers vary weekly. This post will take a look at some of the previous Deals of the Day as well as look at the printing and design options offered by Tiny Prints.
If you are not interested in Tiny Prints, please take a quick look at some of the printing discount offers we have and the best printing services reviews we have on our site. We think you will be impressed!
Deal of the Day Offers
One recent Deal of the Day was 50 percent off Scrawled Square Stamps and 25 percent off all custom stamps. With this deal, you get a self-inking stamp that is custom made to include your family name and address, so you can easily stamp it on envelopes before sending them out. The Scrawled Square Stamp is 1.5 inches by 1.5 inches and uses black ink. Among the stamp options, there are circular and square stamps that can be used for weddings and engagements, flourishes and frames, holidays, monograms, and more. All of the stamps are similar in size and price to the Scrawled Square Stamp.

Tinyprints Scrawled Square Stamp Coupon deal: $22.50 for a personalized stamp.
Previous deals include iPhone cases and various types of stationery.
The Deal of the Day almost without fail makes all Tinyprints items much less expensive than any other online printing services, so it is definitely worth checking if you are considering buying customized printing items. (remember their daily deal is every thursday).
Design Options for Deal of the Day
All orders are polished, perfected, and reviewed by the team of talented designers who are part of Tiny Prints' Designer Review Service. Light adjustments, typos, color corrections, red eye, and more are among the many aspects of your order that they triple check before they make the final product. This service ensures your items will shine. Best of all, it is free (included in their service)! It will just take up to two days longer for deal of the day items to arrive.
Espcially the Tiny Prints' interactive design software for stationary is impressive. the software walks you step by step through the process of creating your personalized items. At each point in the process, you are shown your options for your stationary and given the extra costs if there are any. You can choose the precise paper quality you want ( usually all options are available for the "deal of the day".
Among the options are:
Postcards - 110 lb., 14pt thickness with matte coat finish
Signature Textured - 111 lb., 18pt thickness available in ecru or white
Pearl White Shimmer - 110 lb., 14.3pt thickness
Studio Basics - 110 lb., 14pt thickness, semi-glossy with matte coat finish
Signature Semi-Glossy - 120 lb., 11pt thickness
Signature Matte - 120 lb., 17.5pt thickness
Premium Doublethick Matte - 240 lb., 35pt thickness
Coupon Details
As said, the Deal of the Day coupon offer from Tiny Prints is available on Thursdays only. The terms and conditions of these offers vary. However, we have observed what types of discounts Tiny Prints tends to offer, and they are usually very deep markdowns of as much as 70 percent off of various products.
The most recent discount was for half off all gift tags and address labels. Before that, it was 50 percent off iPhone cases.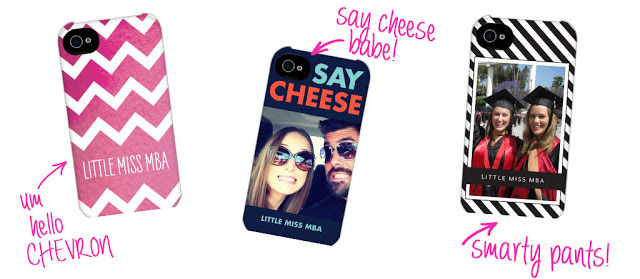 Tinyprints customized iPhone case deal of the day offer: $ 19.95 - iPhone design from Little Miss MBA.
Every Thursday you can use the current coupon offer as many times as you want over the course of the day. But remember, the offer only lasts for 24 hours.
Benefits
The best thing about Tiny Prints is that you can be sure you are getting a good price on top quality products especially for custom invitations and announcement cards (Tinyprints is our favourite company for printing custom invitations and announcement cards).
The Thursday Deal of the Day does vary quite a bit, so it could be just about anything on any given Thursday.
If you are considering getting some custom invitations and announcement cards printed up in the future, we would strongly recommend checking the Thursday Deal of the Day at Tiny Prints a few times to see if it fits your needs.
If you are in a rush you use the ongoing %35 OFF Deal.
Limited Time Offer
As the name "Deal of the Day" suggests, these offers only last for a day.
Typically, they appear early in the morning on Thursday and last until 11 AM (ET) on Friday. This requires you to act quickly when you see the deal.
Set up an alert on your smart-phone or sign up to Tinyprint's newsletter to check out the deal each Thursday morning if you want to take advantage of it.

Daily Deal Offer example from Tiyprints.
How to Claim Coupon
Claiming the coupon for the Deal of the Day at Tiny Prints is extremely simple. Basically, if you click the red Apply Coupon button below on a Thursday, you will be well on your way to savings country, plus it shows you the current deal instantly.
The Deal of the Day will be displayed on the page the link takes you to. There should be a link that takes you to the product options. Once you checkout, the discount will be applied automatically.
Deal of the Day
Tinyprints deal of the day - upto 70% Discount on Thursdays! Expiry: Ongoing
Apply Coupon
Click the Red "Apply Coupon" Button to check today's "Deal of the Day" The discount will be auto-applied. Before you pay, you will see the discounted amount at the checkout.
Tiny Prints is one of the best sites for custom invitations and announcement cards. Their prices are very affordable even if you do not get a special coupon. Their customer service representatives are friendly and knowledgeable. And, product quality is outstanding.
For your next invitations and announcement cards job, check out Tiny Prints.
Related Posts
» All Tiny Prints Coupons
» All Printing Deals and Offers.
comments powered by