Cafepress Birth Announcement Cards Deals
CafePress currently offers 20% OFF on Personalized Birth Announcement card printing.
Yes, you can tweet, Email and post photo's of your beloved newborn on Facebook or other social networks to announce your baby's birth, but even in this digital age, a genuine mailed baby birth announcement still says it best.
CafePress is best known for their customizable product printing, but what most people don't know is that Cafepress recently started offering a diverse line of customizable photo birth announcements cards, invitations, thank you cards and more. Currently Cafepress is offering a discount coupon offer that saves you twenty percent off birth announcements. This makes Cafepress a great option for printing your announcement cards. If you want to announce the birth of your baby in a stylish way, this post is for you. (You might also consider using the Tiny Prints coupons - Tinyprints also offers a discount on all cards and is our preferred online printing company for post and announcement cards).
In this post will go into detail of what this offer entails while giving you information about customisation options, pricing and delivery options. If you have no interest in taking advantage of this particular discount, please do stick around our site and see what other great deals we have to offer.
Birth Announcement Card Options and Styles
Online printing company CafePress recently expanded both their website as well as their production facility and headquarters in Louisville, Kentucky, and started offering a wide range of customizable birth announcement cards in different designs ranging from modern to classic, simple or exclusive, colourful and fun. When you visit their website you will notice they offer neutral templates, or gender based templates for baby boy's, baby girls as well as special templates for twins.
You can also design your birth announcement cards from scratch, and have them printed and delivered by CafePress.

CafePress birth announcement card templates based on gender.
You can select from thousands of customizable pre-made templates. To make it easier to find what you are looking for, Cafepress has categorized their birth announcement cards in 3 different main styles: Classic, Contemporary or Whimsical.
Selecting the style you are looking for displays a different set of available templates and reveals the options that are available: you can filter the templates further in your favourite style by colour, preferred card size, or by the number of photo's you want to upload.
Available card sizes are:
4.25" x 5.5"
5.5" x 4.25"
5.25" x 5.25"
5" x 7"
7" x 5"
9.25" x 4"
3.5" x 2"
Please note: it is not possible to choose card sizes freely: the pre-made templates mostly have a pre-defined size.
Design Options for Birth Announcement Cards
After choosing the template you want to use for creating your announcement cards the Cafepress online designer opens in your browser. Here you can customize your cards further and enter details like the baby's name, birth weight and length and birth time. Some of the templates offer the possibility of entering the mother's and father's name on the card, but this option is not available for all templates.
Cafepress offers the opportunity to create a very intimate personal card by giving you the option to upload your own digital photographs of your beloved newborn. (this option is for photo announcement cards only).
In the online designer you will also see the available paper types, dimensioning, and printing process used (the most common being digital offset printing).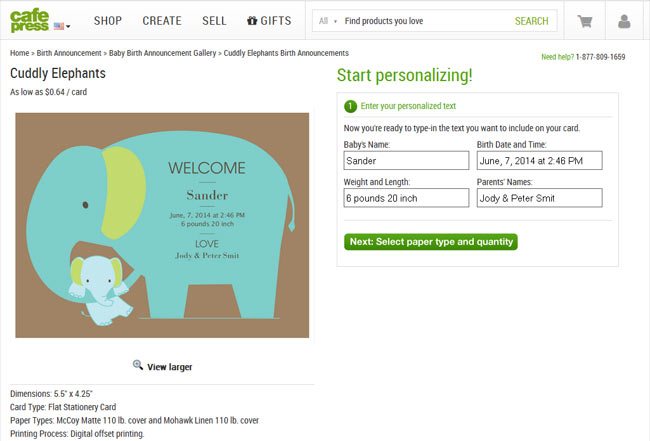 In Cafepress online designer you can enter the details and personalize your announcement cards.
After finishing the design you are taken to the next page where you can enter paper quality enter the required quantity and select the wanted finishing.
Paper Quality
You can choose from 3 different paper qualities for most birth announcement cards:
McCoy Matte: 110 lb Soft, lightly textured matte finish, contains 50% recycled fiber.
Mohawk Linen: 110 lb White, linen-textured paper, contains 30% post-consumer material.
Photo Paper: 12 pt Standard photo paper, available in matte and glossy finishes.
Order Quantity
CafePress does not offer any proofing. If you want to make sure that everything is perfect before placing a large order you can order 1 customized announcement card (prices ranging from $1.5 to $3.0 for a single card / shipping excluded).
Order Quantity options are great with Cafepress: you can order 1 - 10 - 20 - 25 - 30 - 40 - 50 - 60 - upwards to a 1000 cards. If you order larger amounts the price per card will drop significantly.
Finishing
Also You can choose from 2 different finishing options: Matte, or Glossy.
Glossy: Images printed coated glossy paper will have a shiny finish - recommended if you use images in your card design.
Matte: Has a more muted look and feel - this is the best choice for solid colours and text designs.
Coupon Details
This coupon offer from CafePress gives you twenty percent off any custom birth announcements you order. You cannot combine this coupon offer with other offers. However, you can use this coupon as many times as you would like. This coupon is good for all add-on options and for pre-made design templates or if you want to create your own.
Benefits
Birth announcement over snail mail are still de rigueur. Even if you do not take advantage of this outstanding offer, you can still rest assured you are getting some of the best prices and quality available when you shop with CafePress.
For family and friends awaiting the good news of your new arrival, CafePress offers hundreds of stylish and high quality announcement cards. This ensures you can find something that you can customize and personalize to match your style. There are animal, cute, funky, and vintage designs to announce the birth of your girl, boy, or twins. Your family and friends deserve to find out about the special addition to your family with a personalised announcement. And, you deserve a discount on those announcements, so you can save money for more important things, such as raising your bundle of joy. Taking advantage of this coupon offer will help you save that money.

Cafepress Birth Announcement card design examples.
Limited Time Offer
This discount for 20 percent off your purchase of birth announcements from CafePress is considered "ongoing" by the company.
However, we have seen many offers like this come and go without warning. In other words, this deal could be gone tomorrow. If you have recently had a baby and are considering sending out high quality announcements, use this offer today!
Claim Your Coupon
20% OFF Birth Announcements
Custom Birth Announcement Stationary Sale 20% OFF. Expiry: EXPIRED
Apply Coupon
It is easy to redeem your promotional coupon. Simply press the red "Apply Coupon" button above. This will take you to the Cafepress Birth Announcement card designer.
The discount will then be automatically applied to your order once you are on the CafePress site.
Before you pay, you will see the discounted amount at the checkout.
comments powered by