Cafepress Duvet Cover Discount Promotion
Cafepress Duvet Cover Deal: Design your own Cover and get 10% Discount with this Coupon.
CafePress started off as a small business in 1999, and it was founded by Fred Durham and Maheesh Jain. The company began as a simple vision to print an individuals ideas and designs on to T-shirts. These humble beginnings exploded over time into one of the most widely known and popular of all digital retailers. Although the company was originally established in San Mateo, California, the head office and manufacturing plants are now in Louisville, Kentucky.
The company is still most popular for their T-shirts, but have now branched out into millions of other products, such as textiles, home ware, household, bottles, clocks and stationary, amongst a myriad of other items. Their range of merchandise is almost impossible to comprehend, and you are bound to find something to suit your requirements at Cafepress.
Cafepress is now offering a 10% discount on their unique custom printed duvet covers.
In this post we will go through the details of this offer, as well as the important information that you should know about the duvet covers Cafepress has to offer. If you think that this is not the deal for you, then please have look at our site for other promotional offers that may be more to your taste, or read trough the customer submitted reviews on the major printing companies.
Duvet Covers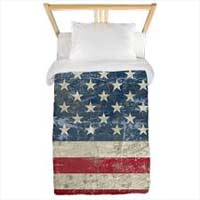 These Duvet covers are made of 100% woven polyester with a soft fleece top and a convenient snap closure. If you like cool covers, this offer is probably not for you: the fleece fabric sure will keep you warm at night, and we would only use these duvets in the winter.
Styles and Options
There are two options available to personalize your duvet cover: you can either select a pre-designed cover from the store, or you can upload your own unique design or photograph to get printed onto the duvet cover for you.
Pre-designed Covers
Pre-designed covers come in three different sizes:
Twin Size: This cover is 68" by 88", and it is a perfect size for your little one.
Queen Size: At 88" by 88" this duvet cover is bound to make any princess feel like a queen.
King Size: This is the size of all sizes, the duvet cover measures at 104" by 88" befitting a king!
There are two main ways to go about looking for the perfect duvet cover for you or your family. The first option is to search by color, simply clicking on your favourite color, for example green, will bring up all the duvet covers where green is the predominant color. The options will vary greatly including solid green covers and patterns, to green animals, plants and writing.
The second option for choosing a pre-designed duvet cover is by Topic. There are hundreds of different topics to choose from that include: Nature, Nautical, Animals, Art, Floral, Travel, Hobbies, Sports, Funny and Vintage, to just name a few. If you know what your family loves, then this is a perfect way to choose the ideal duvet covers to make their bedrooms beautiful.

Example Pre-designed Duvet Covers from Cafepress.
Designing Your Own Duvet Cover
The available sizes for this option are the same as getting the pre-designed covers, (Twin 68" by 88", Queen 88" by 88" and the King 104" by 88").
To start designing your own cover you must enter the Cafepress on-site designer that will help you create your custom cover in a very intuitive way. After you enter their site, click on the "Start Designing" button (bottom right) and you will automatically be taken straight into the designer.
First you have to select your preferred size and then you will be offered three designing tools: Font, Graphics and Shapes. The available font options are extremely wide and you can choose any font from Alepholon and Balloon, to Garamond and Calibri styles.
The graphic option will allow you to upload your own image/design or you can choose from the clip-art that is already available on the site.
If you are choose to upload your own image, make sure it meets the requirements that their on-site designer stipulates: your image must be JPG, PNG, TIF, TIFF, GIF, BMP or PSD and must meet the 2736 by 3467 Pixel prerequisite. We recommend designing your cover in a 300DPI resolution at 2736 by 3467 Pixels - preferably in vector format and saving your design as TIFF file.
If you choose to put shapes on your duvet, you will be able to select a myriad of different shapes from the range; it can be anything from stars and hearts, to clouds and polygons. All shapes can be freely resized, dragged and you can delete anything you have already put onto your duvet if you wich to change it.
Once you finalize your design, simply click the "I'm Finished" button and you will be taken through to the final stage of purchasing your item. At this stage you can review your design, and if you are not satisfied with the look, you can get the Customization Team to help you out through a live online chat.
Once you are happy with your duvet, you can then either add it to your cart or save the design to buy at a later date.
Review
The video below shows a review by Jessie D. Miller on the covers.
Promotion Details
This particular promo offer from Cafepress gives you a 10% discount on all Duvet Covers from the Cafepress Marketplace. The promo code cannot be combined with any other coupons, however it you can use it an unlimited number of times.
Please Note: There are quite a few exceptions to this coupon:
The discount does not include any sales tax, gift-wrapping or transport costs
It does not include any bulk orders
The coupon does not apply to any other items on the Cafepress Marketplace such as mugs, clocks, pillows, mats or T-shirts
Duvets are NOT included in this discount
Benefits
Cafepress makes it easy to model and create your own design out of your original concept, and the in house Designer helps push you creatively to get the best that you can out of your artistic abilities.
We love buying goods from Cafepress, as the range of products is absolutely astounding and we know we are guaranteed to find the perfect gift, for a reasonable price. Not only are the designs innovative and unique, but also by using this 10% discount promo on duvet covers, you could be getting yours for quite a good price.
Limited Time Offer
At the time of writing this it is unclear when the offer will expire, but usually these Cafepress offers are temporary so take advantage of this opportunity while it is still available.
Claim Your Coupon
At their site you can check out with Paypal or Amazon, and the discount will be auto-applied after you click on the red "Apply Coupon" button below. After clicking the button you will be immediately transferred to the Cafepress duvet cover section on their site (the 10% discount will automatically be applied at checkout).
Cafepress 10% OFF on Duvets
Custom Bedroom Décor: Duvet Covers 10% OFF.
Apply Coupon
This is a great promo from Cafepress and when you buy with them, you know you are getting quality goods. If you want an absolutely unique and warm duvet cover, this deal is for you and is sure to lighten up your household.
comments powered by