Overnight Prints Business Cards Deals
Quick Tip: Need great looking business cards? Check out our reviews of the best business card printing services. Prices start at $0.10/business card!
Overnight Prints currently offers 48% OFF on Business Card printing.
Business cards are important to have on hand whenever you are networking. For entrepreneurs and small business owners it is especially imperative that you have business cards readily available to handout at any time. This can be the difference between succeeding in business versus barely getting by.

Well designed, professional looking business cards can make a difference
For many years now Overnight Prints is offering good quality business cards cards (read our review here) at very good prices.
With this discount coupon, you can get 48 percent off your business cards order at Overnight Prints.
When you need the job done in a hurry with no errors, Overnight Prints is a good choice for printing your business cards.
This post will discuss how you can give your cards a custom look and fill you in on what exactly this discount offer entails. If you are not in need of business cards we invite you to take a look around our site. There are many other printing related opportunities for savings.
Business Card Styles and Options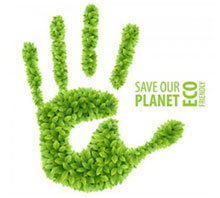 Overnight Prints uses thick 15pt stock from environmentally sustainable forests. The thickness of the paper gives the cards a nice solid feel. There are several free finishing options that come with this high quality business card.
To enrich full color printing by providing depth, a gloss finish is a great way to get a slick look. Or, you can make fingerprints disappear with the satin matte finish.
Another option to consider is using spot ultraviolet finish which ad's a special touch while getting an elegant and smooth appearance.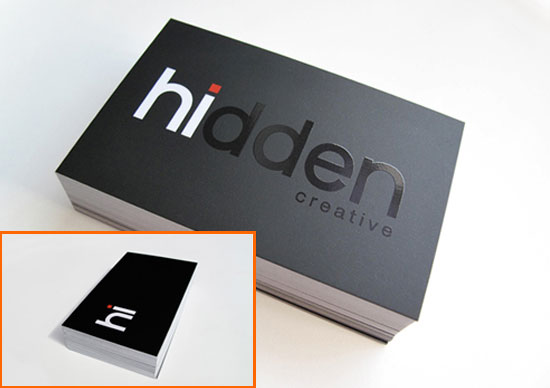 Spot UV Finish adds a nice effect to your business cards. (Hidden Creative)
Design Options for Business Cards
The business cards are all the standard US size (3.5" x 2").
For a small price increase ($2.00 per 100 cards), you can choose to have rounded corners if you really want to stand out.
By default Overnight Prints business cards are printed on one side only. You can upgrade to double sided printing for a fee (about 45% price increase for double sided printing). For a professional looking business card we do recommend double sided printing.
There are three design options to choose from:
Advanced Designer This is for those who have a bit of graphic design experience. Using Overnight Print's designer, which is packed full of features, you can custom build your own design.
Template Designer For those who are interested in creating something unique but do not necessarily have design skills, this is the best pick. To create your business cards quickly, you can pick from a variety of design backgrounds.
Upload Your Design If you created your own design and have a file with your design, Overnight Prints offers the possibility to upload it and making sure it looks perfect.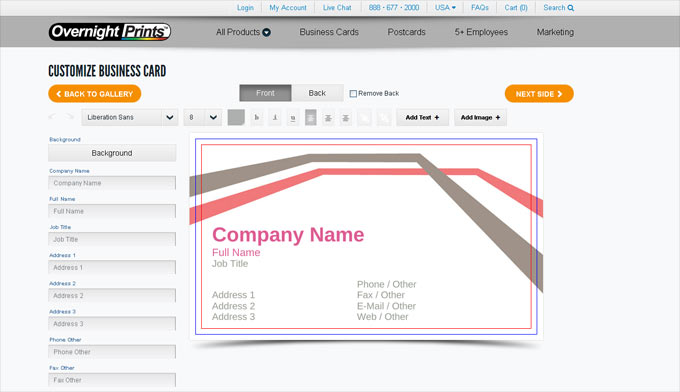 The online designer software from Overnight Prints.
We were not impressed by the templates offered by Overnight Prints and recommend to create and upload you own design. Overnight Prints does not offer proofing, but with orders starting at just 50 business cards, you can get an idea of the quality before making a bigger order.
Business cards are available in quantities up to 5,000. The price per unit improves the more you order.
Quick Tip: Looking for business card design idea's? Visit our post on inspirational business card designs or have a look at this Pinterest Board about business card designs.
Coupon Details
This coupon will save you 48% on your purchase when you buy any type of business card from Overnight Prints. You also get free spot gloss coating, and you get your choice of matte or gloss finish.
This offer is valid for both single and double sided cards and rounded or square cards. The only requirement is a minimum order of 50 business cards. These cards can be designed any way you want using the online tools mentioned above, or you can upload your own - we recommend to upload your own. This coupon can be used as many times as you need.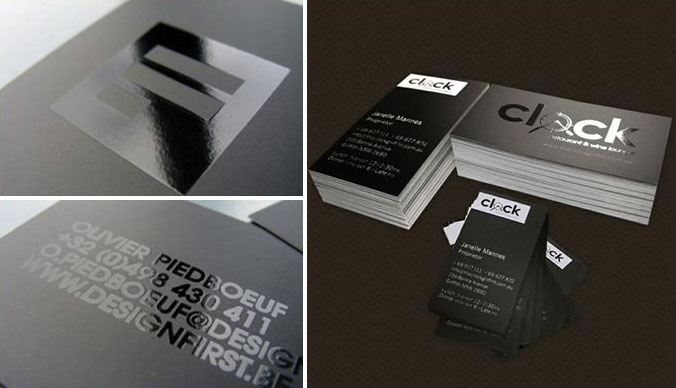 Spotgloss printing Examples - Overnight Prints offers spot-gloss at no extra charge with this coupon. Source
Benefits
If you were to pass on this offer, you would find that business cards form Overnight Prints are still inexpensive when compared to other online printing services. The quality of the cards is very good - (you can read our review here).
All cards are printed on thick 15 point stock that gives your business cards a nice professional look and feel and the free spot gloss option makes this coupon a very good offer.
Pricing Details
All Prices below are including discount (coupon) and excluding shipping.
50 Business Cards: $6.85
00 Business Cards: $14.15
250 Business Cards: $21.25
500 Business Cards: $29.05
1000 Business Cards: $34.35
Since Overnight Prints does have such a steep discount with big orders, we recommend giving them your business when you have a lot of printing that needs to be done. When you use this coupon, you save money immediately. This keeps more money in your bank or to helps your business's profit margin.
Limited Time Offer
This coupon for 48 percent off on business cards will be good until December 31, 2014 according to the information we received from Overnight Prints. In our experience this is not a guarantee that the offer will be available until that date. Often, without explanation or warning, this promotion could be removed, a practice that is not uncommon among e-retailers. If you want to ensure you have a chance to use this coupon and avoid paying full price we advise to act now.
How to Claim Coupon
If you want to take advantage of this deal, simply click the red "Apply Coupon" button below. This will activate the coupon automatically and will open the Overnight Prints website in your browser. The discount will be applied once you engage in the checkout process. In some occasions you may need to copy and paste the coupon code "ONPBC" in the discount field at checkout.
In summary, Overnight Prints is in the upper echelon of online printing businesses. A dynamic design process, quality prints, and several free finishing options are offered by this one stop shop. With its speedy turnaround times and seamless ordering process, Overnight Prints has a leg up on their competitors.
Claim Your Coupon
48% OFF On Businesscards
Up to 48% OFF on Business cards Business Cards 468x60. Details. Expiry: Jun 30, 2015
Apply Coupon
Before you pay, you will see the discounted amount at the checkout.
Related Posts
» Best Business Card printing services review
» The Future of business cards: NFC Technology
comments powered by