60 Creative Holiday Card ideas for Print
Posted by Olivia dela Rosa on December 09, 2014
---
Christmas is truly a wonderful season to celebrate, and what better way to share the spirit of festivity but through printed holiday cards. Countless cards have already been made, with designs filled with reindeers, Santa, winter season and snowflakes, wreaths, and other things that fill up this season. While we have previously handpicked our favorite hand lettered holiday cards, we have also curated a selection of creative and festive ones that we've found. Some joyful, some colorful, some bold and bright, and others just downright funny, these cards we have picked out are truly special on their own. Here are 60 holiday card designs that we think would be a great substitute to those drab, mass-produced cards we receive each year.
(We are committed to give you only the best of the discount deals and coupons when it comes to print, and the holiday season is no exception to that. In fact, we would like to give more. That's why on our Coupons page, Overnight Prints is offering 58% OFF ON EVERYTHING. That's 58%! If that's not an excellent deal, I don't know what is.)
---
1. Ferme à Papier. Ferme à Papier - or "farm to paper" in English - is owned by illustrator Cat Seto. On it, she sells assorted paper products that she design herself, and she also runs a blog that serves as a home to her visual inspirations. Below is the holiday line from her collection that showcases a modern take on Christmas cards. What makes up this holiday collection is her use of handdrawn portraits, stripes, bold types, and rich, vibrant colors, which really make each of her designs stand out.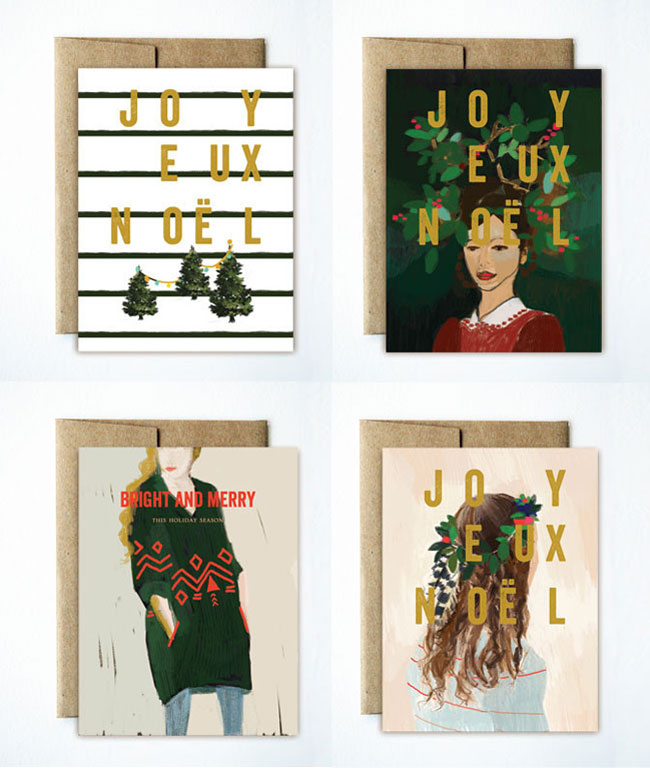 ---
2. Wit and Whistle. Hand lettered, hand drawn, and in 3D! It would be fairly fun to see this 3D holiday card from Wit & Whistle, and it will probably be a big hit to the kids as well. Wit & Whistle is a design studio based in North Carolina that works on paper products, such as stationeries, greeting cards, postcards, and other paper goods.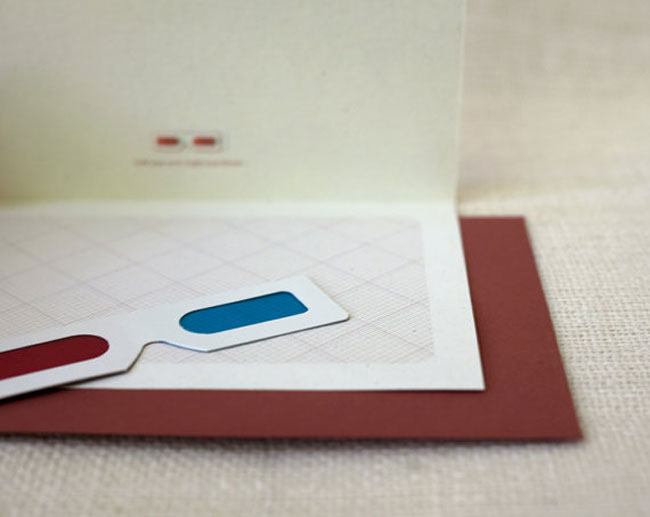 ---
3. Shop Sapling Press. "My holiday wish is for you to be happy, healthy, and slightly less successful than me." More humor and less drama is what makes a great holiday, at least to some. These letterpress holiday cards from Shop Sapling Press are good examples of a straightforward, tongue-in-cheek greeting to a family, friend, or coworker this Christmas season. Aside from this holiday wish card, Shop Sapling Press also offers a "Dear Wine", "Define Christmas", and lots of other witty one-liners printed on letterpress for your amusement.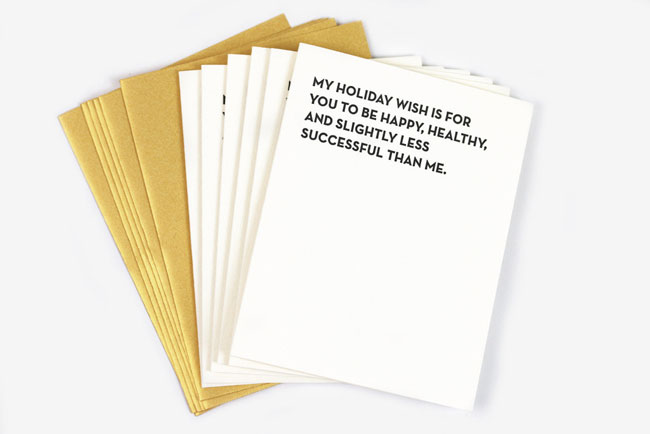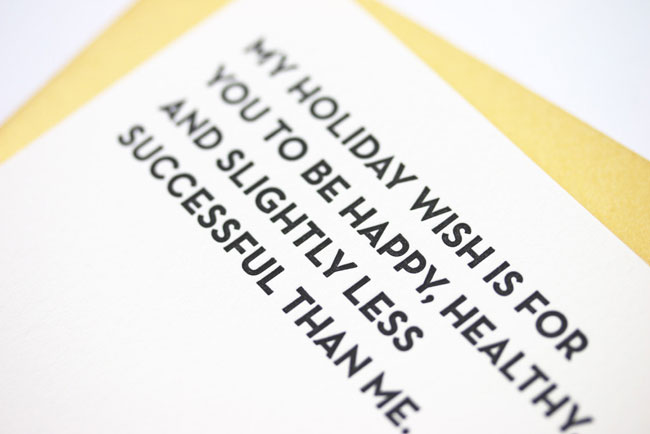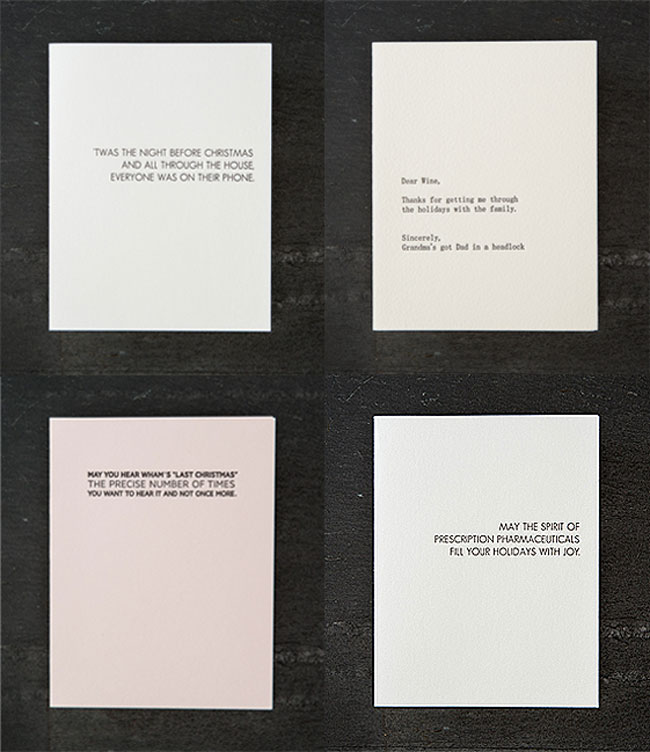 ---
4. Every Little Santa. Literally every little Santa is stuck on this holiday card from Imaginary Animal. "Every Little Santa" is a hand drawn piece from this art and handmade goods studio, and you purchase the card from Etsy.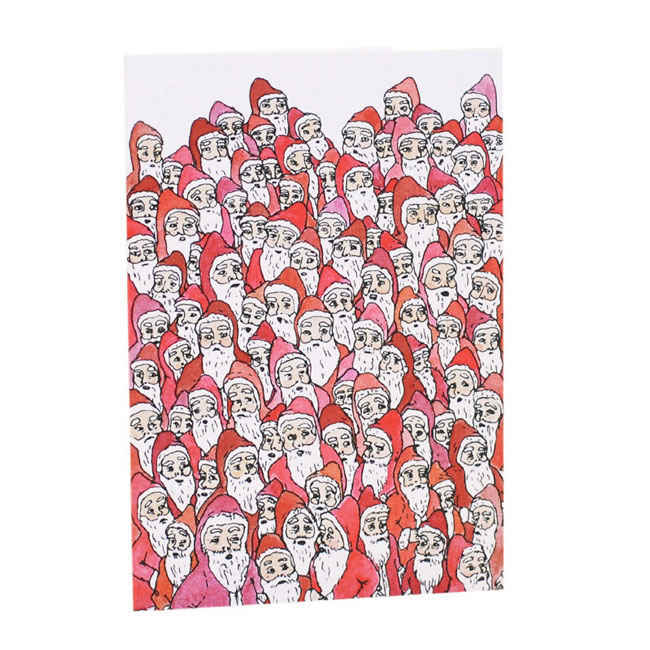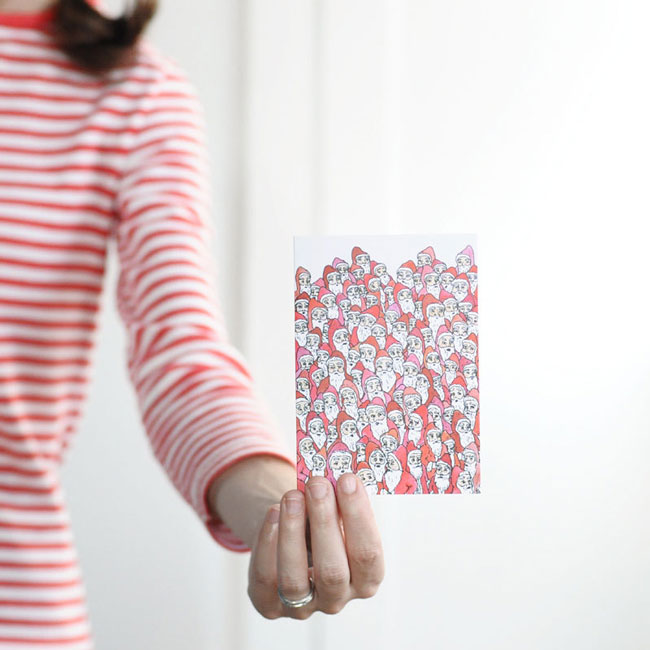 ---
5. House That Lars Built. Evergreens, winter firs, and a whole lots of florals. These holiday cards designed by Brittany Watson Jepsen are perfect for this wintery green season, and below are just 4 of the 7 card designs on her holiday collection pack.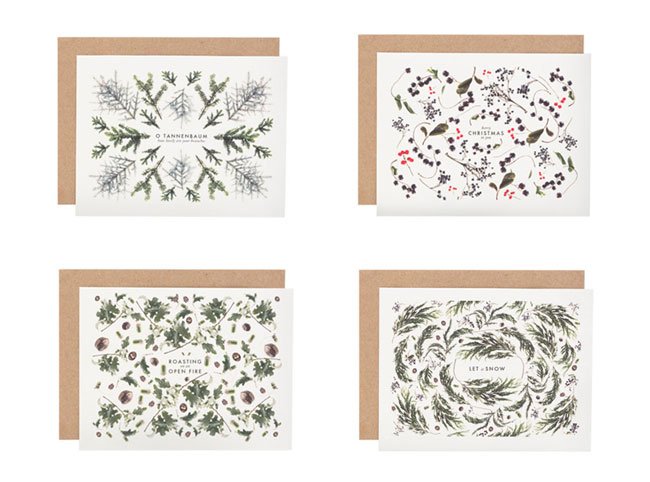 ---
6. Poppy & Red. Here's a set of festive and retro-inspired holiday cards from Poppy & Red's annual Charity Christmas Card Collection. These artworks are the collaborative designs of Poppy & Red, and artists Anna Deegan and Paula McGloin. There are 6 designs in total, and the proceeds from the sale of these cards will be given directly to the Littlehill Animal Rescue & Sanctuary in Ireland.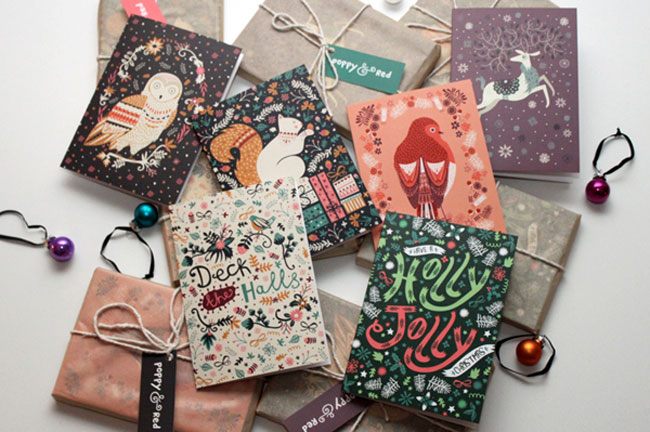 ---
7. Rifle Paper Co. Rifle Paper always provides a great selection of quality paper and design, and its holiday collection is definitely noteworthy. Created by husband and wife team Nathan and Anna Bond, this small stationery and paper goods company based in Florida has now grown into an international brand.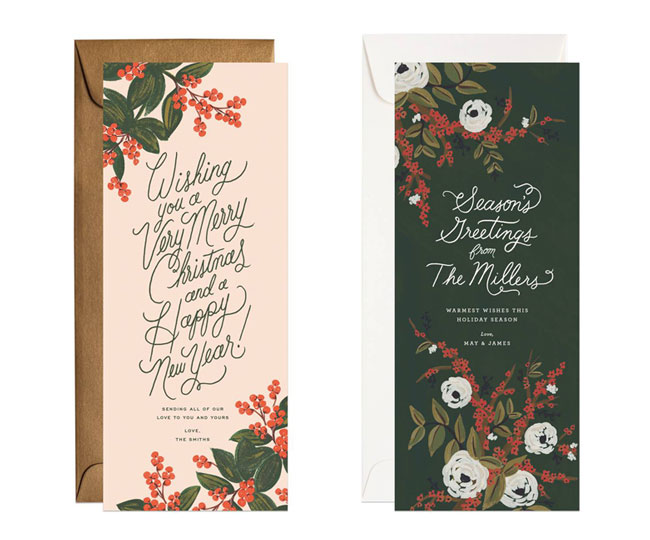 ---
8. Quill & Fox. Yas Imamura is the owner of Quill & Fox, a small Oregon-based paper design studio. And for Christmas, she and her husband Andrew created a collection of illustrated holiday cards.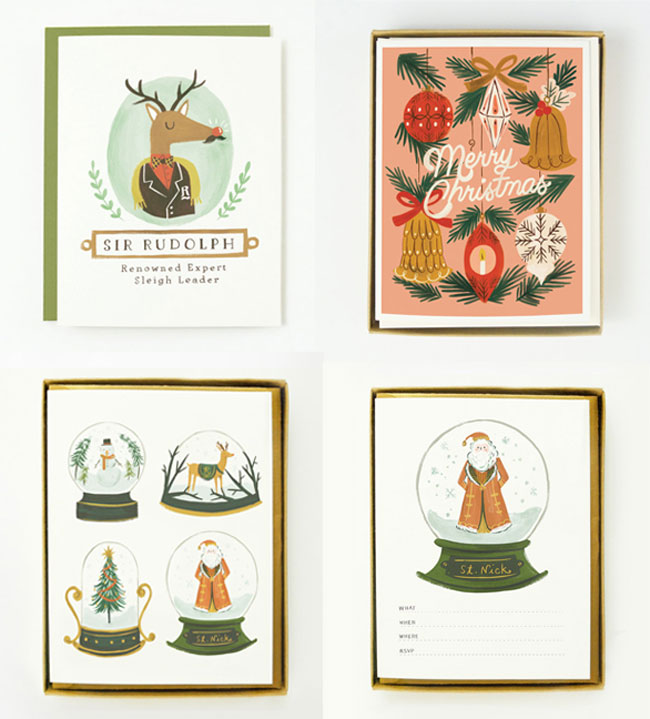 ---
9. Clap Clap Design. Clap Clap's inventive use of typography and festive color palettes look great on its Christmas cards box set.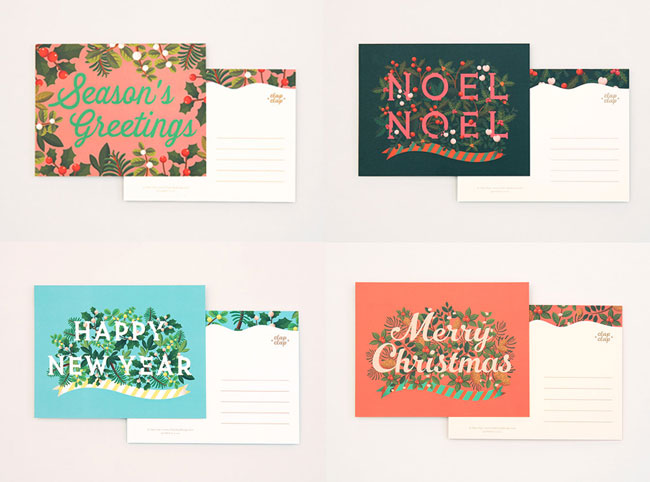 ---
10. Belles and Ghosts. Displaying beautiful texture and a creative use of matte stocks, this holiday card from stationery store is the illustrated work of MissySue Hanson and features a village inside a snow globe on its cover.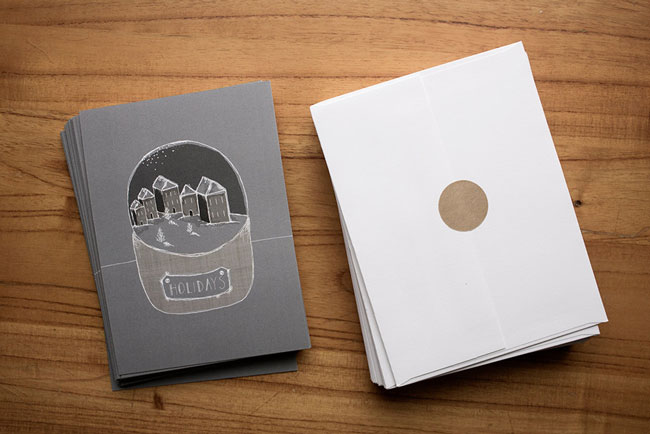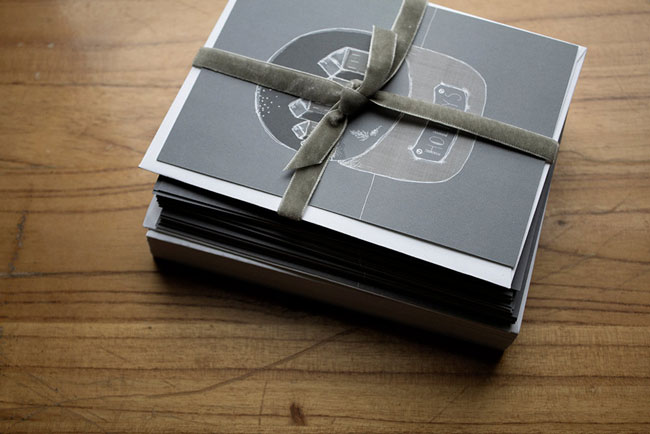 ---
11. Paper Cub. Shannon Kennedy completely redefined traditional Christmas cards with her holiday card collection under her Etsy store Paper Cub - in particular, the black, white, and gold themed one that says "Happy Holidays to you!"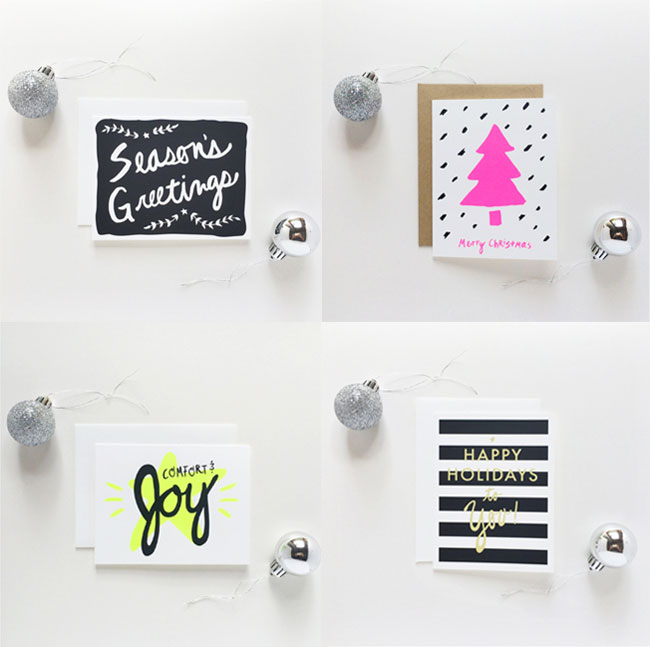 ---
12. Wish Upon A Print. Wish Upon A Print offers a lot of whimsical card designs to choose from, and right in time for holidays are these illustrated animals to remind us the beauty of the winter season.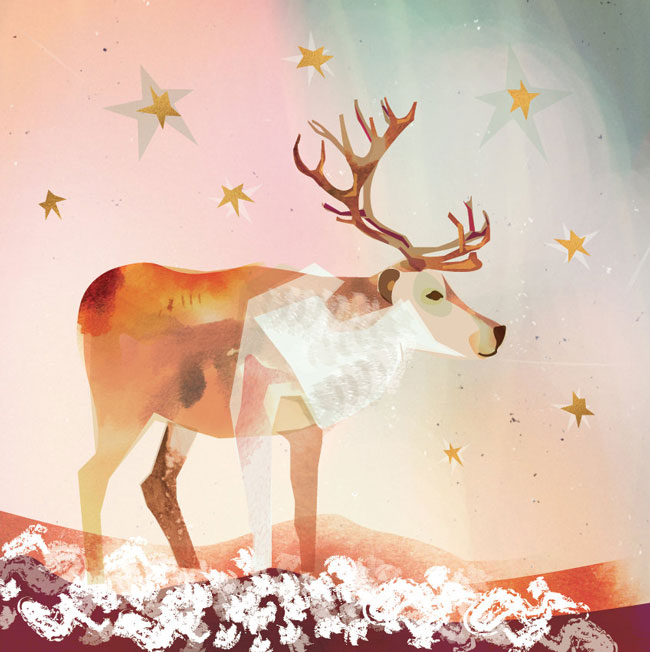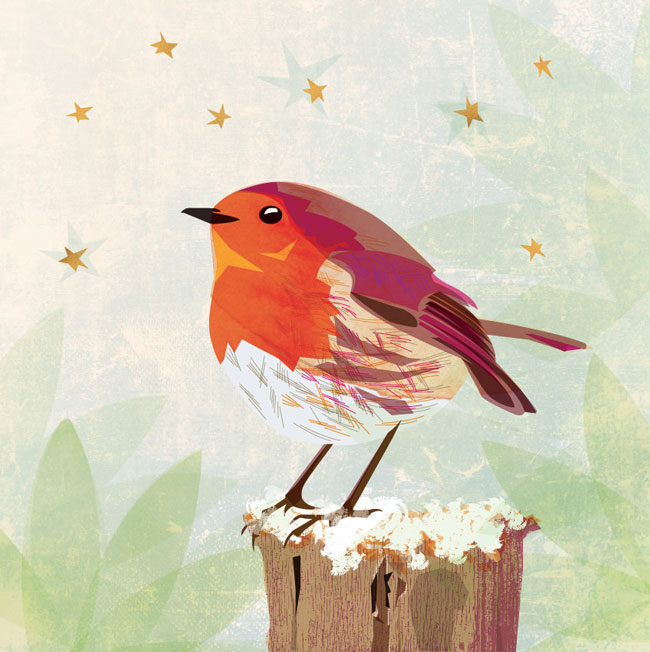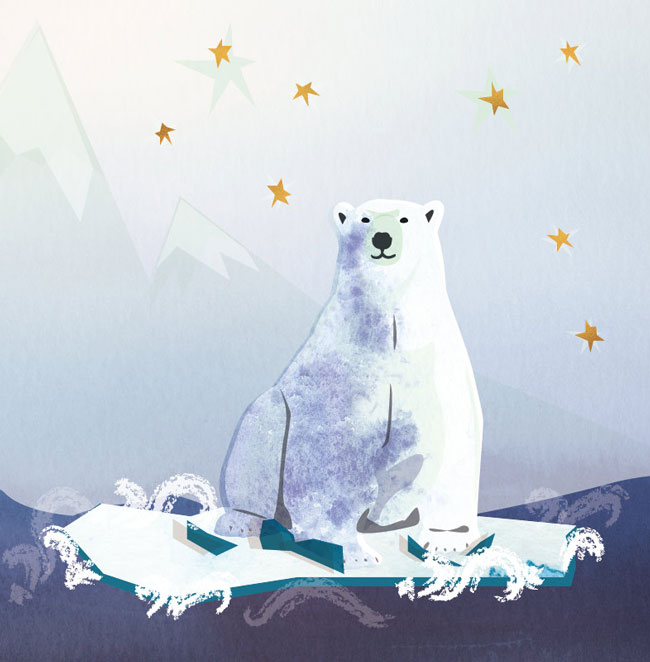 ---
13. Printerette. Printerette is a small Minneapolis-based design and letterpress studio, and for this holiday season, they offer these creative "Ho Ho Ho" and "Oh Holy Night" Christmas cards that would make a good alternative to typical and generic holiday cards.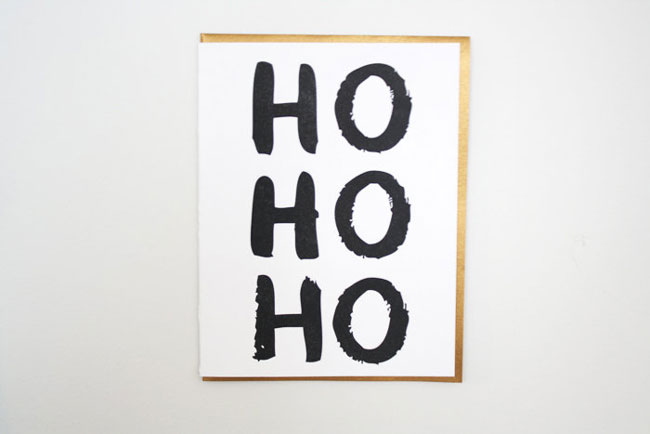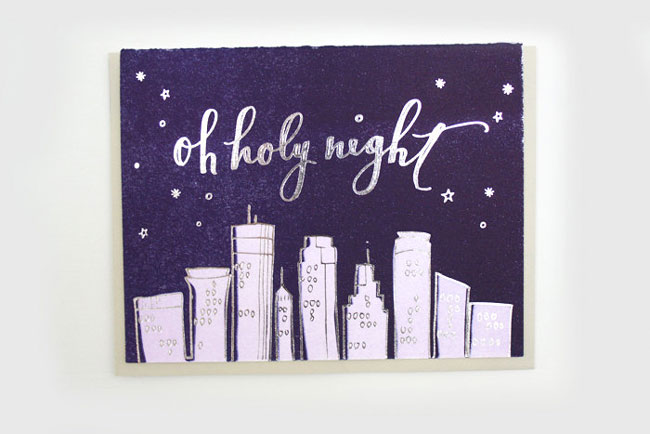 ---
14. Emily McDowell. Here's a subtly sarcastic and awkward Christmas card by Emily McDowell. If you're looking for something funny to give to your friends or familly, this would definitely work. Also if you check out McDowell's collection of card designs, you will find a bunch of keepers, what with her knack of using hand lettered types to write out lighthearted quotes and jokes.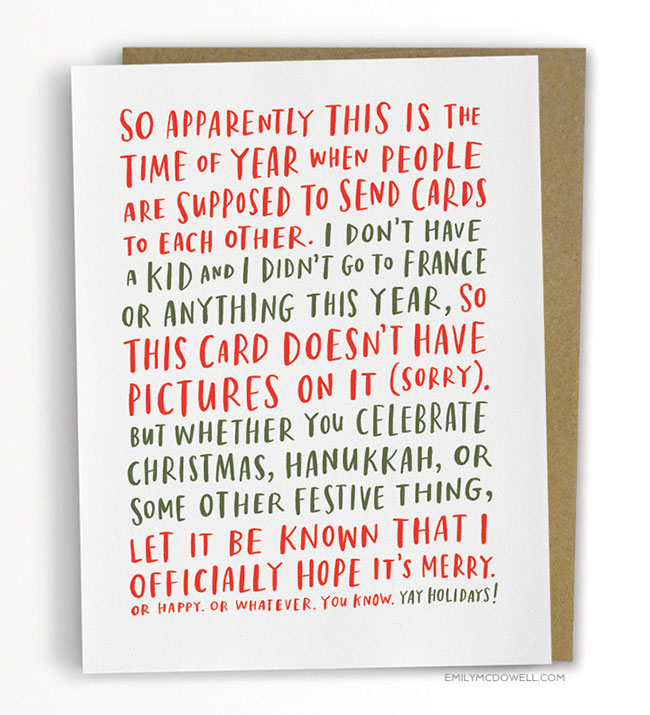 ---
15. Swiss Cottage Designs. Charm your way into your loved one's heart with the help of a holiday greeting card and a mixtape. Below are just some of the pieces by Courtney Jentzen, owner of paper goods studio Swiss Cottage Designs, and these playful illustrated designs are included in her holiday collection.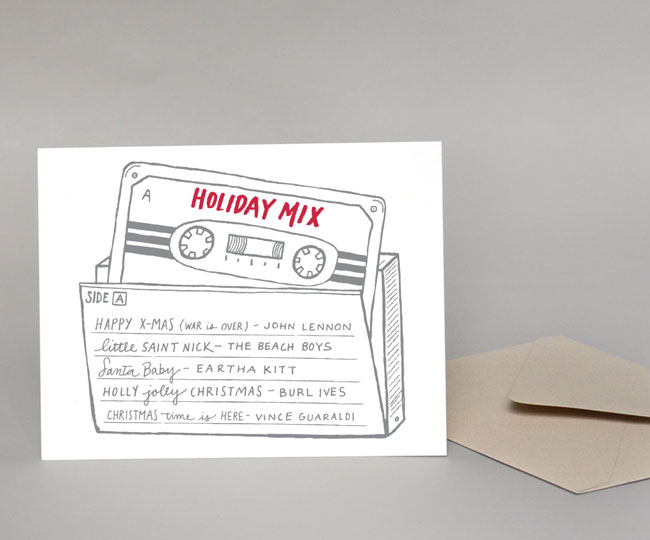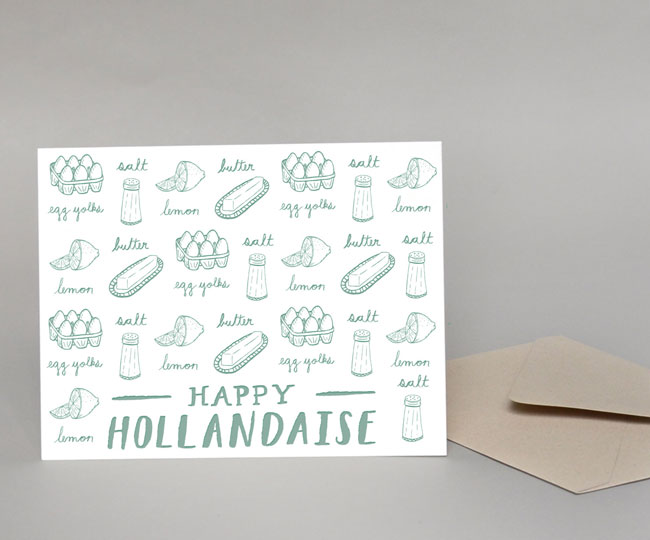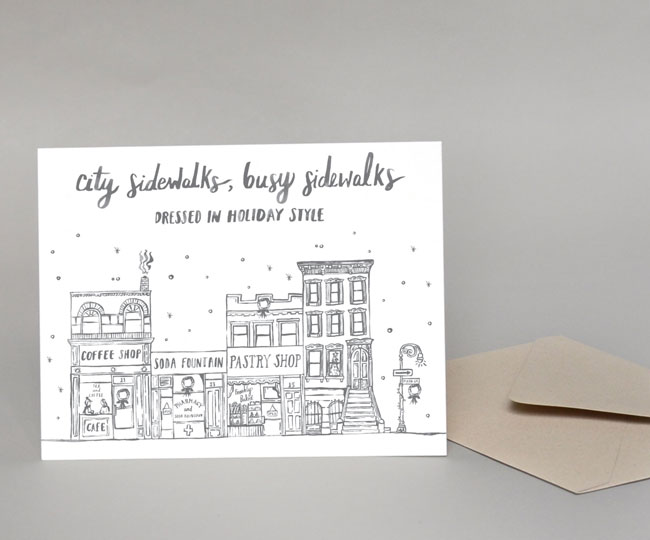 ---
16. Wildship. BreeAnn Veenstra created this whimsical holiday card that also serves as an illustrated guide to the famous 12 days of Christmas (probably so we don't have to forget the words to the song again), and she offers this up for sale on her design studio Wildshop.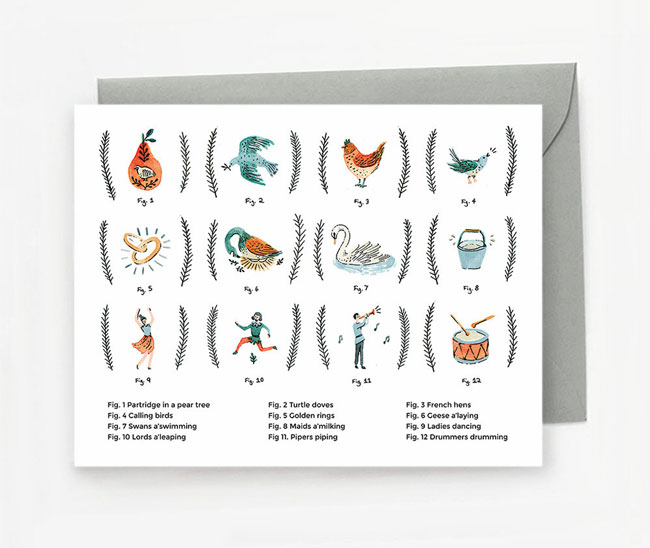 ---
As with any gift you should give, an old cliche always rings true that it's the thought that counts. Whether you choose to give either a festively printed holiday card or a simple token of gratitude, it is just as important to make the receiver feel special.
Comments? Suggestions? Christmas wishes? Feel free to comment on the box below!
Related Posts
Creative Thanksgiving Art & Prints
Amazing Birth Announcement Ideas
30 Beautiful Travel Postcards
Creative Ideas for Wedding Invitations
User Comments
Submit Your Comment