12 Creative Birth Announcement Ideas
Posted by Olivia dela Rosa on December 02, 2014
---
Sharing life events and milestones has never been easier these days. To do this, the use of social media sites is the way to go.
In just a few clicks you can share your most precious moments to the whole world. Okay, maybe not the whole world but just everyone within your circle. An event like the arrival of your child is obviously something that you want to celebrate with your loved ones, and that definitely calls for something special. How about creating custom birth announcement cards? They're festive, relatively cheap, and so easy to print. There's an endless number of design and print studios out there who can do this for you, and let us help you out by presenting 12 of the most creative birth announcement cards we've seen so far. Browse through our carefully selected list and take inspiration from these clever designs!
---
Curtis Petralia for The Cerceos. Jay and Tabby Cerceo wanted to announce the arrival of their baby in the most creative way, and so they did. For this particular task, they hired designer Curtis Petralia to come up with these silkscreened birth announcement cards. Details about the baby were vague, as the parents intended the gender of their baby to be a surprise for their loved ones. Just like being on "pins and needles", they wanted them to experience the same anticipation they had upon waiting for the news from the doctor. It also adopted an infographics style of design, sticking to minimal color palette and varied types.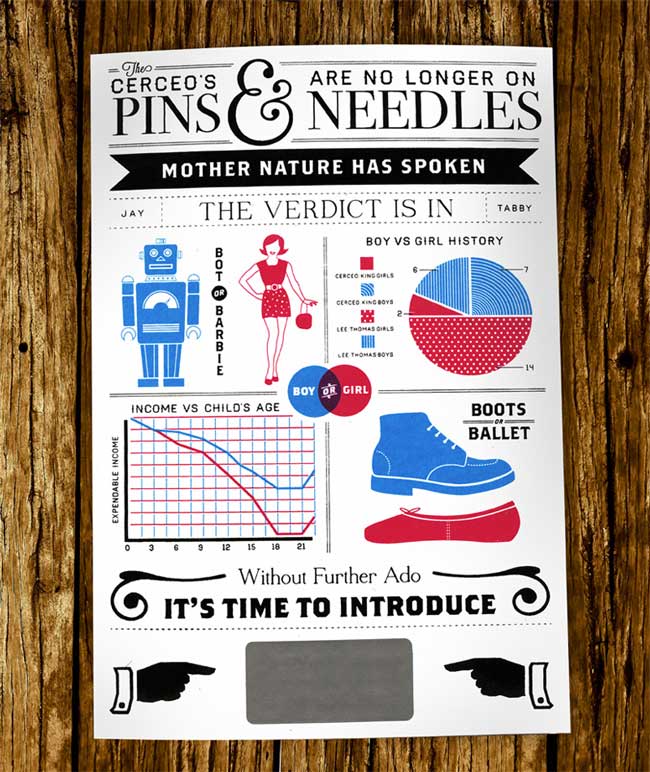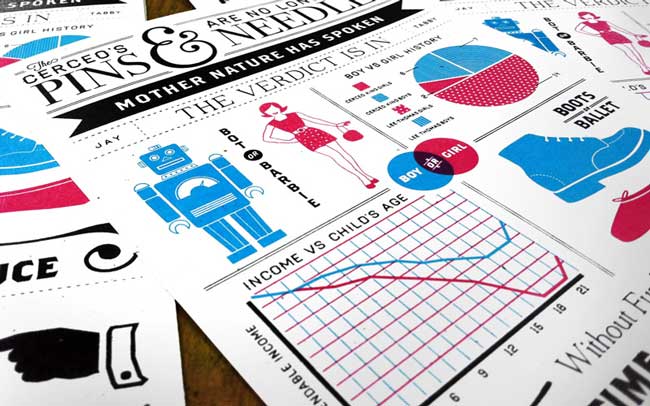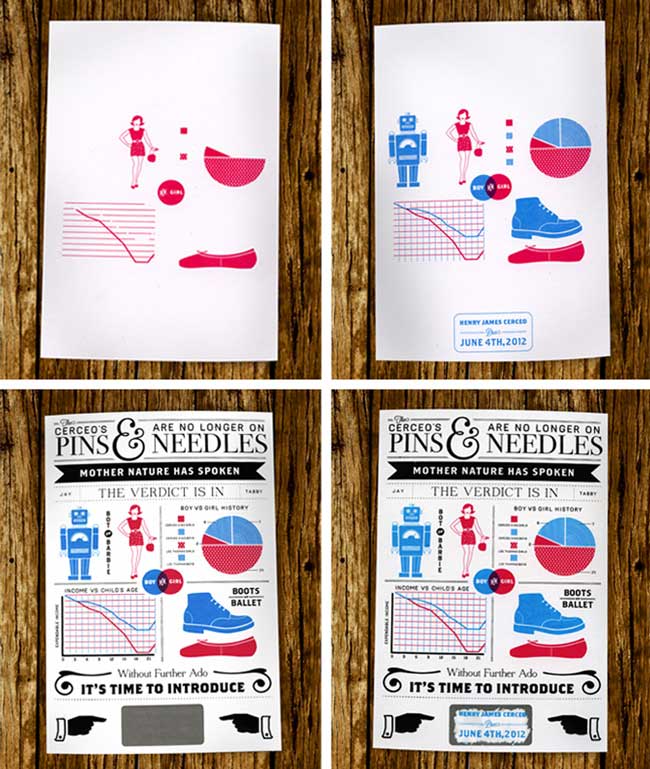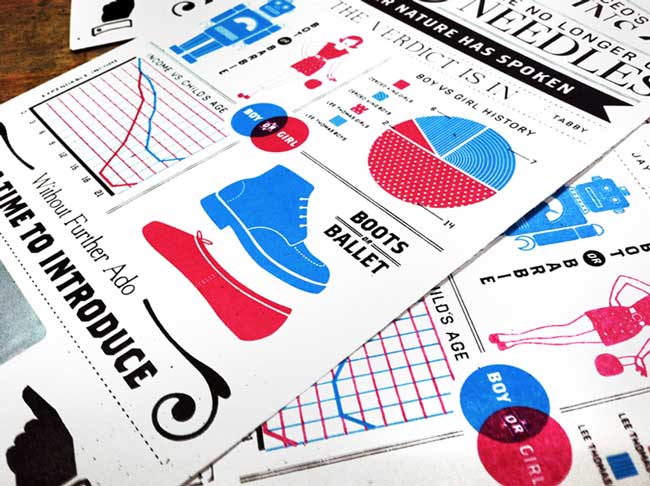 ---
Chloe Fleury. For her own baby announcement, Chloe Fleury designed this beautiful illustrated work for the arrival of her and Mehdi's child Lula. It features their animated family portrait (including their cat) on carefully handcrafted paper, and Fleury used a grey and blush color pallette that really made every image stand out. Fleury is a French illustrated who moved to San Francisco and later on pursued her love for design there. She is most known for her three dimensional illustrations for posters and cards, and her works have made it to online publications and magazines such as Refinery 29 and Anthology Magazine, as well as big companies like Warner Bros. Records and Target.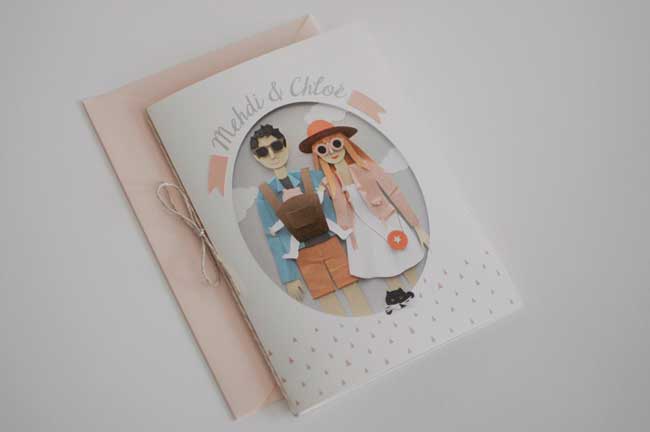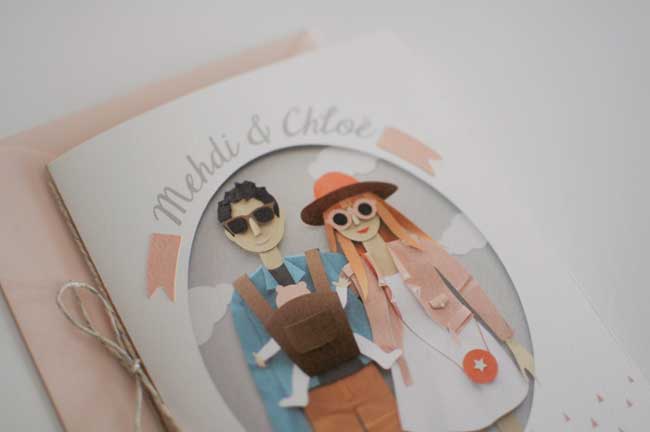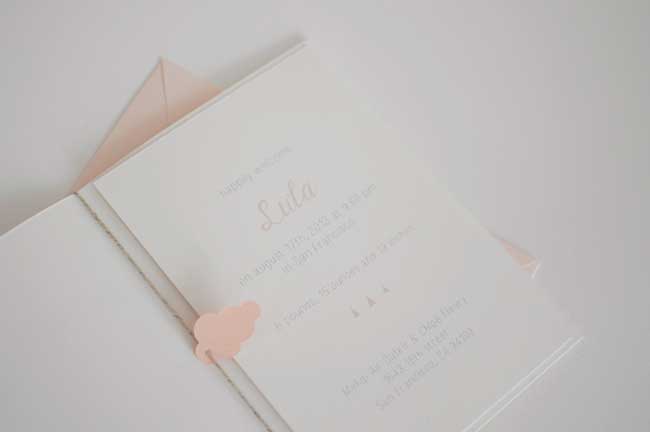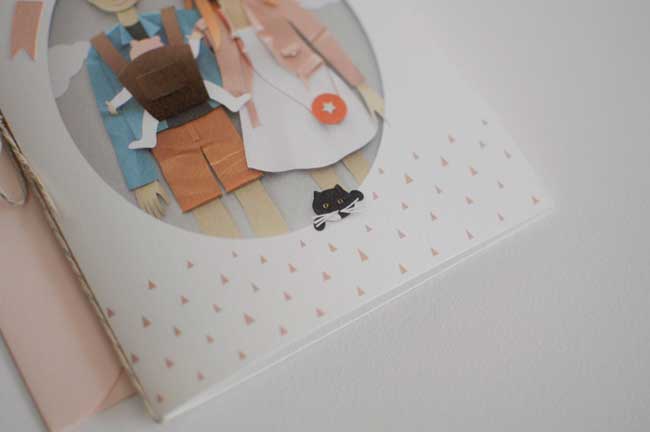 ---
Honeysuckle is a graphic designer who didn't even want to make the birth announcement for her newborn boy.
Fortunately for us she quickly changed her mind and designed this wonderful card to show off her baby to the world.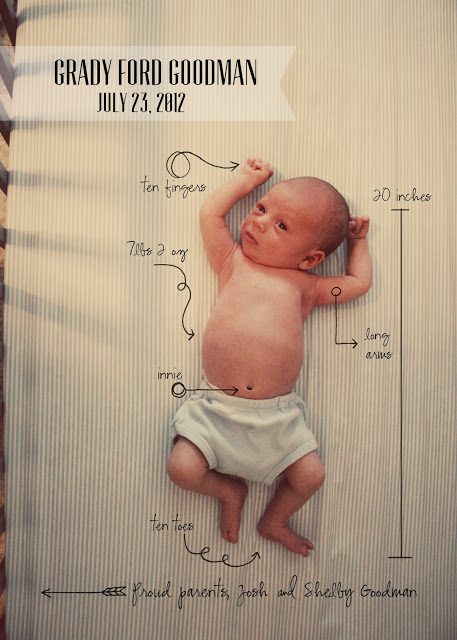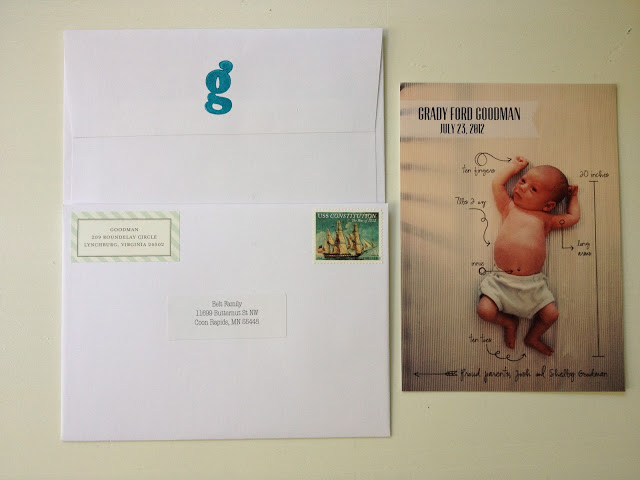 ---
Australian stylist Erin Michaels created this birth announcement card for his newborn baby Jagger.
We love this creative idea to capture all those birth details in one photo.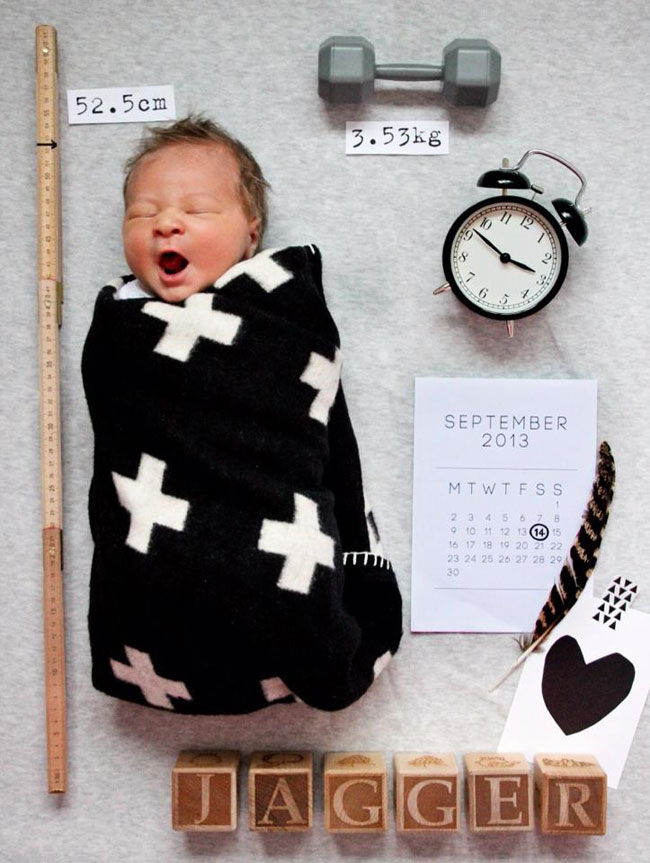 ---
Curious & Company for Stella Bennett. The playful, tongue-in-cheek approach to design of this birth announcement card makes it interesting enough to make it to our list. Any beer drinker will recognize the famous logo of beer brand Stella Artois, and graphic designer Terry Baker took the similarity in names as an opportunity to integrate the logo to her first baby's birth announcement. She took after the same exact design of the brand logo and used cleanwash letterpress to print it. This project by Baker gives is a peek as to what type of designers they are in Curious & Company - fun, festive, and totally brimming with personality.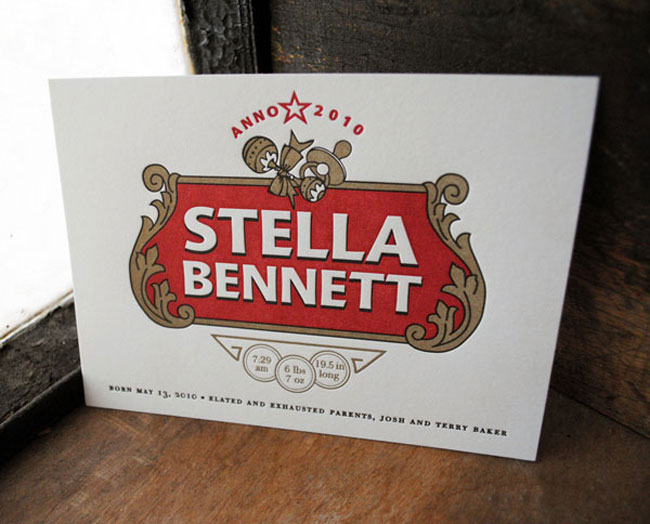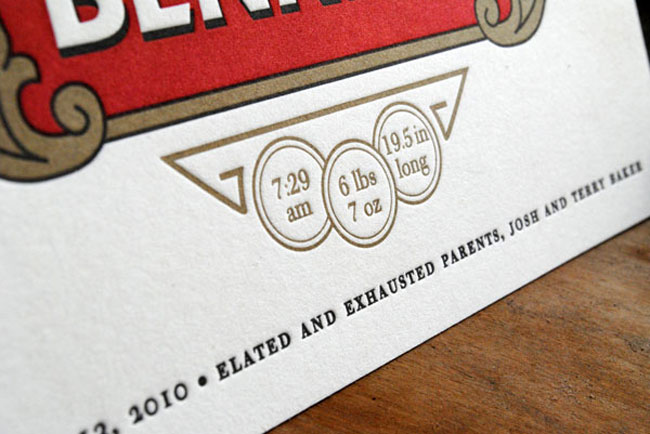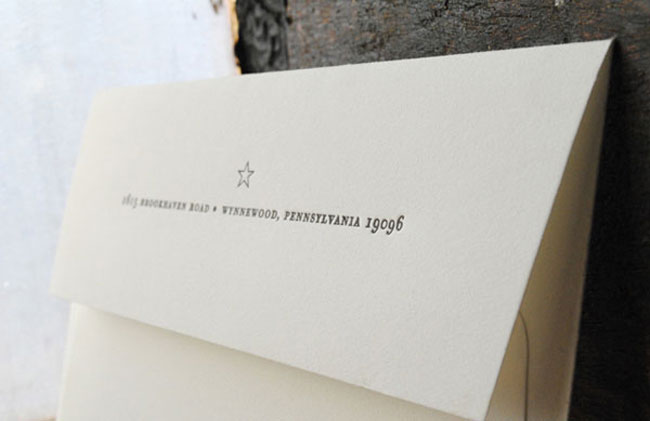 ---
Redesigned Birth Certificate by IWant. This work by IWant Design confirmed our thoughts on whether now is the time for a birth certificate redesign. It would just make sense to make the official document of your birth be more visually appealing, and this redesign did just that while still looking like an official document. Though it attempts to be playful by adding some details (such as astrological and astronomical details, birth flower and stone, etymology of the given name, and other data that might leave some of us wondering really about its significance to the event), it still contains all the basic and important information that can be found from its predecessor. The color of the card indicates the season of birth, with four shades to choose from. These colors are muted enough to give off that archival feel. It also includes hand and foot prints and the details are all arranged based on relevance.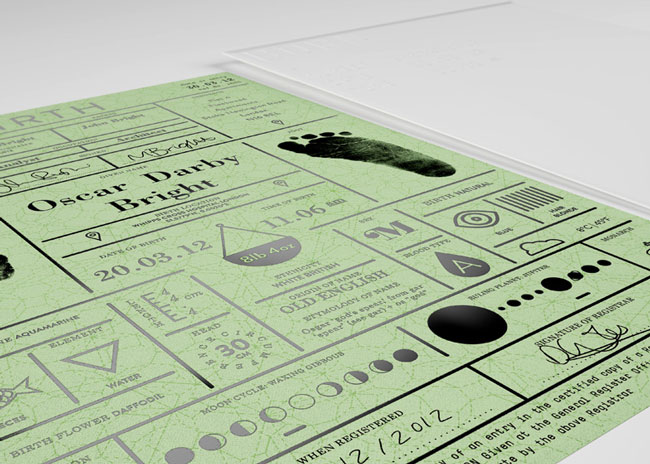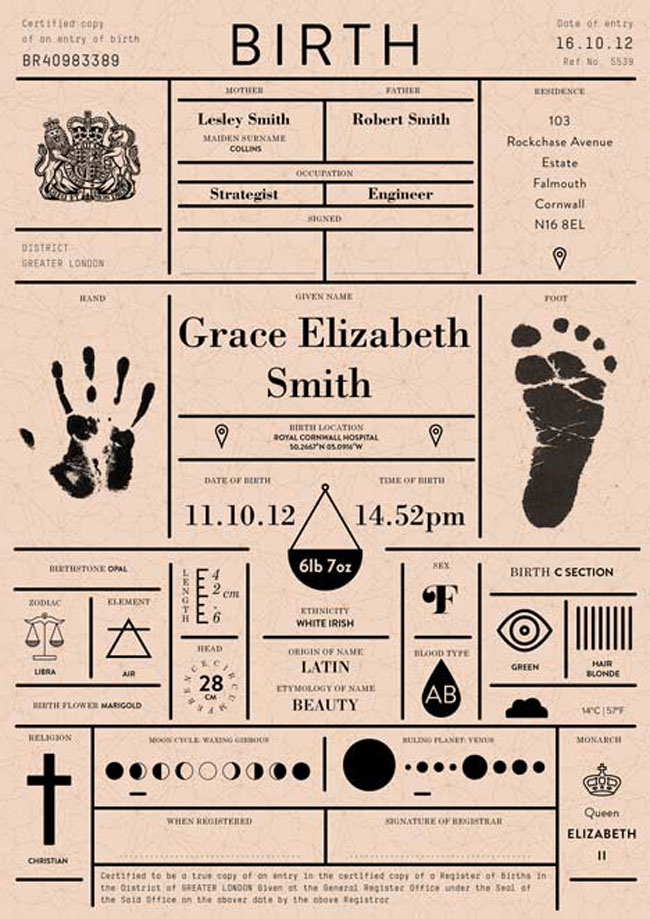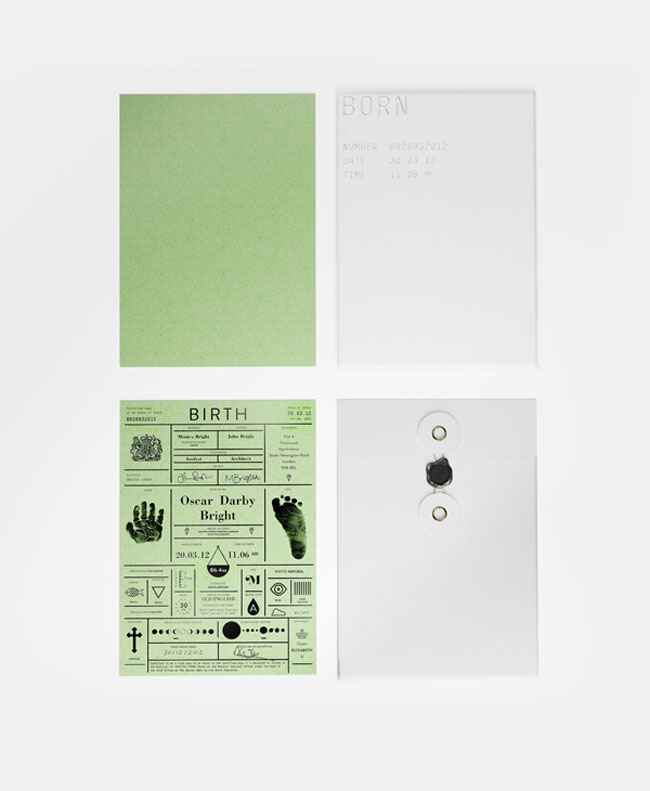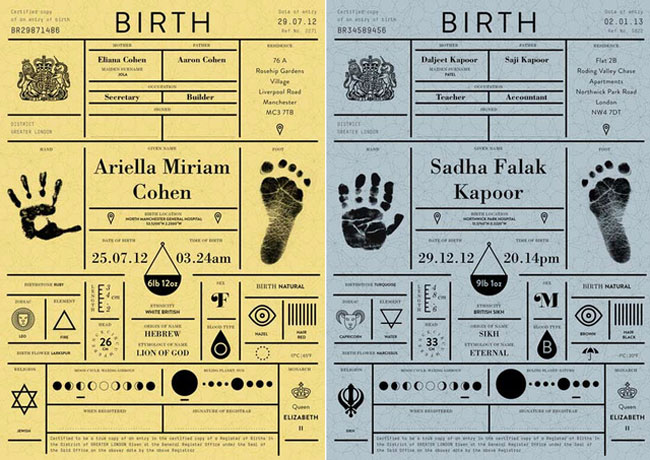 ---
Hello Tenfold Baby Announcement Card. Hello Tenfold is a boutique stationery company run by graphic designer Ellie Snow. It is based in North Carolina in the US but it caters to many clients all over the world, and their approach to design is distinctly modern and minimal. The company offers this birth announcement card for sale on its website: it has a scalloped pattern background and salmon pallete, and the details can be customized according to the client's needs. Hello Tenfold makes it easy for the clients as they can be flat printed, letterpressed, or sent to them as PDF files to print at home.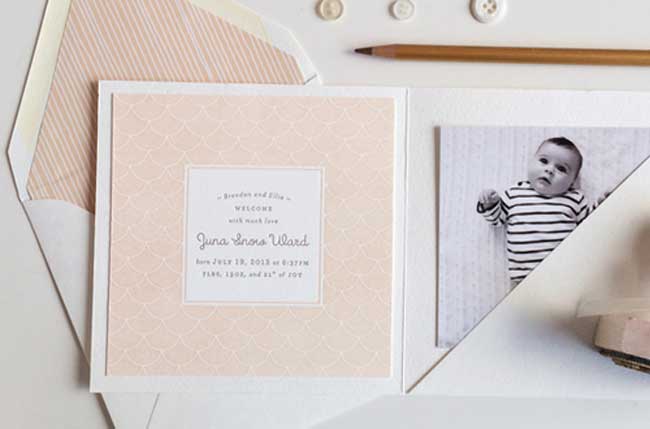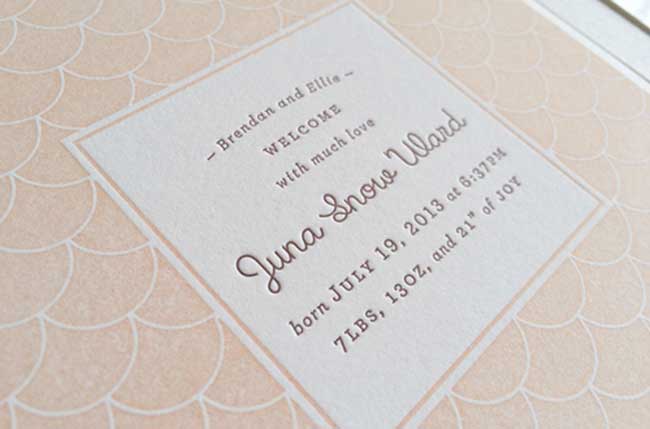 ---
Papoose Stationery Line by In Haus Press. In Haus Press is known for its branding projects because of their modern, sophisticated, and subtle style. This design and print house based in LA is owned by Trease Ewing, a designer and self-taught letterpress printer. Ewing created In Haus Press in 2010 as a printing press, wherein up till now all the designing, printing, and photographing is done in-house. She has created her own unique style in her work, and most of the time she is tapped to created identities for luxury brands. This is also the same design house that created visual identity for Web brands like Nasty Gal, Jay Adores, and Max Wanger.
But aside from projects like this, it also offers its Papoose stationery line specifically made for baby announcements. There is a wide selection of letterpress designs to choose from, and they are all available on Etsy.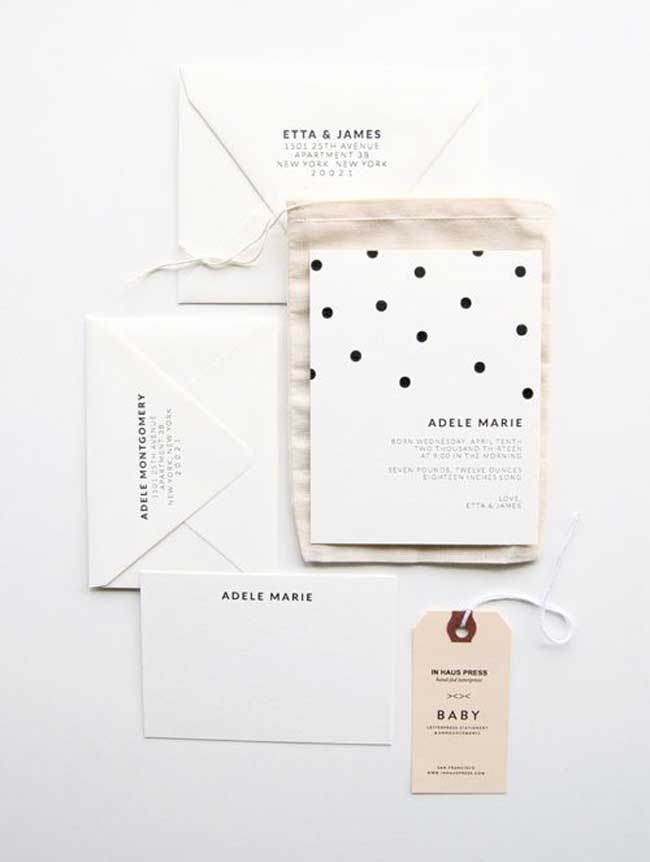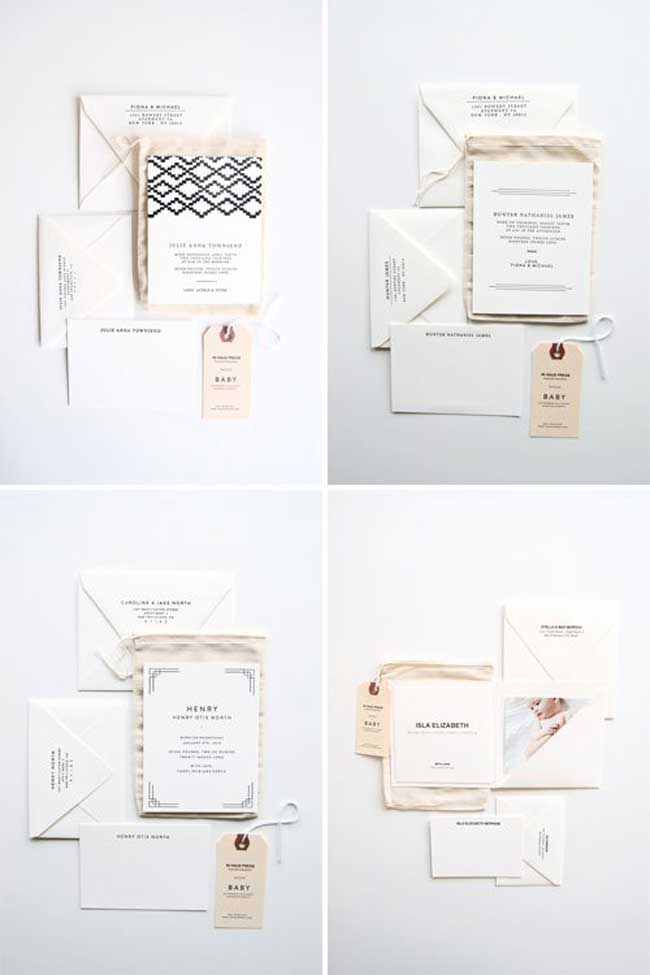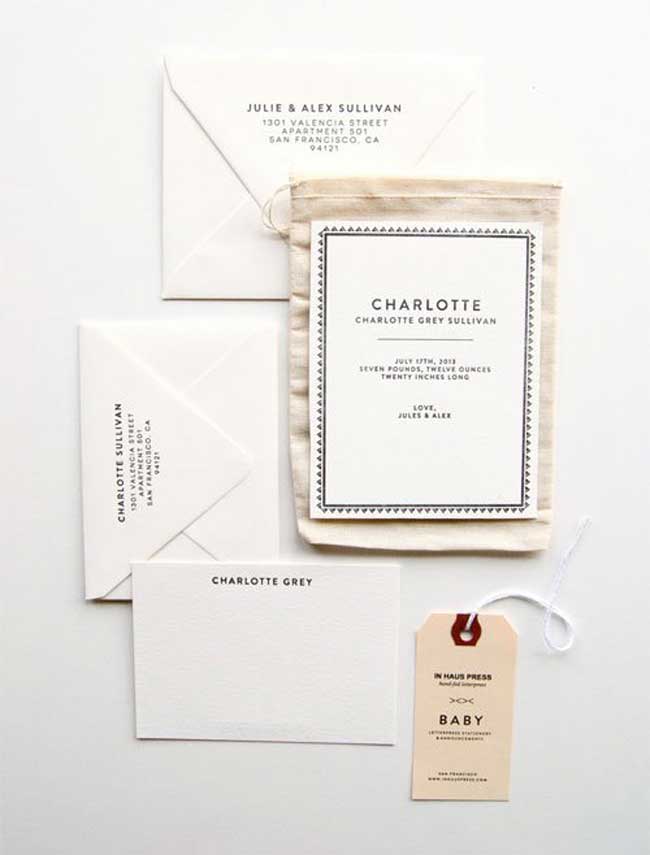 ---
Lauren Chism for Baby Jackson. If you want to announce the arrival of your baby in luxury and style, just do what Lauren Chism has done for this particular project. She designed these birth announcement cards for baby Jackson and the Dixons, which also doubles as New Year's cards (smart). To achieve a sleek and modern look, Chism resorted to print using black foil over white stock and a simple black and white semigloss photograph of baby Jackson. This fits right in to her design philosophy of "less is more". Lauren Chism owns Lauren Chism Fine Papers, a boutique stationery studio based in Dallas, Texas.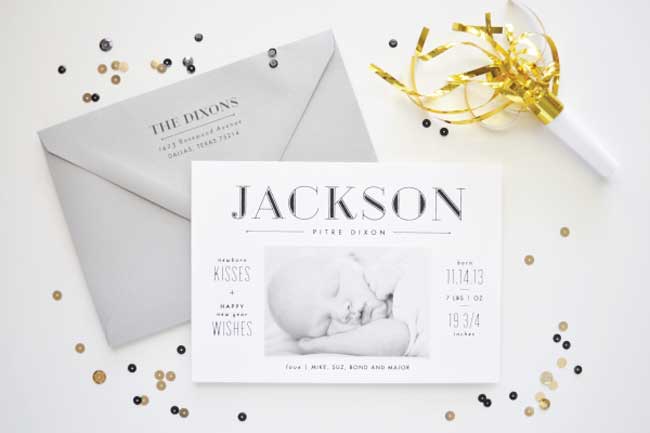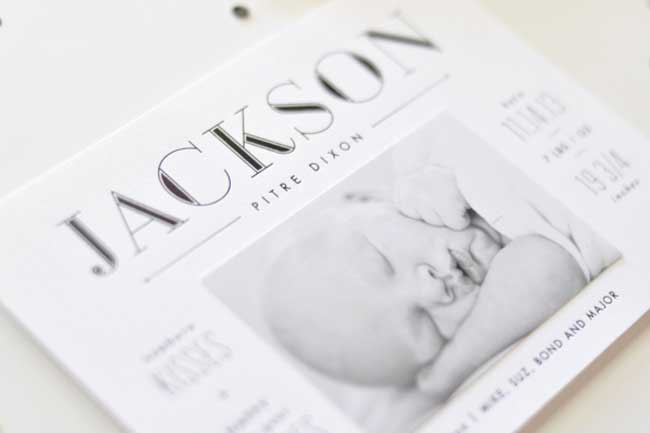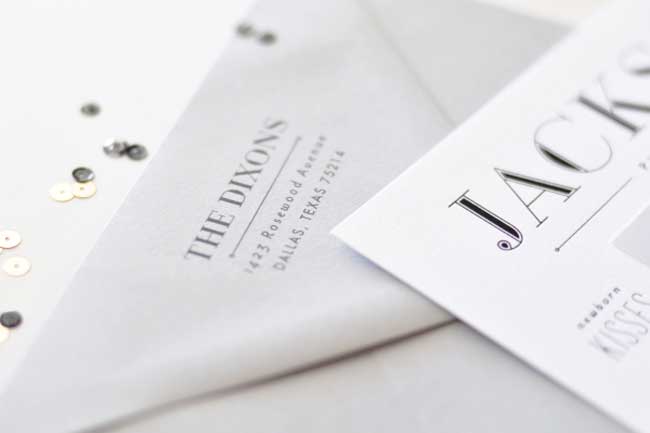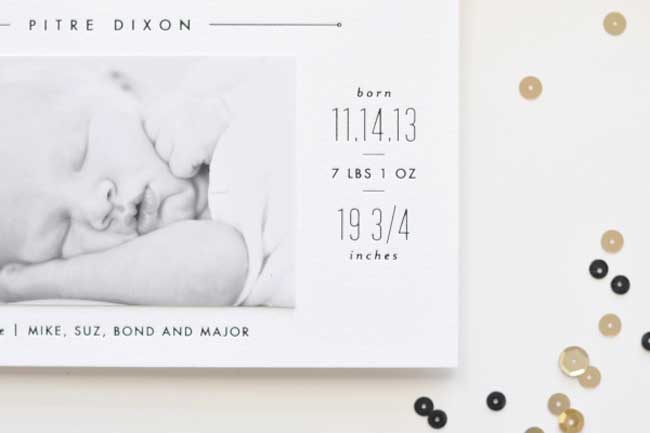 ---
Liam Derek Eagles by Moglea. Stationery design studio Moglea designed this simple letterepress cards for the arrival of baby Liam Derek Eagles. The card is set in subtle palettes of green and blue with handwritten fonts yet very minimal design details. It is adorable how they incorporated small objects into the photo (like the toy soldiers, ruler and washi tapes), which created a playful but still masculine tone to it. The birth announcement card also took a modern approach to its design, thanks to Meg Gleason who is the creator of the letterpress stationery studio.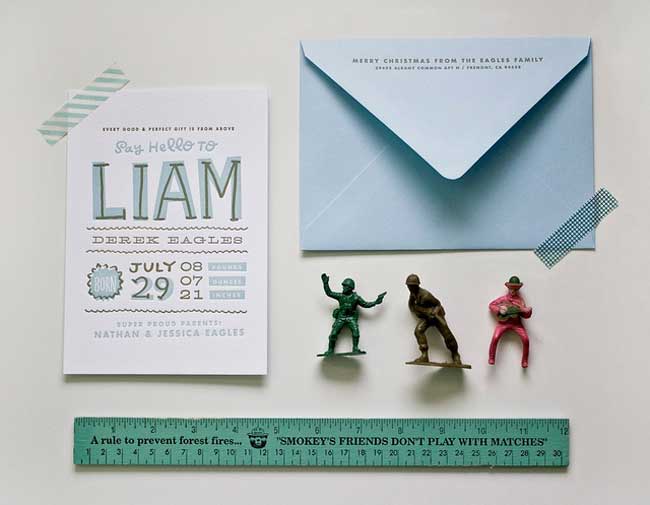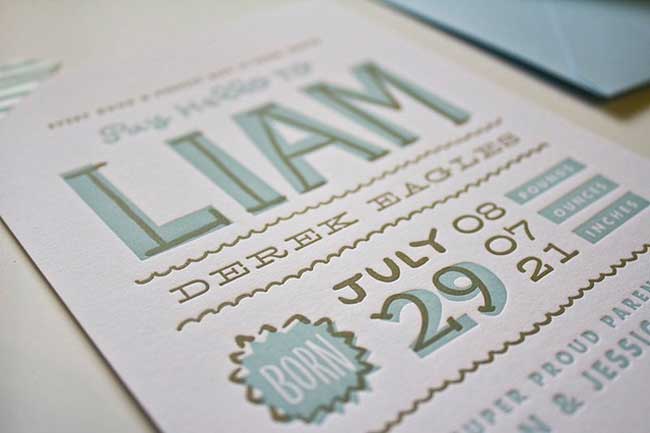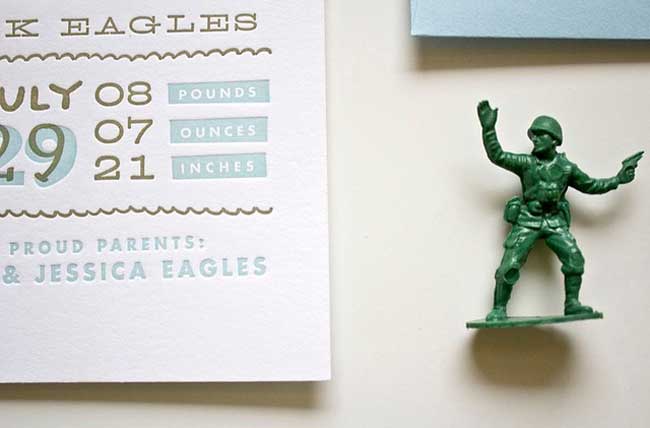 ---
Made in Washington by Creative Lab Press. "Made in Washington" and made like Washington, this card is literally made and cut out like the shape of the famous state of Washington. Creative Lab Press designed this birth announcement card for the Wolfords and their baby Sutton. The cards are designed so simply, sticking to black and blue colors over white card. They are also designed with handlettered fonts and illustrations of the things that one can only see in Washington (Space Needle, Lake Washington, Mount Rainier). Creative Lab Press is a letterpress and stationery design studio right in the heart of Portland, and you can check out the rest of their stationery designs on their website.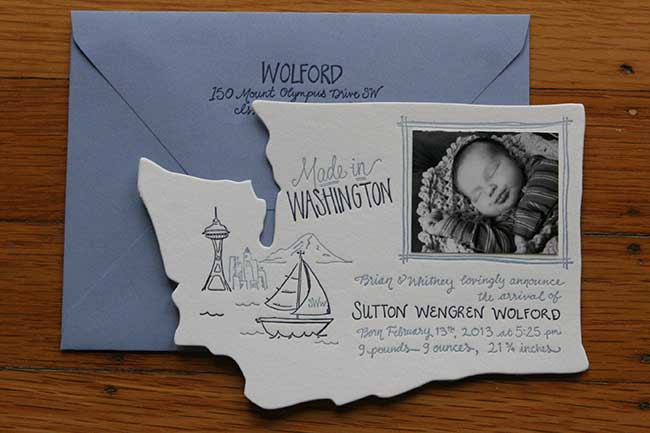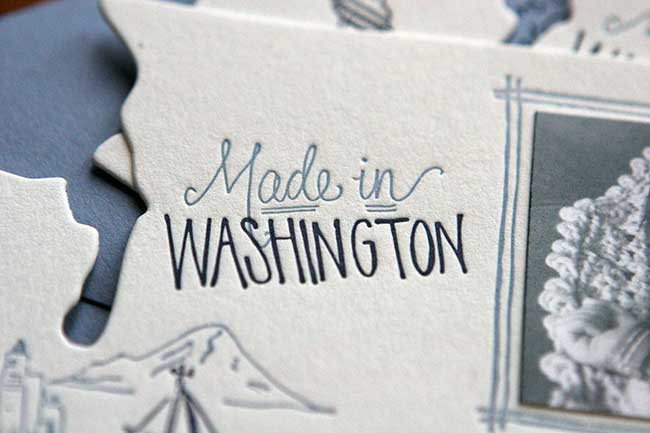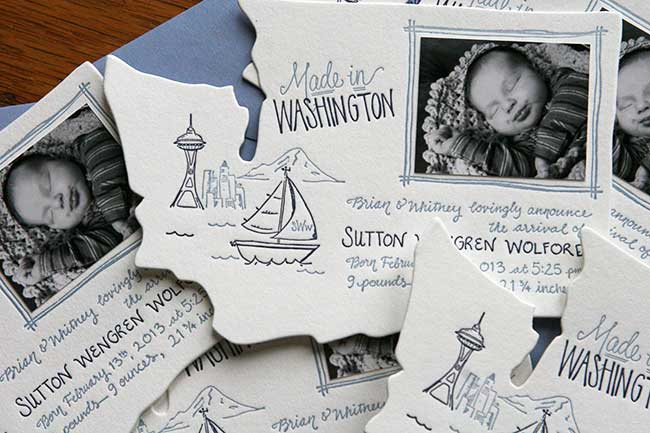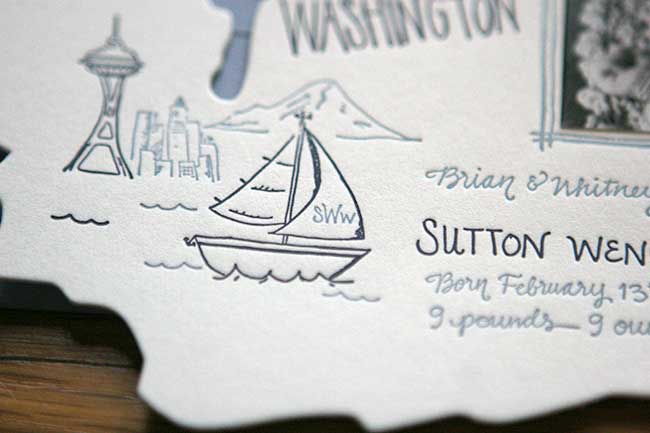 ---
Print in Cursive. Design firm Print in Cursive came up with these awesome birth announcement cards for the Lyhnakis' twin babies. Grey and neon color palette perfectly suits the tone of this event, and the card features a big ampersand to indicate that there are two babies arriving. What's interesting about these cards is that it used different types of textured paper to print on, a combination of vellum and Ahlstrom Blotter stocks, and as shown below the design is executed perfectly. Print in Cursive is a Salt Lake City-based design and letterpress studio run by graphic designer Elpitha Tsoutsounakis.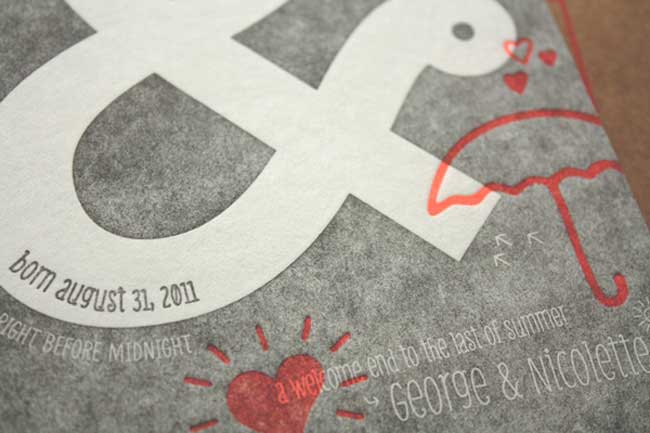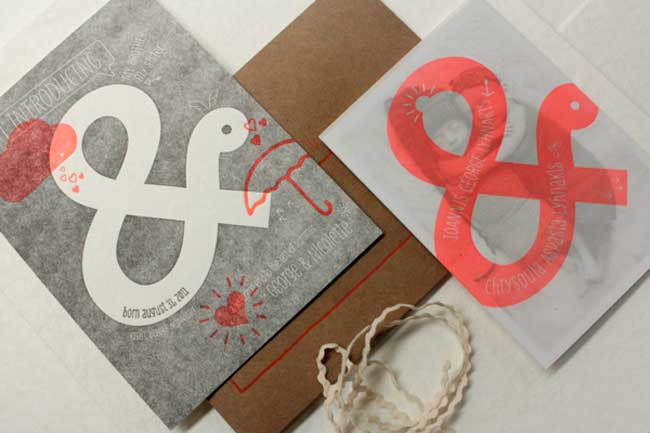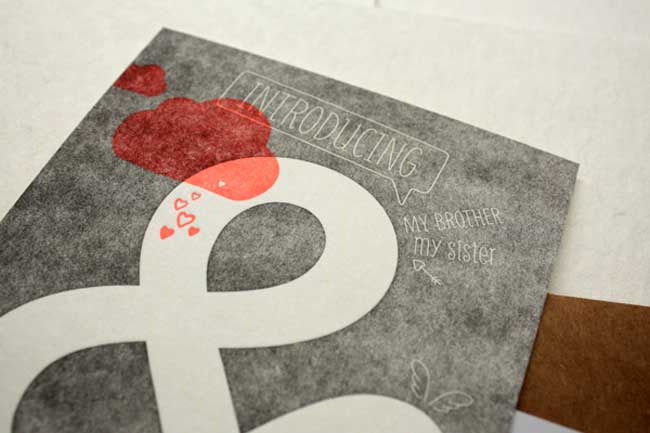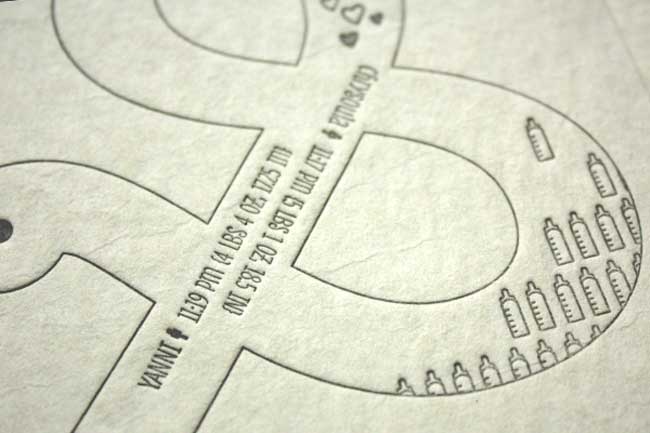 ---
This is our way of saying that there's more to birth announcement cards than just photographs. yawning and sleeping babies. And hopefully, you've been blown away by the whimsical birth announcement ideas that we found.
Ready to print? Head over to our Coupons page for our current discount offers printing deals. You'll never know - you might just bag the biggest discount right here!
Related Posts
Design Guide: 10 Principles to better design
Amazing Wedding Invitation Ideas
30 Beautiful Travel Postcards
User Comments
Submit Your Comment