60 Design Blogs to Follow in 2015
Posted by Olivia dela Rosa on November 17, 2014
---
60 Best Design Blogs to follow in 2015. Follow these blogs for up to date visual inspiration, tutorials and design-related needs.
We love the fact that in just a few clicks, anyone can have access to the widest collection of visual inspiration around the world.
Designers and artists are keen to share and showcase their labor of love, and enthusiasts are more than happy to reshare their favorite designer's work. Internet today has become a brewing community of creative people which has made it a lot easier for companies, brands, suppliers and other potential clients to get inspired to reach out to graphic artists.
If you are pursuing design, you probably already have your own set of favorite design sources. For typography and lettering fans, Jessica Hische is a common name that gets passed around a lot. The design-curious might check out James Victore or Stefan Sagmeister for ideas. It may also be a specific website just for articles and tutorials on how to become a designer. My go-to for inspiration would be Sara Blake and Dan Matutina, and these are just some artists who have a growing list of clienteles and followers due to their consistent style and personal design process. Their devotion to their craft is contagious, and through these artists' portfolios and blogs, their skills easily get passed on to aspiring designers. As Maya Angelou puts it, "You can't use up creativity. The more you use it, the more you have."
In this post, we list the best design blogs and websites that we think you should follow for inspiration en design related news. We scoured Instagram, Tumblr, Pinterest and the rest of the Web to create a collection of quality design resources. If you design for print, remember you can find the best deals here. Happy bookmarking!
---
WEBSITES to FOLLOW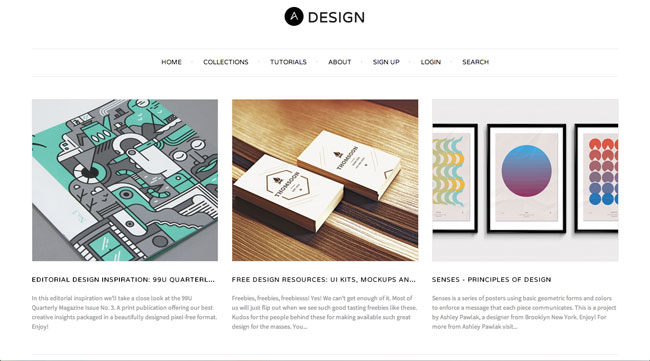 Abduzeedo. One of the major league players when it comes to daily design inspiration, Abduzeedo has been around for quite a while, being founded in 2006. It aims to become a community for aspiring designers and artists, and the site encourages feedback for all submitted posts. Aside from design ideas, Abduzeedo alse features tutorials as well.
---
---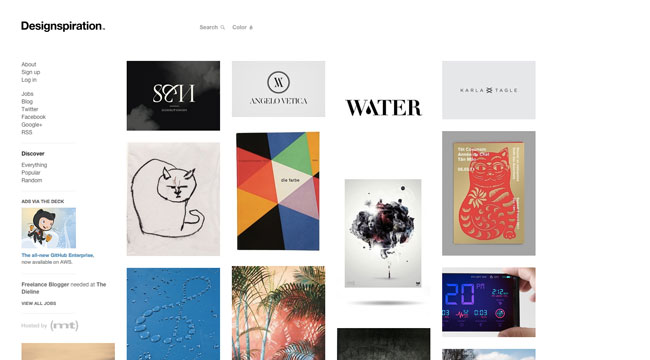 Designspiration. Another major design blog that's been around for quite some time is Designspiration. Created in 2010 by designer/entrepreneur Shelby White, Designspiration appeals to many because of its uncluttered site and large selection of design posts. The site allows you to create your own account and organize the posts that you liked.
---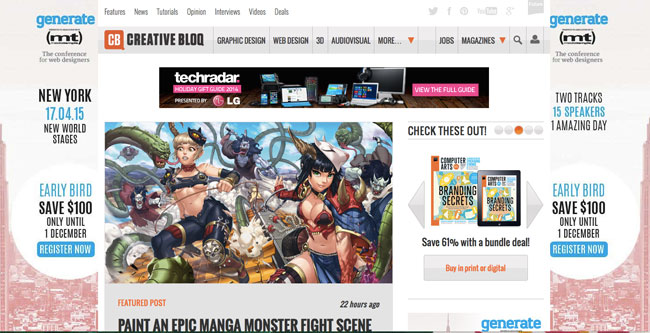 Creative Bloq. Creative Bloq is an online design magazine that features daily tips, news and inspiration for the creative crowd. The site boasts of in-depth posts suited for people who want to delve more into the creative field and offers insights across multiple design disciplines. Its staff is also composed of established writing and design experts, and the blog is part of digital publisher Future plc.
---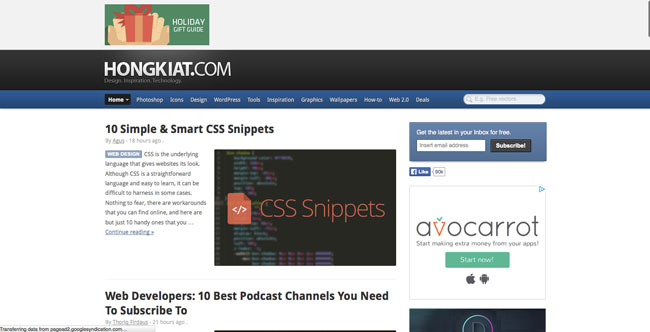 Hongkiat. One of the major players on the Web today, Hongkiat started out as website that features articles and tutorials about design, Web, and blogging tools. The site has grown a lot since then, serving as a home to a lot of writers, and now also posts news and articles about other topics under its roster, such as apps, software, art, humor, freebies, and everything else from the Internet.
---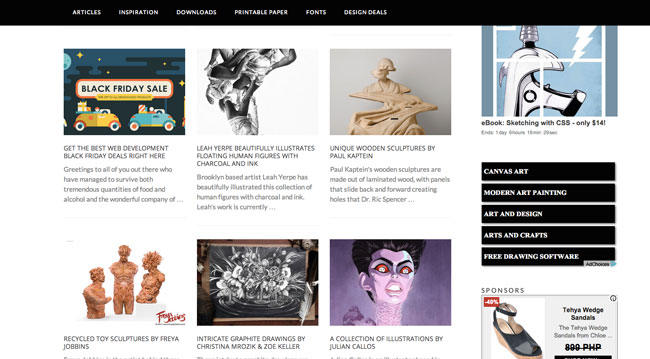 Inspiration Hut. Inspiration Hut is an online magazine showcasing the best of art and design projects. It makes your reading time worthwhile by fusing daily design inspirations with articles about design tips and tricks, as well as freebies.
---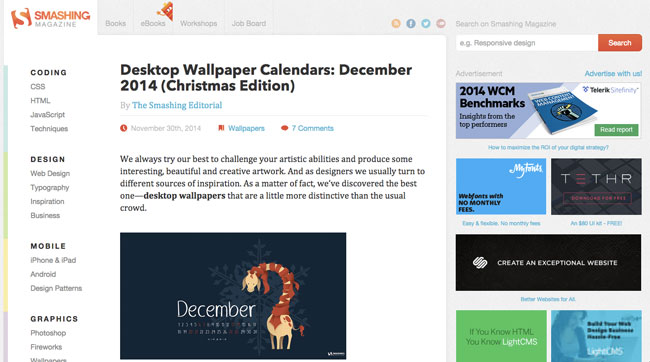 Smashing Magazine. Smashing Magazine is an excellent online magazine for Web designers and developers, focusing more on technically-inclined rather than visually compelling posts.
---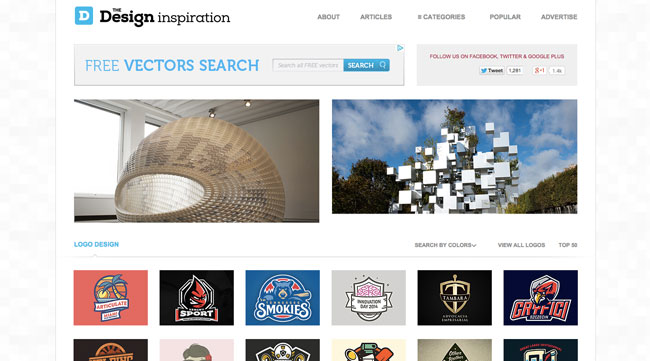 The Design Inspiration. This site lives up to its name as a major resource of design. The Design Inspiration is a host to countless design projects, including typography, photography, printing, web, and others. Because of its large selection of visual inspiration, it also took that advantage to offer free downloads and design tool articles as well.
---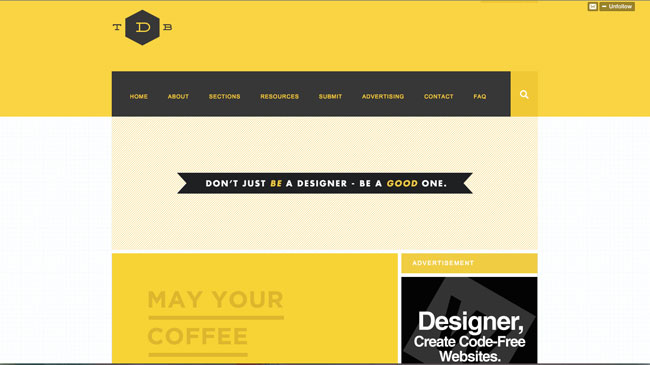 The Dsgn Blog. Another contender is The Dsgn Blog, a site based in Croatia dedicated to bring daily inspiration across many design disciplines. The blog is curated by designer Ena Baćanović and it features design projects by both studios and individuals around the world. Every day it offers something new, adding new stuff under different categories such as Designer of the Week, Web Design Wednesdays and Saturday Recommendations.
---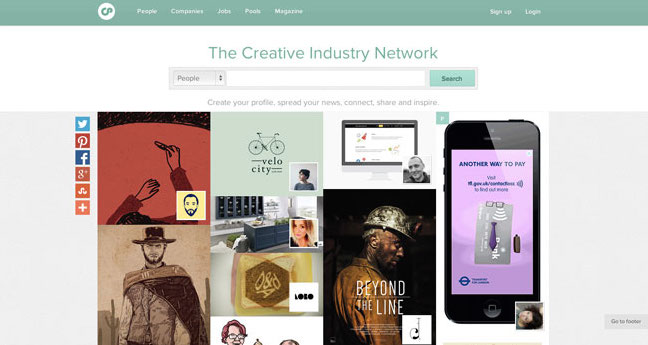 Creative Pool. Creative Pool tags itself as an industry network for the creative community. It is more of a social network than a blog. It aims to connect individuals, companies, suppliers and brands through their creative profiles, and it definitely makes sharing your projects worthwhile.
---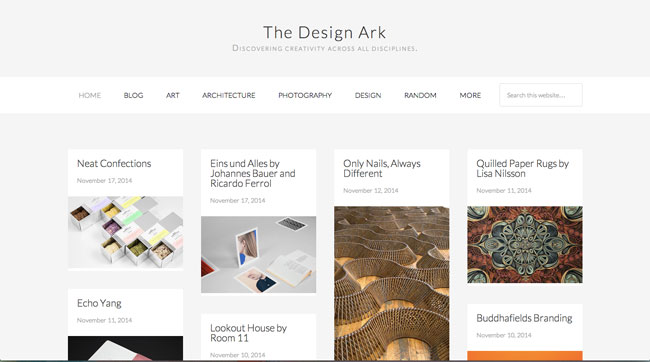 Design Ark. Design Ark strives on consistently coming up with original content when it comes to design ideas. It focuses on the art, design, and architecture, including their subcategories. The site also maintains a minimal, uncluttered look, which allows the images to really stand out.
---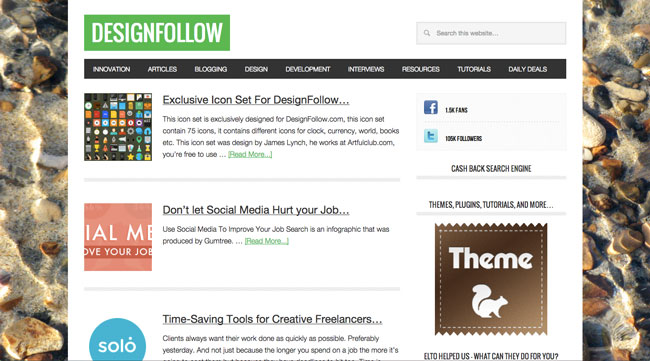 Design Follow. Design Follow tries to squeeze everything it can fit in in one site. The website is seemingly made for graphic and web designers, developers, bloggers and marketers alike, and is offering countless resources, inspirations, coupon deals and tutorials to the creative crowd.
---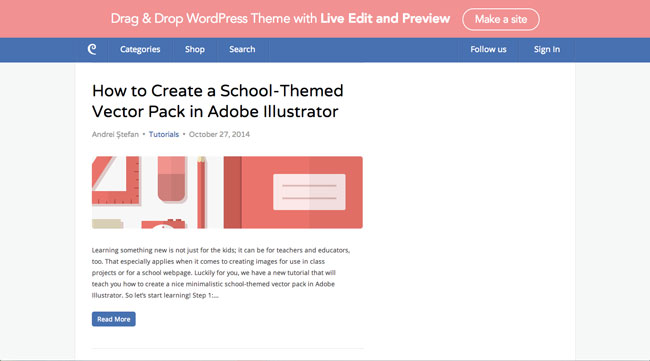 Designmodo. Veering more on design and web development side, Designmodo is the go-to site for informative articles about developing, writing and designing for the Web. It also makes and sells User Interface packs, and sometimes you can score them for free.
---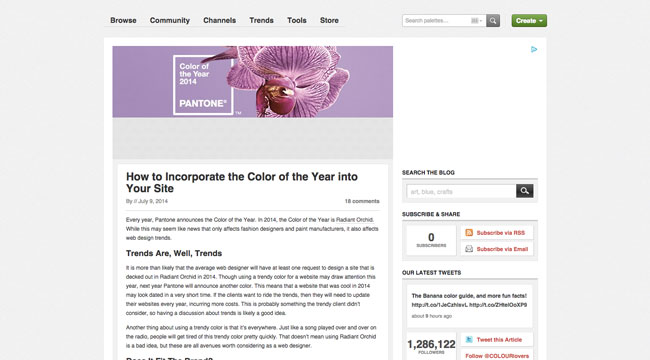 Colour Lovers. Colour lovers is an online community for people who are in love with colors and provides it readers with color trends and inspiration. It aims to equip them with the right tools and services, and it also serves as a platform for sharing design tips and tricks through its forums and groups.
---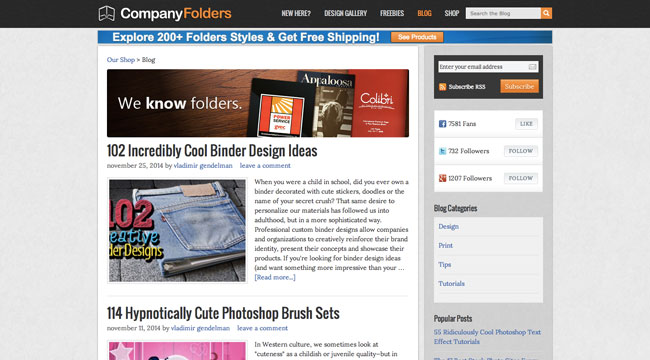 Company Folders is one of the best go-to site when it comes to printing advice and resource, more specifically focused on folders and their variations. It takes pride in providing only premium quality folders while also sharing in-depth and useful articles for its readers.
---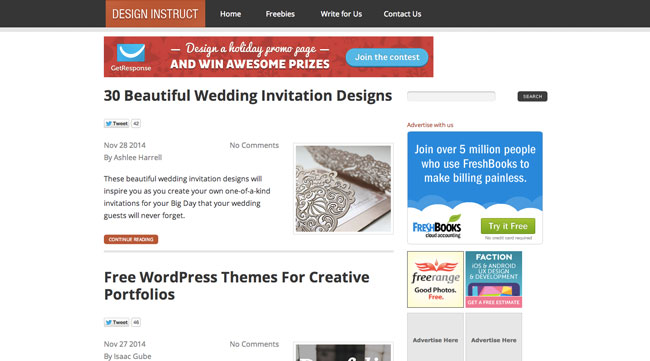 Design Instruct. If you're looking for design and digital art inspiration, Design Instruct should be one of the sites you should check out. It also features articles to help the creatives gain some perspective on things, with titles such as "What It Means To Be A Modern Designer", "Getting Things Done With People You Don't Like",and its recent "A Site That Tells You How Much Design Projects Should Cost".
---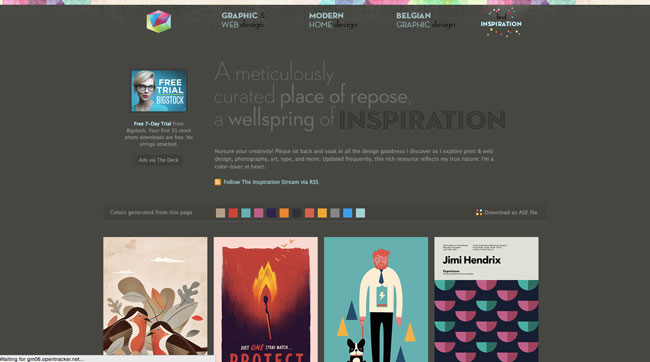 Duoh! What happens when you meld together two people who are in love with each other and in love with design? A load of awesome, of course. This is the premise behind Duoh!, a graphic design website run by couple Greet Leyseele and Veerle Pieters. Veerle is a graphic designer who later transitioned into print work and Greete helped her in creating the website through his Web expertise. Duoh curates design inspirations from various artists and studios, and they also offer insightful advice and articles as well about the design industry.
---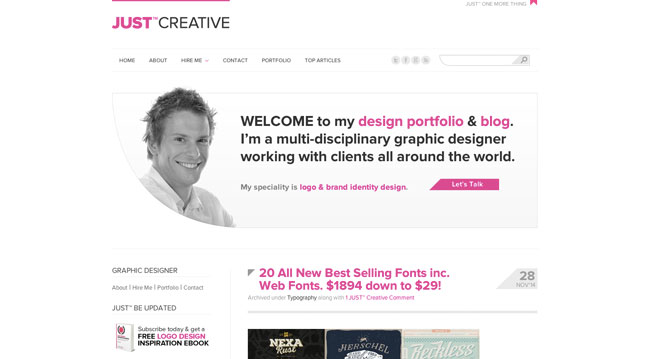 Just Creative. Jacob Cass is a graphic designer having worked with established design firms and has later moved on to create his own design business and graphic design blog JUST Creative. This site serves as his online portfolio, but he also helps other designers and artists who want to take the same path as he did by sharing his experiences and insights on his blog.
---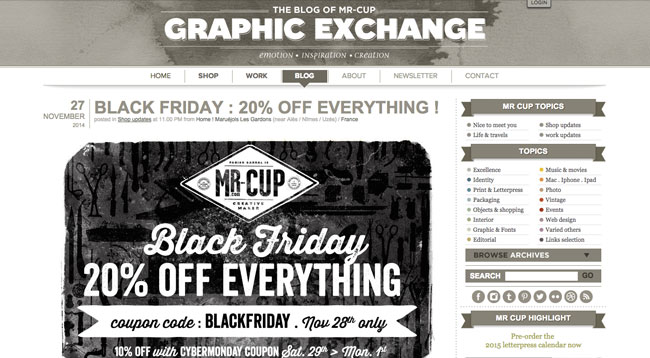 Mr. CUP. Mr. CUP leads a very interesting life not only as a graphic designer but an enthusiast of life. According to his profile, he started off as a graphic designer who then partnered with his wife to set up a business and brand which deals with wall posters and sticker design. He also runs the blog "graphic exchange", and he was also able to work with large firms as an art director and travel in Asia for a while before heading back to France.
---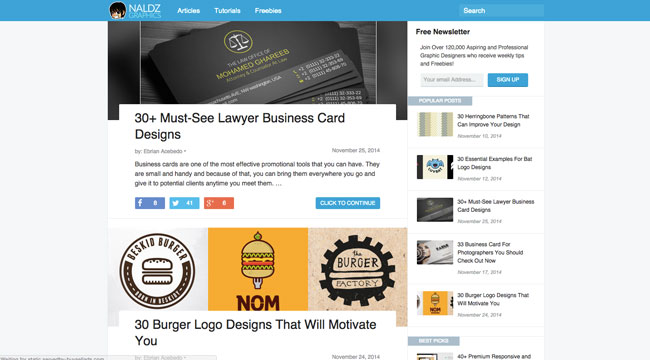 Naldz Graphics. Naldz Graphics is a website that specializes in 3 things - articles, tutorials, and freebies all related to graphic design. But the site is curated so nicely and the images are so visually arresting, it's almost impossible to not click on each post.
---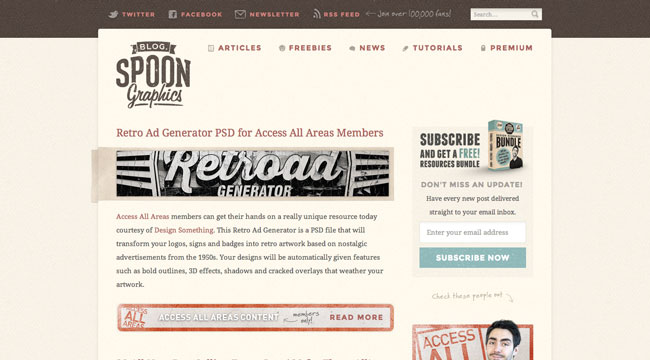 Spoon Graphics. Chris Spooner has managed to build a portfolio cum blog while giving out tons of design freebies. Just like Jacob Cass of JUST Creative, Spooner is a graphic designer whose other claim to fame is through his design website.
---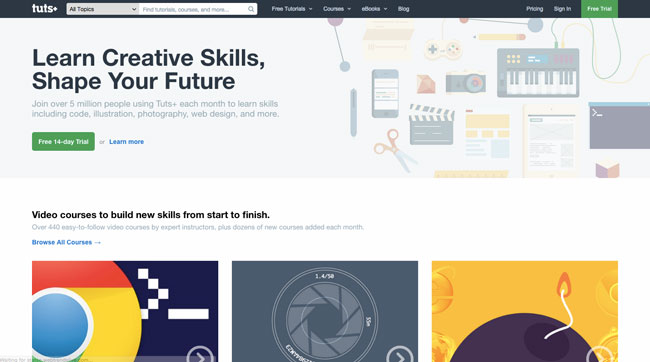 Tutsplus. Tutsplus is all about tutorials, tons and tons of tutorials - and more. It aims to help out designers and artists of any levels, serving as a crash course to beginners and refresher for experts. Tutsplus offers tutorials on many design, Web and photography softwares, as well as business advice and application development.
---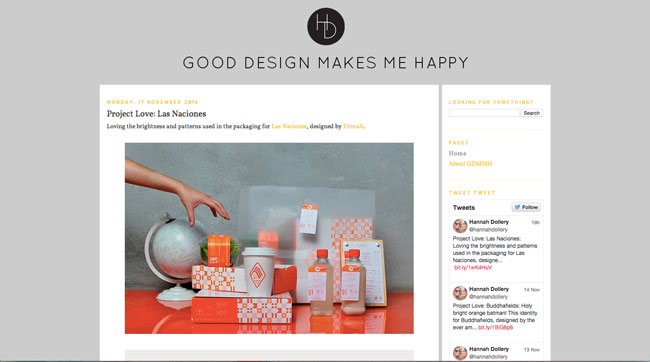 Good Design Makes Me Happy. Good Design Makes Me Happy is a design jounal by Hannah Dollery, a New Zealand-educated graphic designer. She has quite a design career to boast of, taking some stint in London and then now back in New Zealand.
---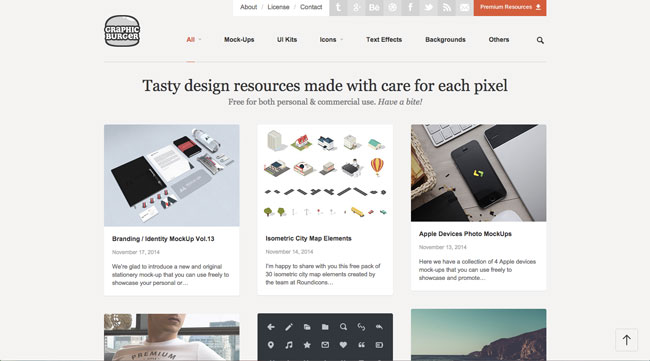 Graphic Burger. You can find more design ideas and resources on Graphic Burger, along with PSD files and freebies for anyone's perusal.
---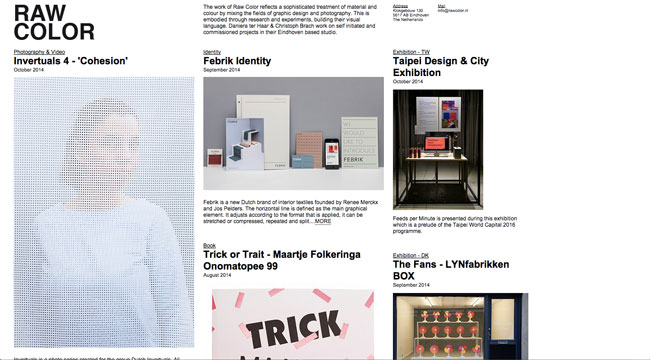 Raw Color. Raw Color is a collaborative design journal by Christoph Brach and Daniera ter Haar, which features design inspirations from self-initiated and commissioned projects.
---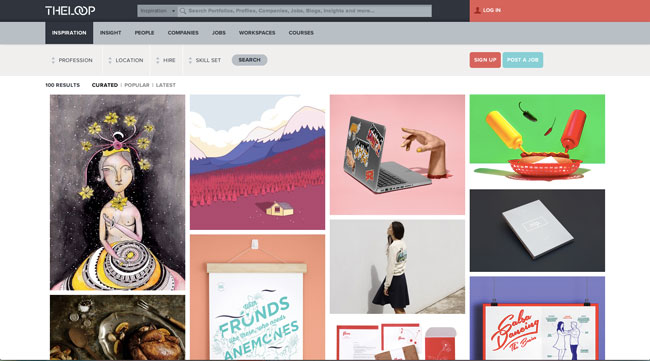 The Loop. Another industry network site, The Loop is a beautiful site to feature personal projects and find design jobs. Aside from endless design ideas, the site encourages collaborative work, networking and self-promotion and makes it easy for one to find and be found when it comes to work.
---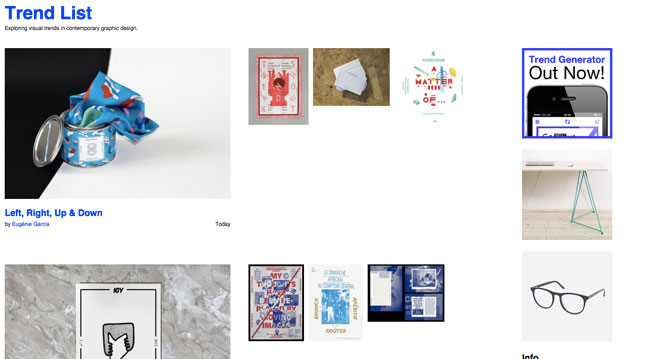 Trend List. Trend List is a blog that adheres to a certain philosophy when it comes to contemporary design. As it looks for upcoming design trends, it ignores the content and focuses mainly on visual appearance, which is clearly demonstrated on its posts.
---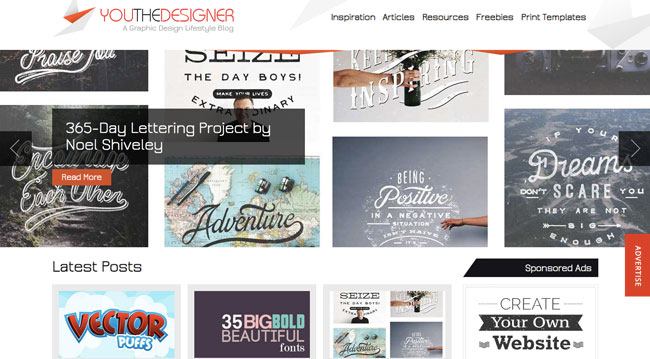 Youthedesigner. A Manila-based design blog, Youthedesigner aims to bring in design resources, articles, trends and freebies since its founding in 2007. The site is run by a mixed team of young designers, writers and developers, and it also offers endless visual inspiration and interviews with other designers who are making some buzz online.
---
INSTAGRAM
Andy Rementer. As a "creative person", illustrator Andy Rementer surely won the hearts and eyes of many as he was recently awarded the Young Gun title by the Art Directors Club.
---
Asia Pietrzyk. Stockholm is a home to many acclaimed designers and creative people, including illustrator and graphic designer Asia Pietrzyk.
---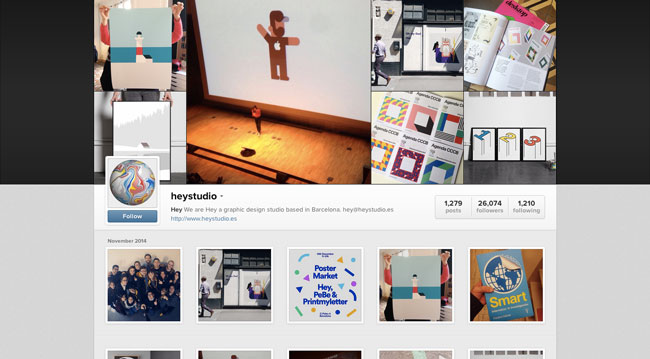 Hey Studio. Hey Studio is a design studio based in Barcelona that focuses on illustration, visual identity and editorial layout. It already has a chock full of big clients, such as Apple, CBS, Wall Street Journal and Penguin Random House among others.
---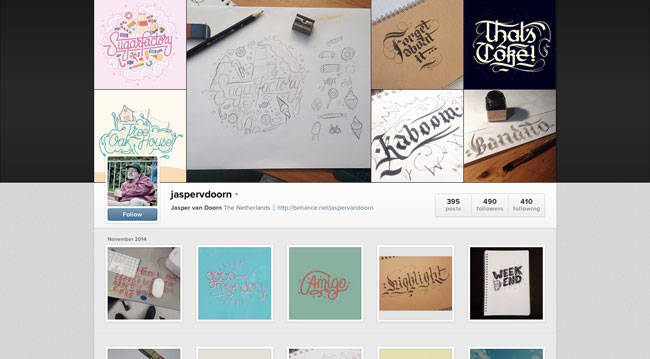 Jasper van Doorn. Netherlands-based freelance graphic designer Jasper van Doorn boasts a lovely Instagram account where he gives his viewers a peek on his design proccess and output.
---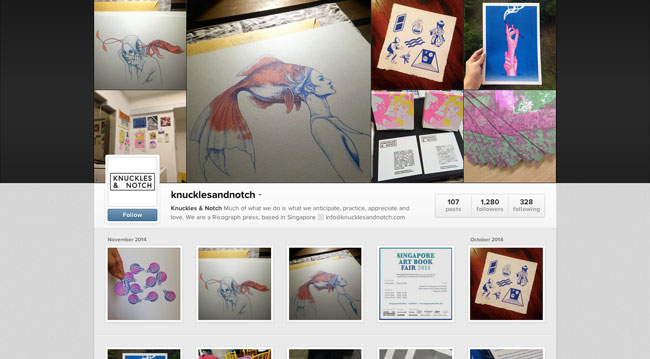 Knuckles & Notch. You'll discover how beautiful risographs can be after seeing Knuckles & Notch's works.
---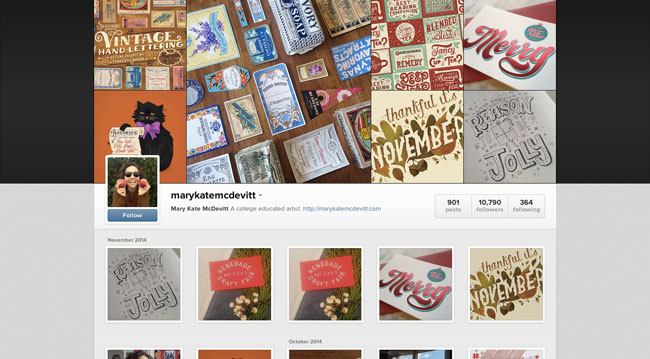 Mary Kate McDevitt. McDevitt is an accomplished illustrator and artist, having clients like Sesame Street, Nike and Target, all the while sharing her process through her Skillshare class.
---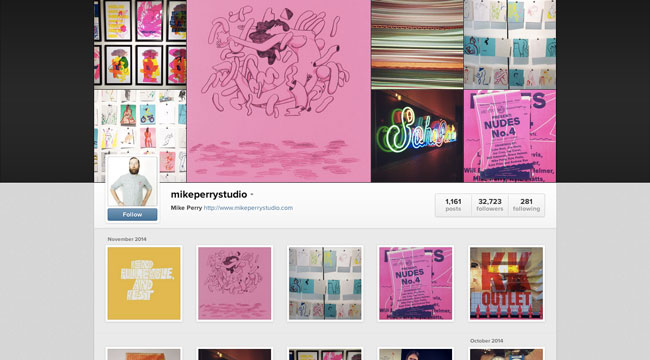 Mike Perry. A multimedia designer and artist, Mike Perry is a league of his own. His body of work jumps from one media to another, from seeing his work published in various publications to holding exhibitions and then speaking in conferences and teaching as a visiting professor in major art schools in the US.
---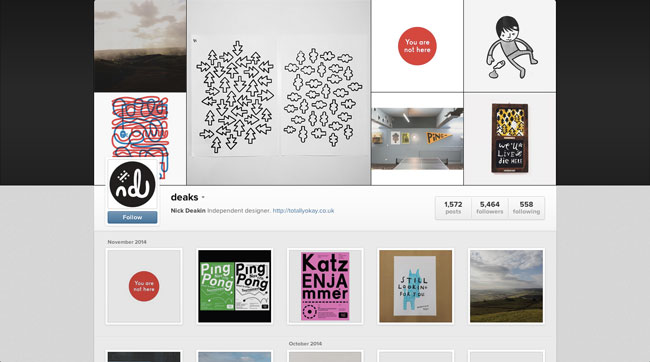 Nick Deakin. Nick Deakin showcases his self-initiated and personal projects on Instagram and also through his website where you can buy his projects from.
---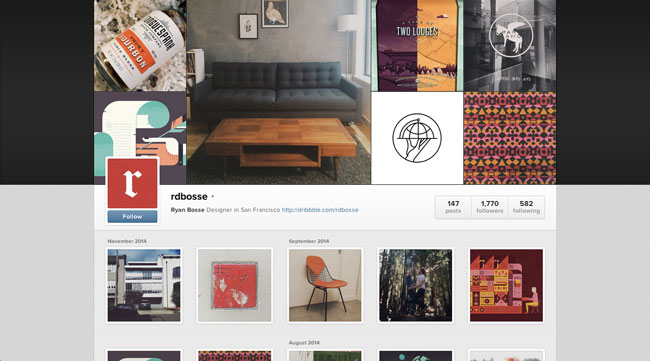 Ryan Bosse. Bosse took the common route for designers of handling a day job while working freelance during his free time. His body of work as posted on Instagram, Dribbble and his personal website consists of brand identity, packaging and print materials.
---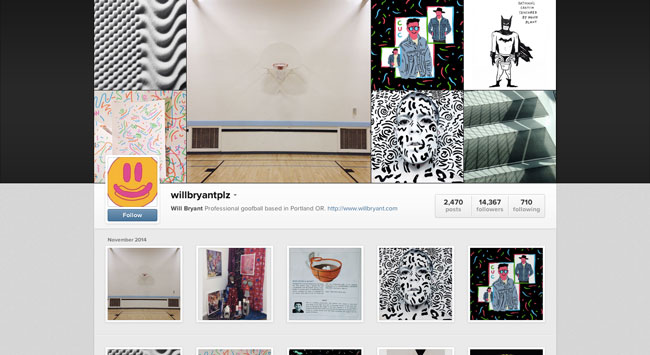 Will Bryant. Another Young Gun awardee by the prestigious Art Directors Club, Will Bryant is another accomplished designer with a list of major clients to boast of.
---
TUMBLR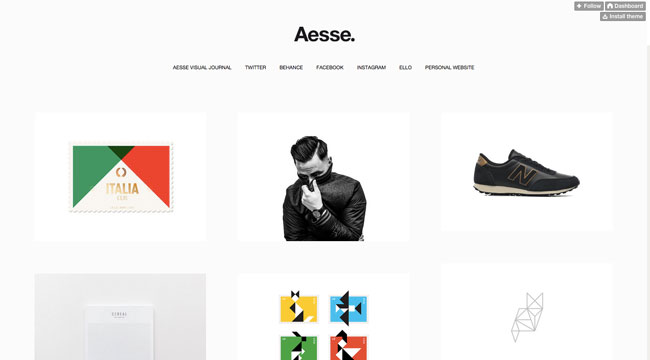 Aesse. Alessandro Scapellini considers himself a modernist graphic designer armed with an industrial design background, which is clearly translated in his choice of Tumblr posts.
---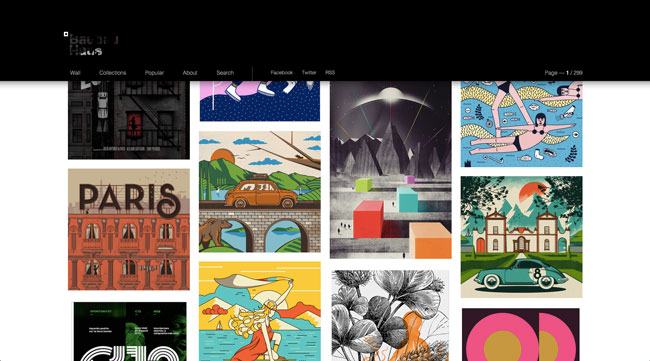 Baubauhaus. A personal favorite is Baubauhaus, a Tumblr site for daily design inspiration run by Romanian-based graphic designer Stefan Lucut and Andrei Don.
---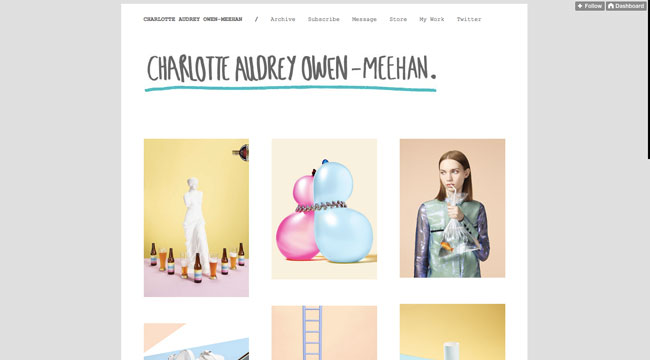 Charlotte Audrey Owen-Meehan. We can't leave Owen-Meehan's Tumblr blog off the list, what with its candy color palettes and minimal look.
---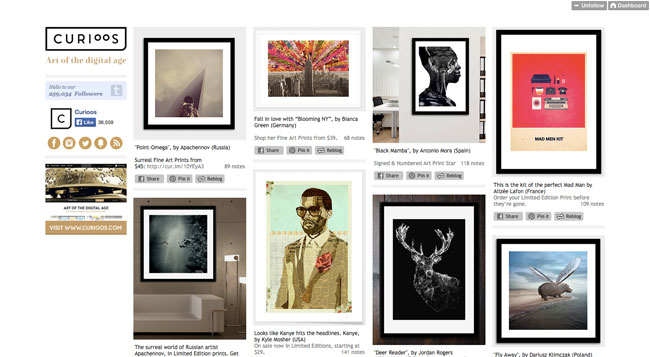 Curioos. Curioos is a daily inspiration Tumblr blog that scours the Internet for design projects and artists. On its official website, it also curates and offers art works and digital prints for sale.
---
Eat Sleep Draw. Eat Sleep Draw serves as a gallery of illustrations and sketches and features original content from different contributors.
---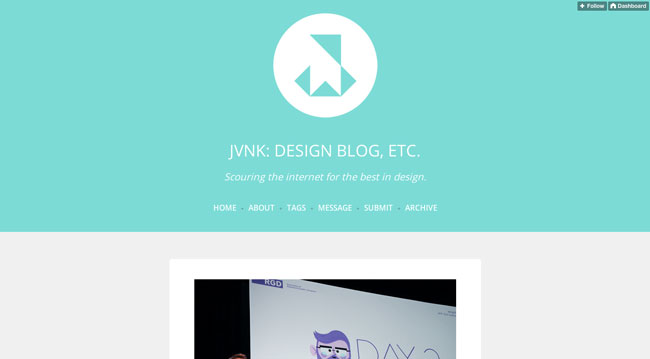 JVNK. JVNK is personal design blog by Jules, a Toronto-bred student. The site curates visual inspirations from other designers' projects, and recently he was tapped to cover the RGD Design Thinkers Conference in his blog.
---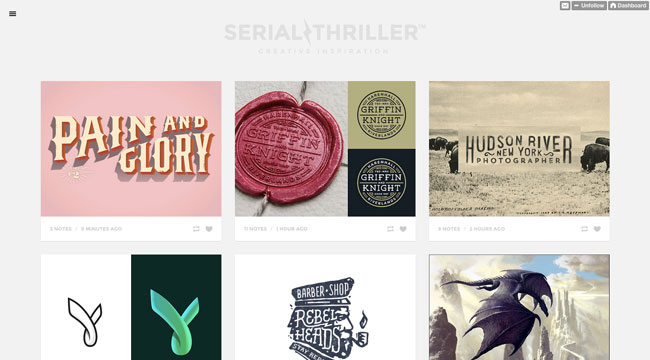 Serial Thriller. Serial Thriller posts only the best "bits and pieces" from the creative community, and features everything from typography to illustration, photography to print design, branding to digital art.
---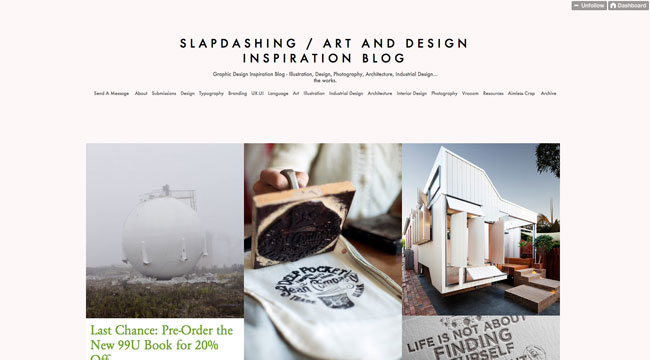 Slapdashing. Slapdashing is one of those design blogs that gives importance to crediting the right source. It has a vast selection of visual inspiration and tags itself as a "digital hoarder".
---
The World of a Graphic Designer. A design blog that was set up in 2011 which later on expanded to Wordpress and became a site fully devoted to all designers out there.
---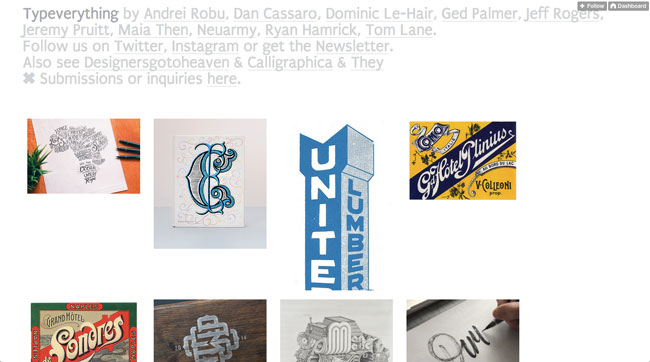 Typeverything. As the name suggest, this Tumblr blog/design magazine features everything type-related.
---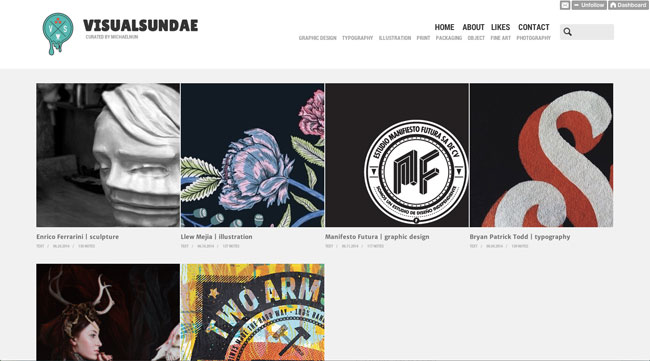 Visual Sundae. Visual Sundae curates and displays a selection of design projects, anything you need from photography, graphic design, typography, illustration, packaging and print.
---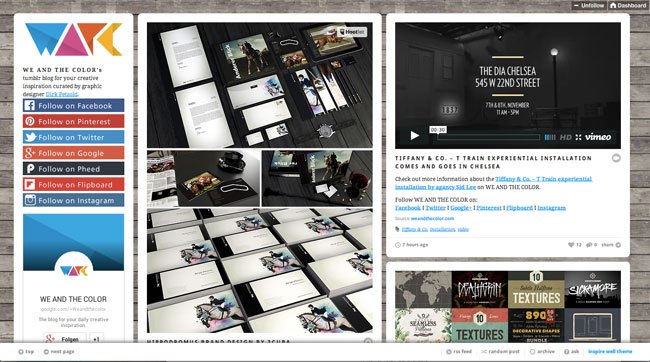 We And The Color. This is the Tumblr blog for We And The Color, a blog run by graphic designer Dick Petzold. The site is a major influencer in the design world and showcases all design-related projects and ideas all over the world.
PINTEREST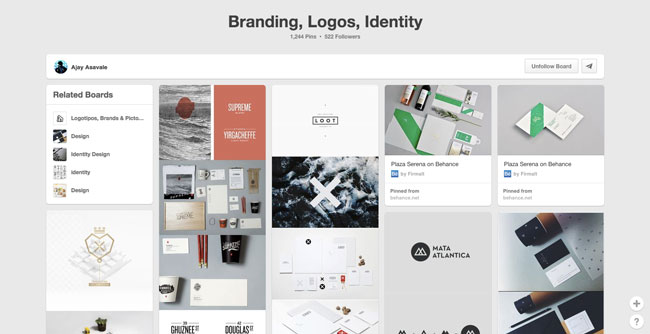 Ajay Asavale. This Pinterest board filled with visual identities and logos is moderated by Ajay Asavale, a multi-awarded graphic designer for Belkin.
---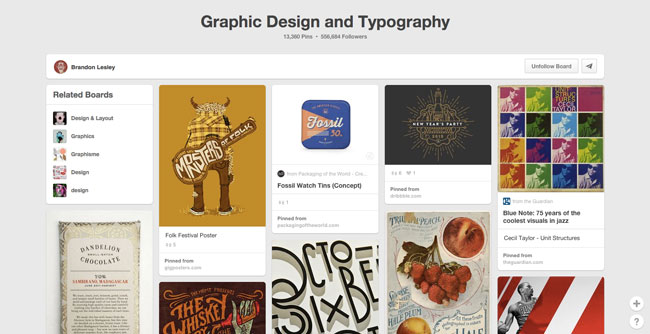 Brandon Lesley. Talk about influence: This board which currently has over 13,000 pins has half a million pinners following it.
---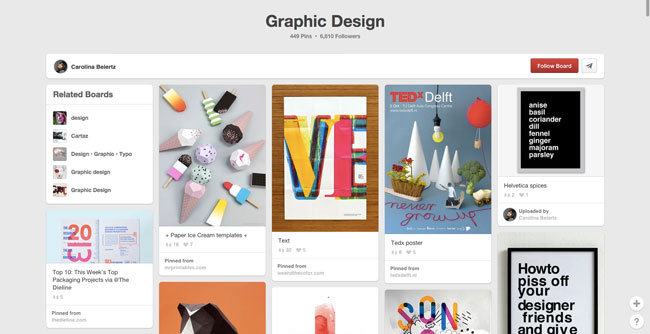 Carolina Beiertz. Through this board, the graphic design student has a great selection of design pins that inspire her own work .
---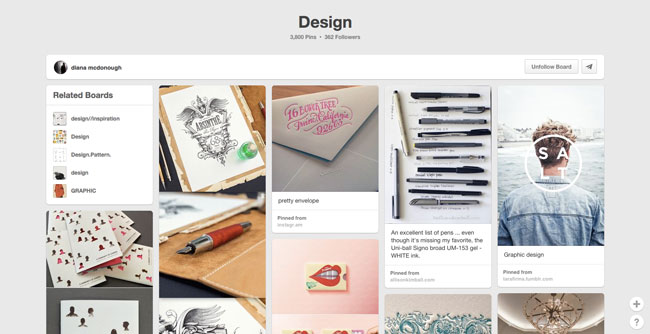 Diana Mcdonough. Over 3,800 pins and counting, this board displays an array of projects, including typography, illustration and print materials.
---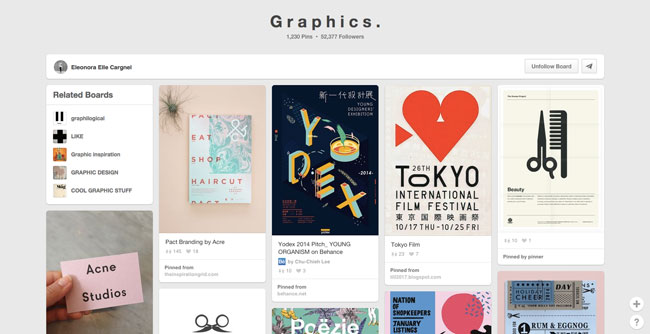 Eleonora Elle Cargnel. This board by illustrator/graphic designer Eleonora Elle Cargnel carefully curates top drawer print design projects.
---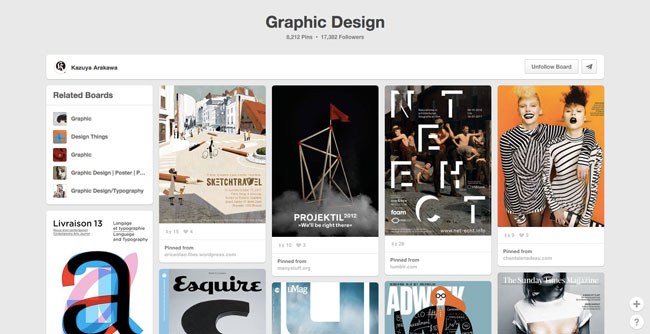 Kazuya Arakawa. Based on this board, this pinner has a keen eye for detail for editorial layout and photography in particular.
---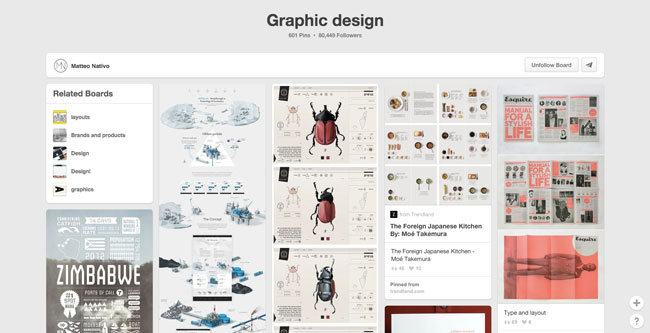 Matteo Nativo. Even though this board only has a little over 600 design-heavy pins, it reaches out to more than 80,000 pinners.
---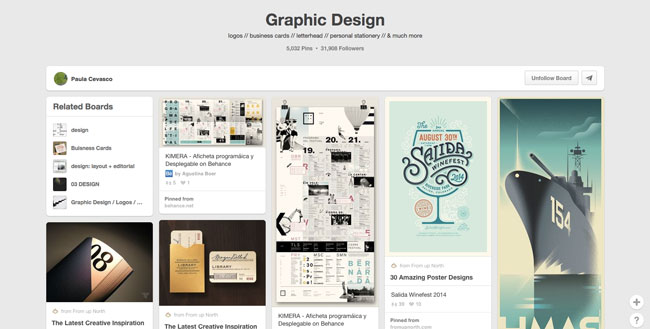 Paula Cevasco. A graphic and UI designer by profession, Cevasco's eye for design is tastefully highlighted in her Pinterest board, which features mostly brand collaterals, logos, and packaging among others.
---
We are always on the lookout for the latest trends in design and print. Post below or message us with your favorite design blogs that inspire you up to this day, and we might feature them in the future.
Related Posts
Graphic Design Guide: 10 Principles of succesful design
Graphic Design Trends in 2014
Restaurant branding done right
Interactive Print technology of the Future
Fall in Love with Letterpress printing
User Comments
Submit Your Comment