35 Amazing New Year Cards To Welcome 2015
Posted by Olivia dela Rosa on December 17, 2014
---
Inspiration and Design Idea's: 35 Amazing New Year Cards
If we're being honest, there's a handful of things that happened this year that I would love to leave behind. On the upside though, there are also awesome ones that I would like to carry along with me for a long time. I'm sure a lot of people are thinking the same way as we count down the days till the end of the year, even to the extent of creating a list of resolutions to do, working to break old habits, coming up with a "gratitude list", or updating bucket lists. Whatever it is that you want to keep and however you want to spend the rest of 2014, New Year's eve is really something to celebrate and give a toast to.
Why not share these thoughts to loved ones? Your family and friends would surely appreciate your expression of love and good wishes this coming year, so why not hand them out a New Year card? Can't think of anything nice to give? Don't worry - As always, we got you covered. We have 20 (+15, so that really makes them 35) New Year card designs waiting for you. Whether you're looking for something festive, traditional, minimalistic, or colorful and vibrant, we had this list tailored for you.
Happy holidays, everyone, and may you have a joy-filled year ahead of you!
---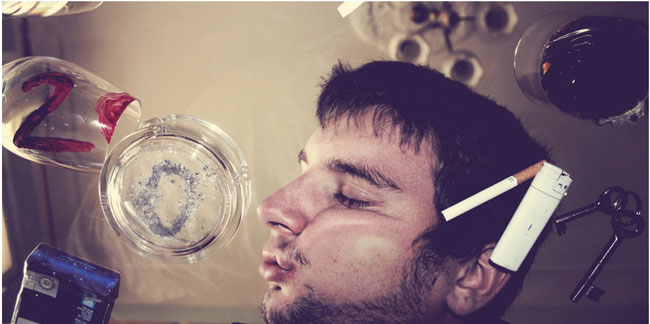 It's the end of the year, and it's just natural if you want to spend the last few hours of the year with a bang. Designer Hannchen reimagined the traditional greeting cards with The Morning After postcard, showing a guy who probably had too much fun last New Year's eve festivities.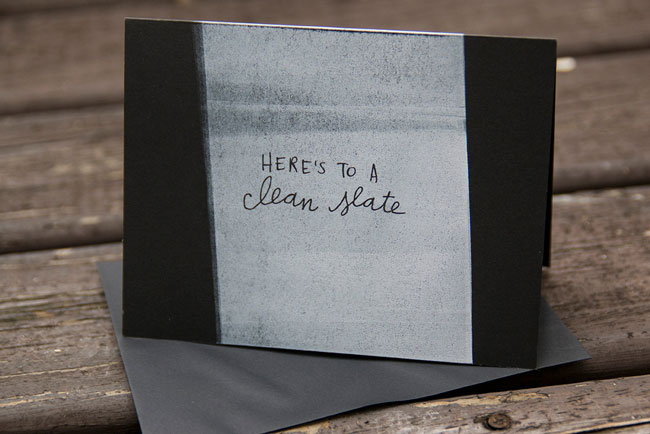 The New Year calls for leaving everything behind and forging new things. Whether you like to leave out good or bad things behind this 2014, this much-needed clean slate is something we should be thankful for. New Year card created by Much Wow Design.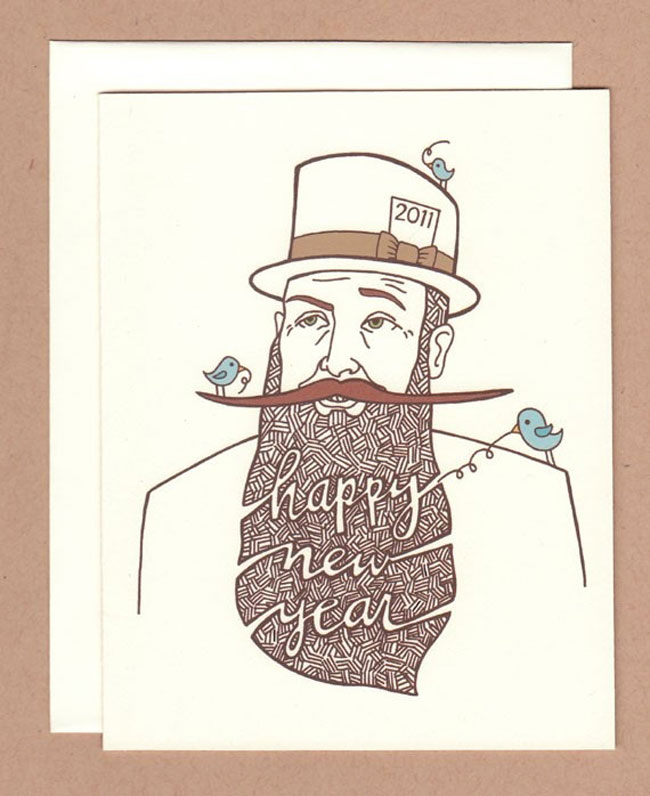 Handlettering and a bit of geekery for New Year, yes? Betty Turbo mastered the art of cool even in print with this New Year's card she designed and sells through her Etsy store.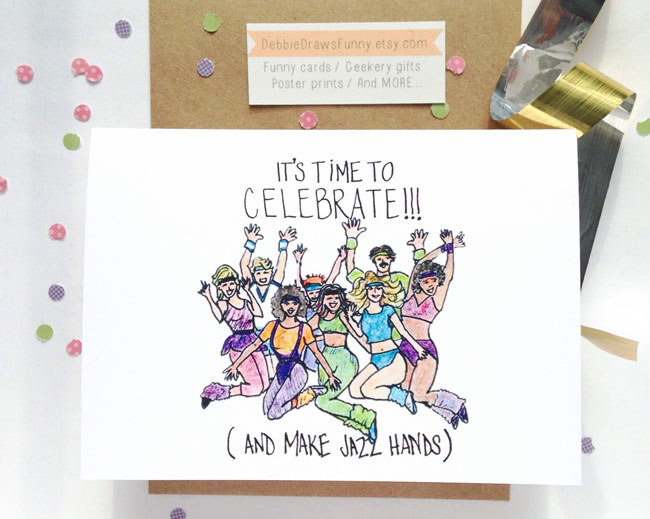 All the party people, please show them jazz hands. Debbie Draws Funny (well, that's accurate) designed this card that technically would work for any kind of event that calls for celebration. And the year end is a perfect time for that.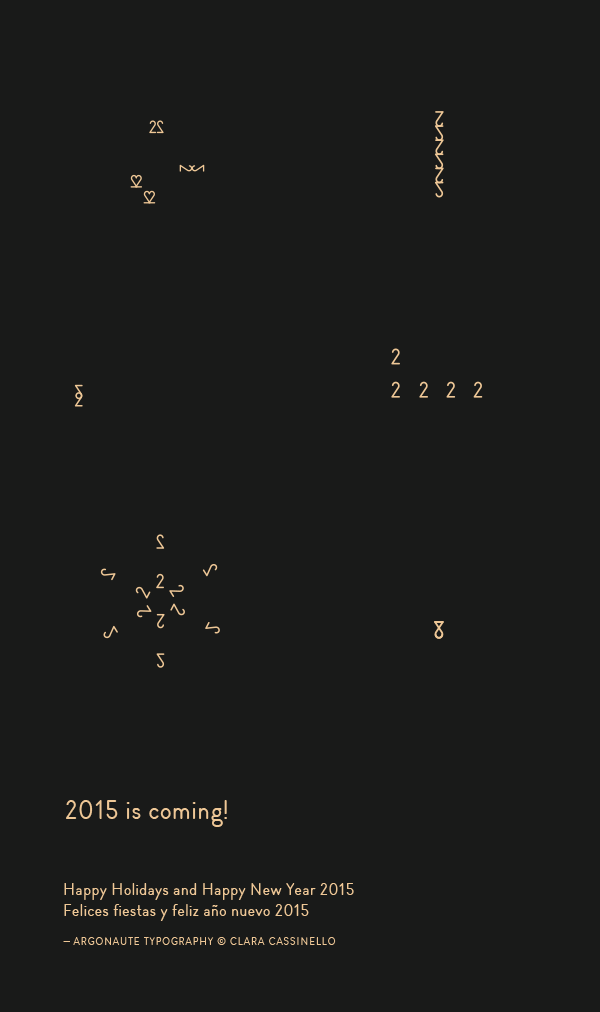 Christmas icons made of 2,0, 1, and 5 are what you will find from this ingenious New Year's greeting card made by Clara Cassinello.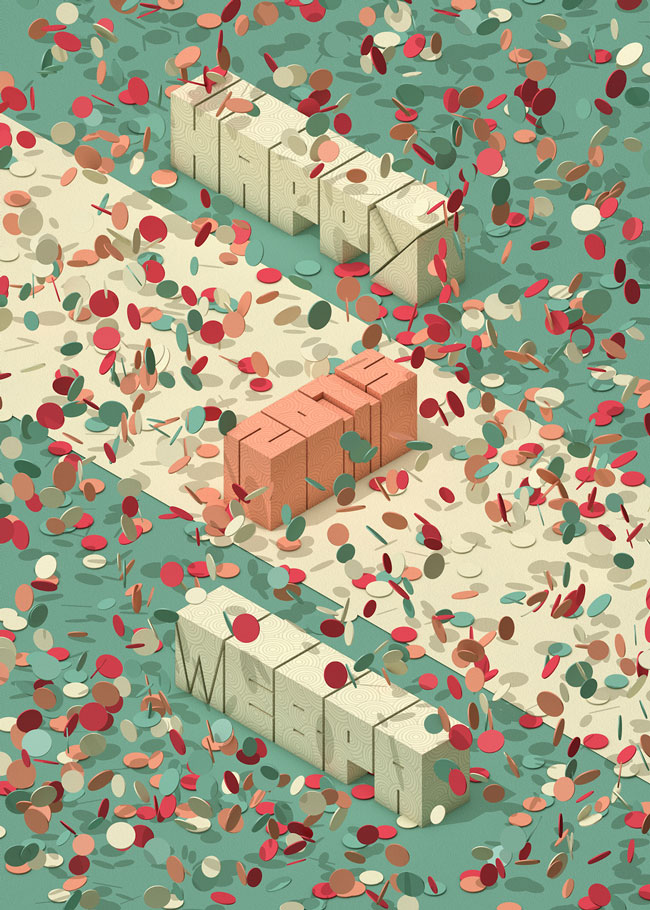 New Year celebration definitely means confetti! This card is a project by Vincent Hardy as given to the Web Platform and Authoring Team at Adobe.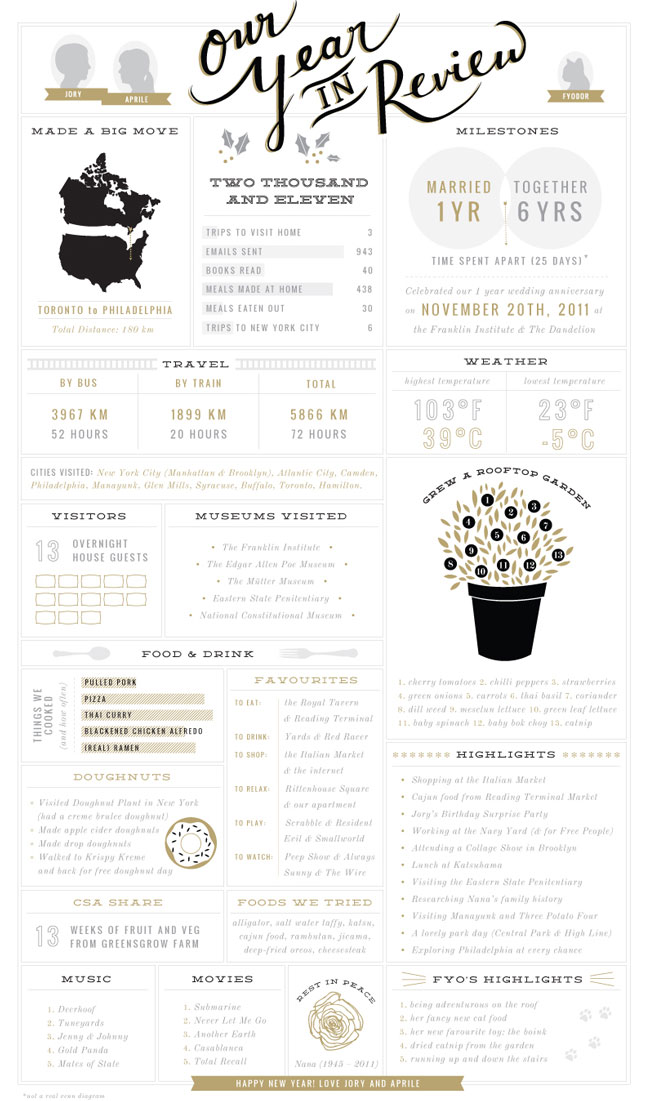 If you're an anal-retentive and goal-oriented person, you might see the beauty in this. As a tribute to the year that passed, how about organizing the highlights of your year and creating something like this "Our Year In Review" New Year's card by Aprile Elcich?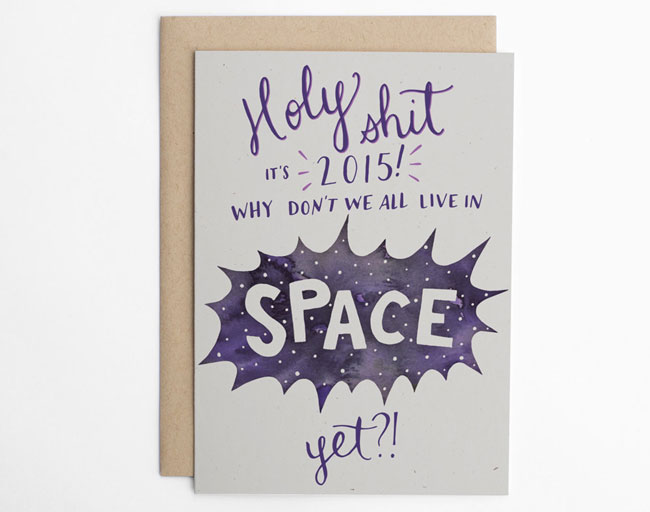 Finally, someone spoke his mind. Well, it's not far from reality that some decades ago, we might have imagined that by this time we are already too far advanced when it comes to technology, so much ahead of our time when it comes to innovation that we can easily transport to another planet or something. Sea and Lake had the same mindset when it comes to this, but sadly it's not our reality yet. Nice try, though.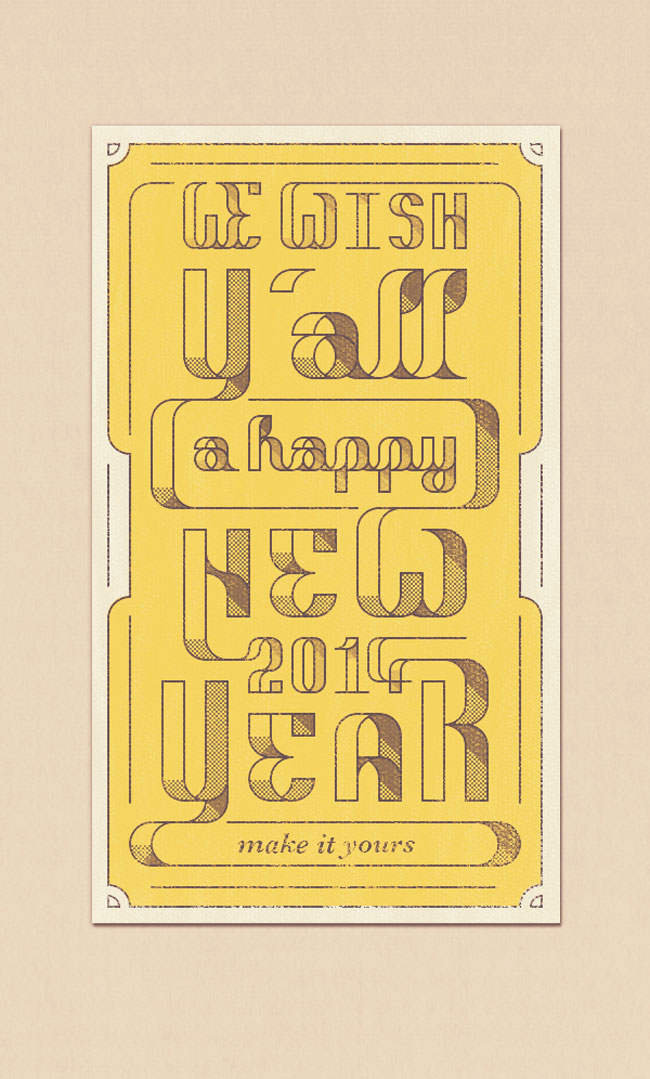 To greet their clients a happy New Year, Berlin-based PatchworkLabs crafted this typographic card to do the work.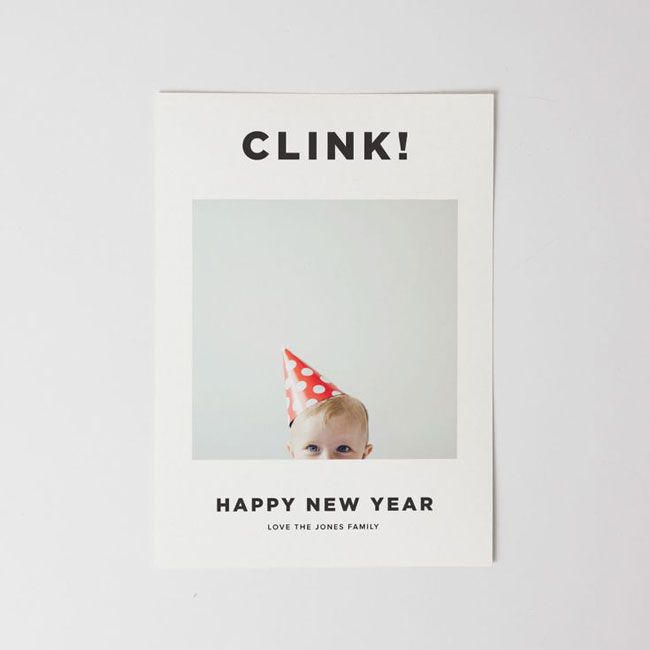 If you want something to pass off as cute, maybe this flat New Year's card from Artifact Uprising will do.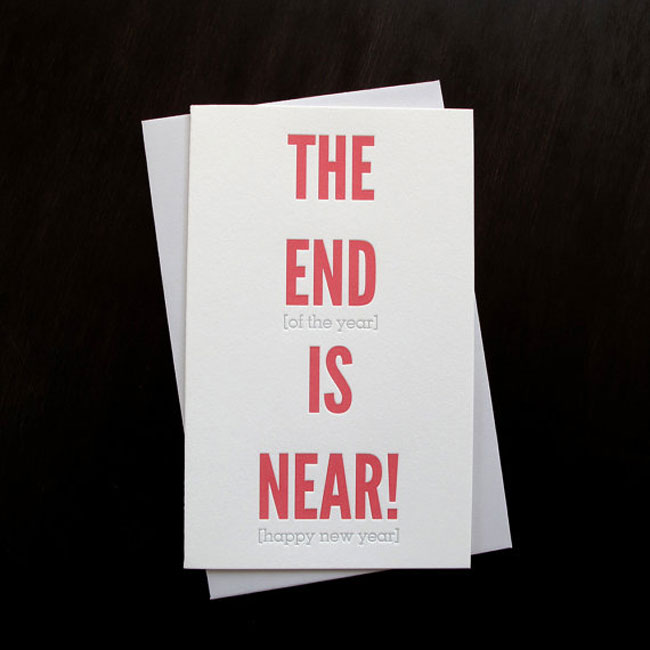 Are you ready for the end ... of the year? Inject a bit of humor into your festivities with this New Year's card from Anemone Letterpress.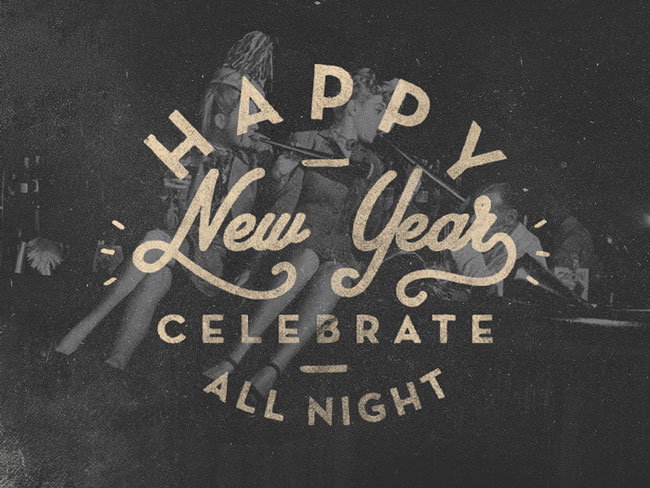 Gold on black to end the year, just like this New Year's card created by Jacob Nielsen.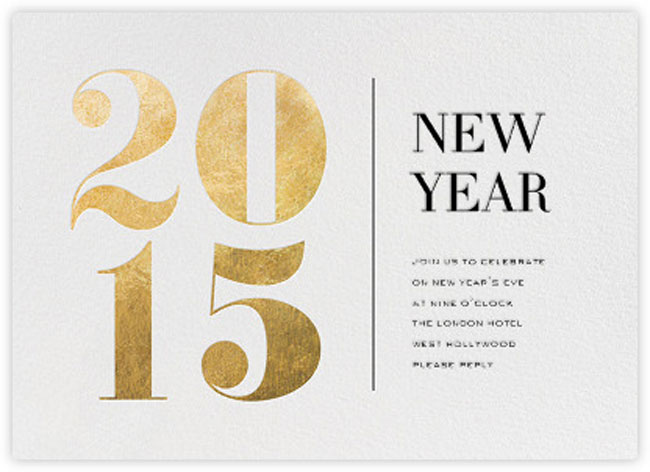 Foil stamped to perfection. 2015 New Year's card designed by and sold through Paperless Post.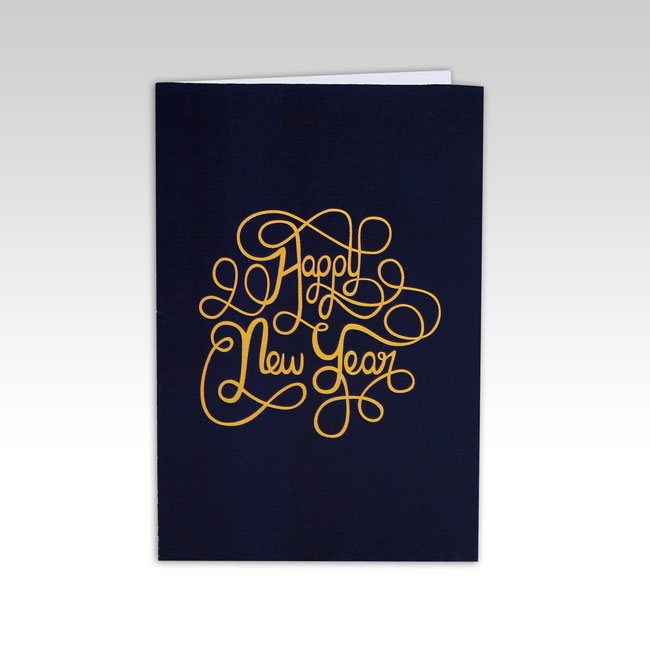 Beautiful set of holiday cards, including New Year, Hanukkah, and Valentine's day as created by the talented graphic and Web designer Julie Winegard.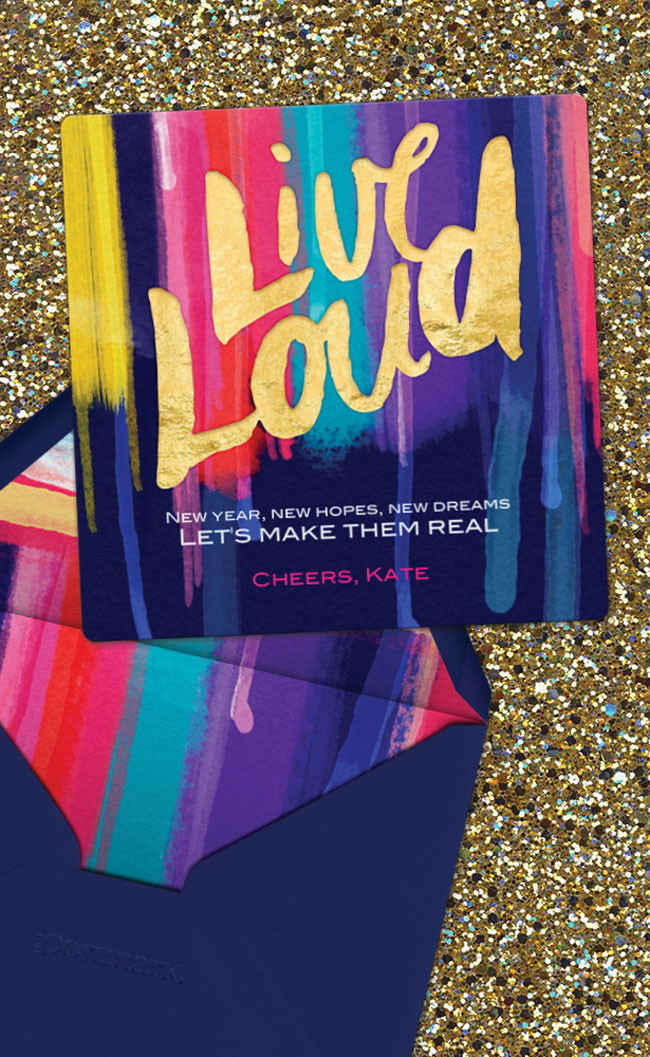 Live loud with colors and glitters with these Evite Postmarks New Year's card, with lettering done by Jeanette Gonzales.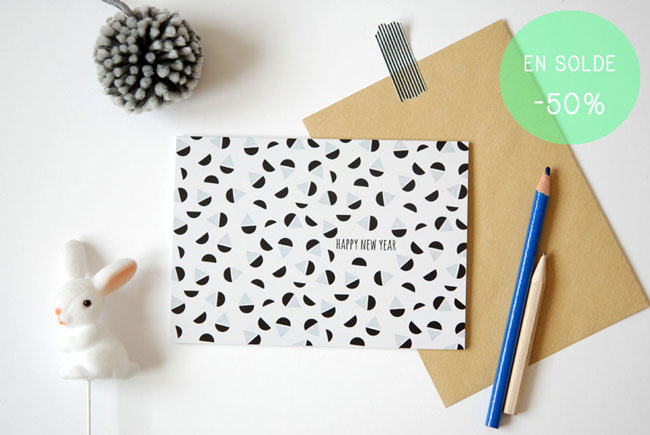 Want something simple and lovely but also want to keep it sweet and short? This holiday card set is offered for half the price from Miavril.
VIDEO:
http://vimeo.com/42863075
New Year's card from Fourpoint Media: Clever folding card that reveals messages at each fold.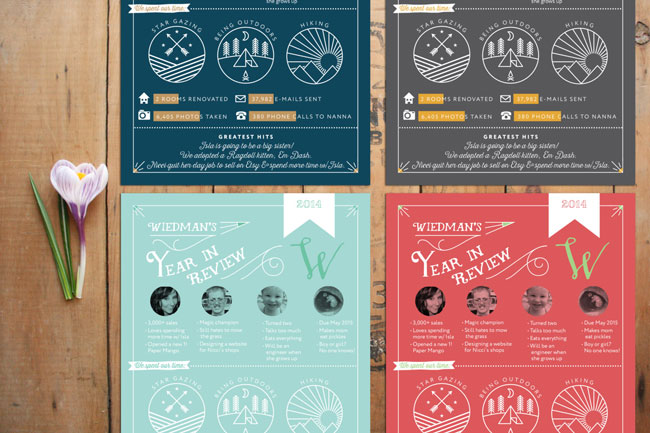 What a great way to look back and celebrate the small and big things you're grateful for the past year with a Year in Review card. Paper Mango can customize these New Year's card for you or your family.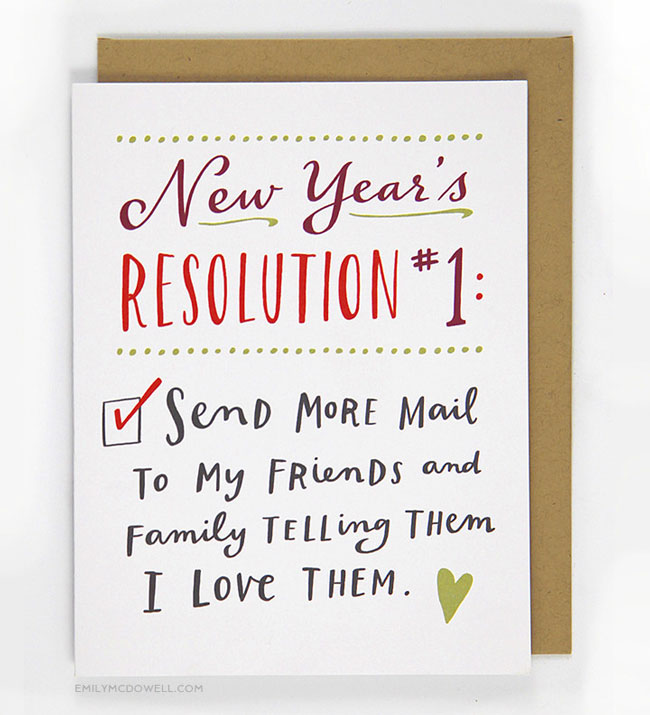 Emily McDowell really has a talent for translating the human condition into stationeries and postcards, just like this New Year's Resolution card she designed.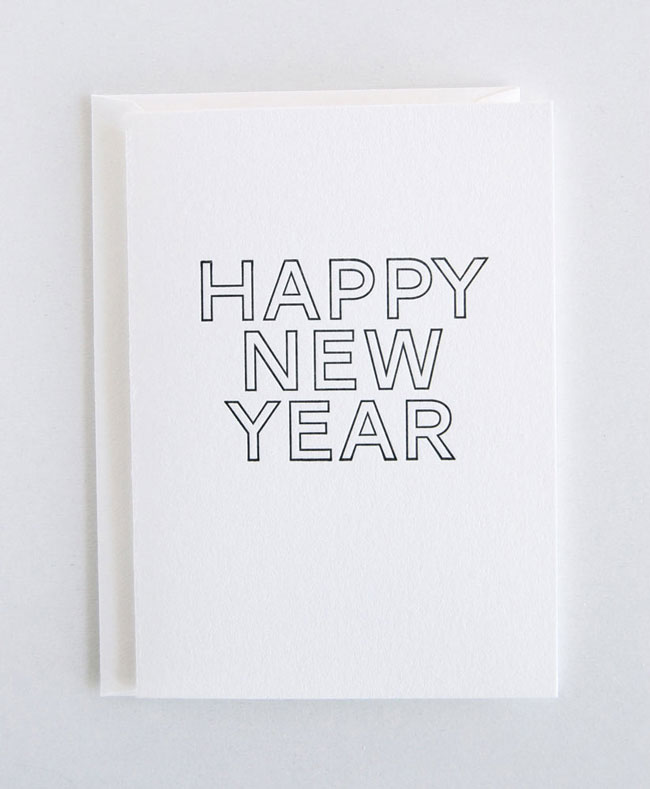 You can send your greetings in full color, and you can send it without and still look as awesome. This is just one of the awesome New Year cards featured in Design Milk and might be something that a design-conscious loved one would like.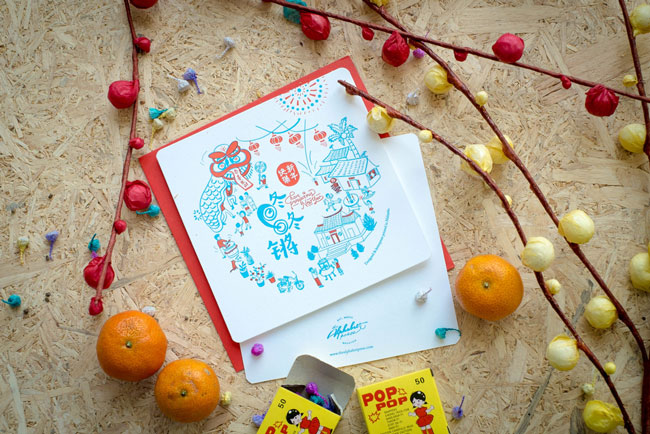 This letterpress print card by The Alphabet Press is a remembrance of the time when people go back to their hometowns ("balik kampung") to celebrate New Year with their families. In the card, it shows the lion dance, a Chinese tradition that is believed to put away bad spirits.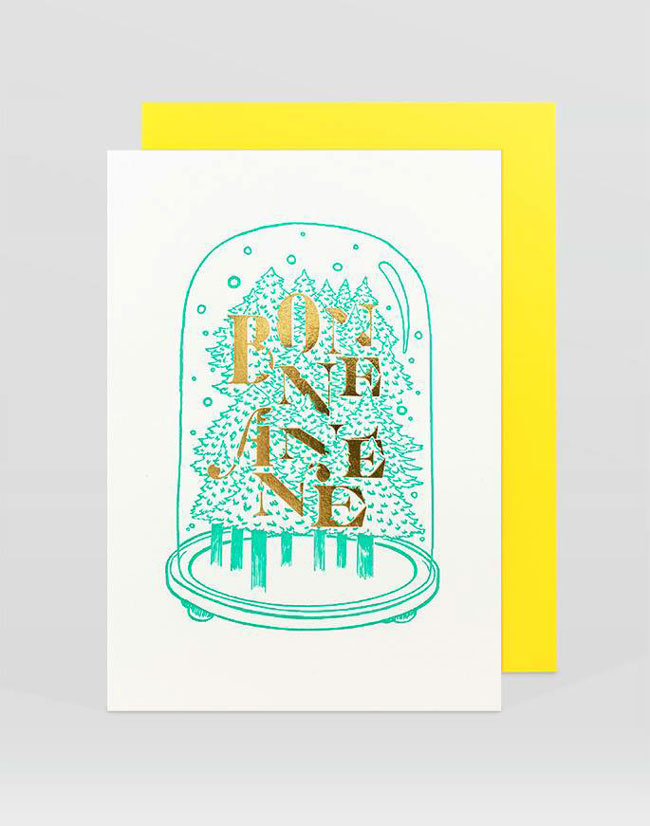 Amelie Du Petit Thouars came up with this Bonne Annee holiday card that took on a traditional approach finished with textured gold foil.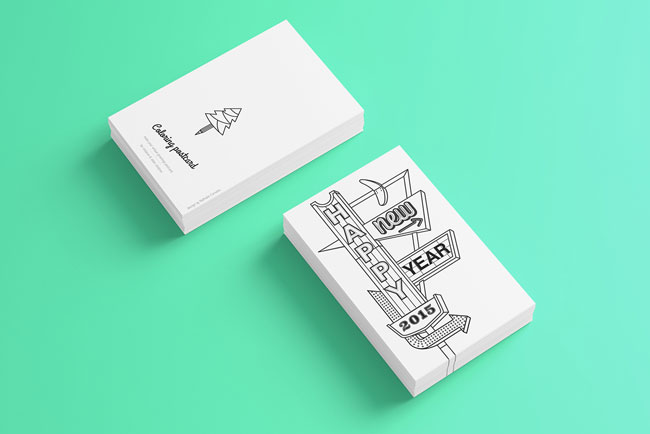 Looking for something new? Here's a coloring New Year greeting card and vintage sign designed by Brussels-based graphic designer Nathalie Cornelis.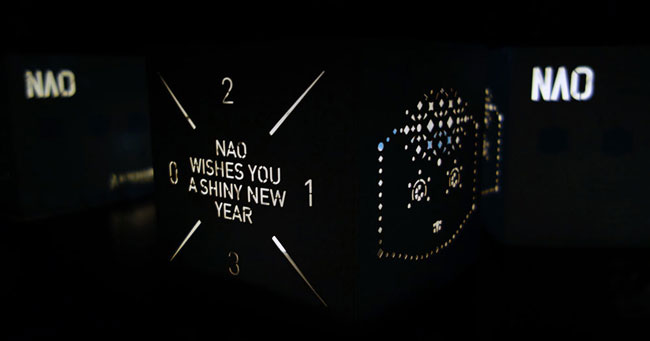 Romain Belotti created these awesome Aldebaran greeting cards that, after assembly, are repurposed into candle holders. These cards serve as a New Year's card and comes in white and blue stocks.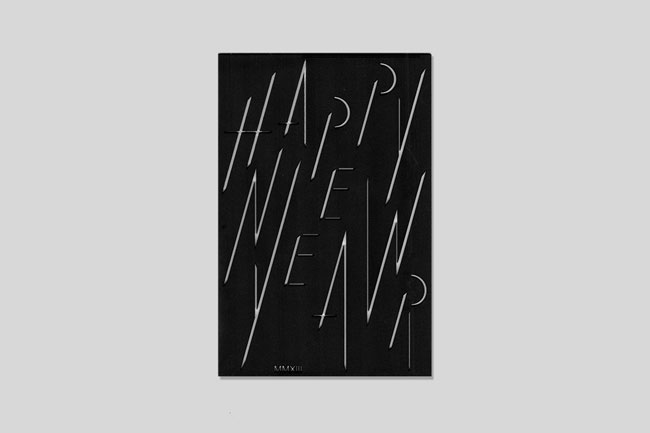 An amazing example of a playful design between typography and printed material, this New Year's card created by Aswin Sadha has a cutout design, which you can put before any background and different images will be seen through it.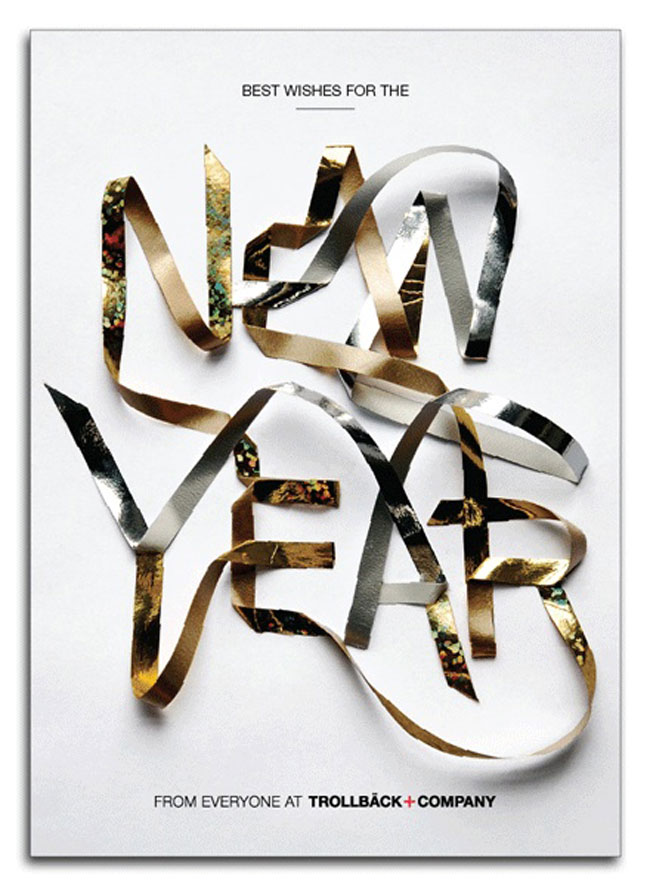 Trollback Plus Company's New Year card dons a creative use of gold and silver foils - simple design yet leaves a lasting impression.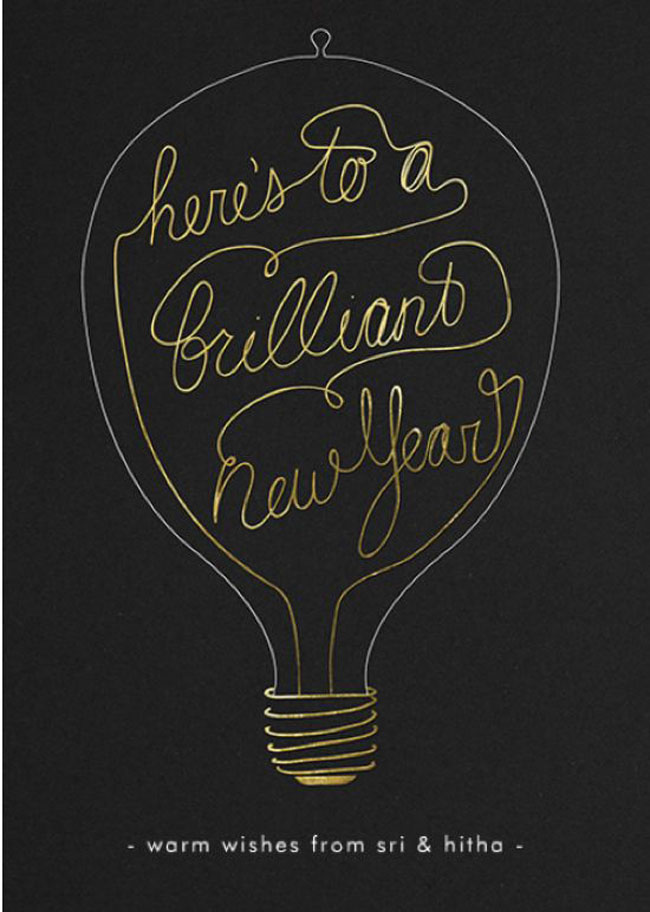 The lovely Hitha from travel advice blog Hitha On The Go gave away this holiday card from Paperless Post to her loved ones.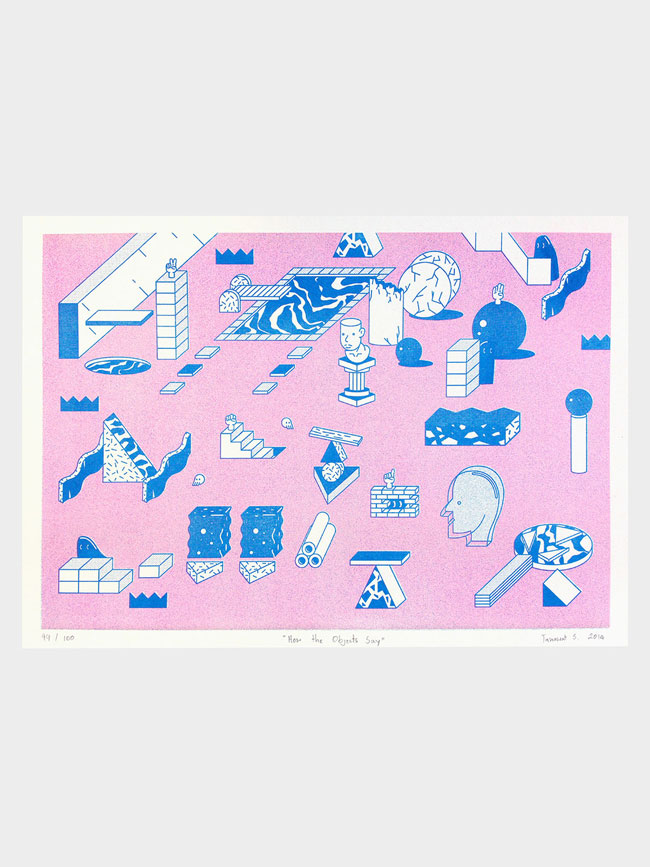 Unconvential design for a New Year's card, this project by Tanawat Sakdawisarak is printed using Risograph and does not contain any words in the overall design. The story behind the design lies on the artist's desire to communicate this event using ordinary objects from our surroundings, and if you look close enough you might actuall see some of the objects forming letters that say Happy New Year.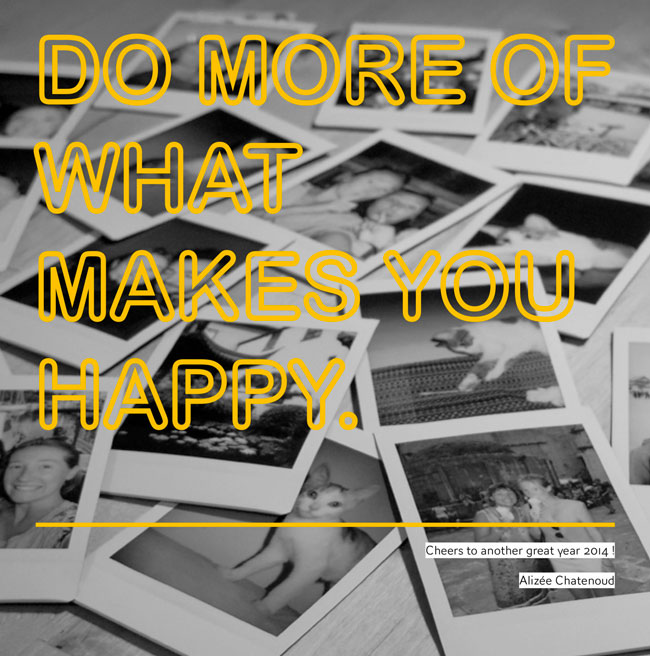 It doesn't hurt to be simple and straightforward, even on your New Year's card. Clearly the designer behind this card, Alizée CHATENOUD, was inspired by this quote and wants to adopt this mantra for the next coming year (I might probably, too).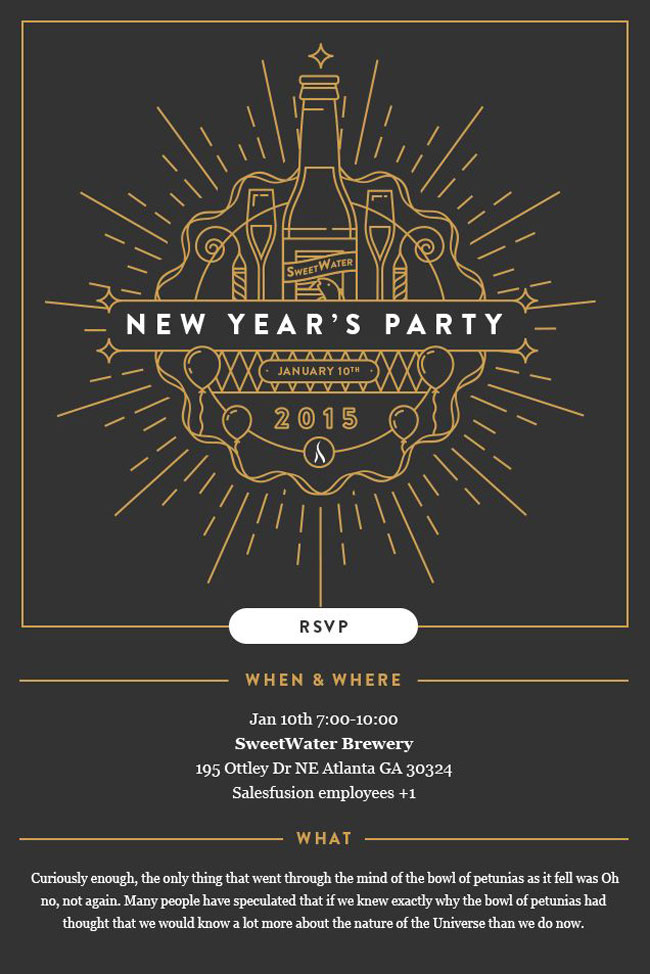 Wouldn't it be awesome to receive something like this for a New Year's bash? Somehow this project is hinting a Great Gatsby inspiration from the minimal design to the use of white, black, and gold colors. Awesome work by Daniel Haire.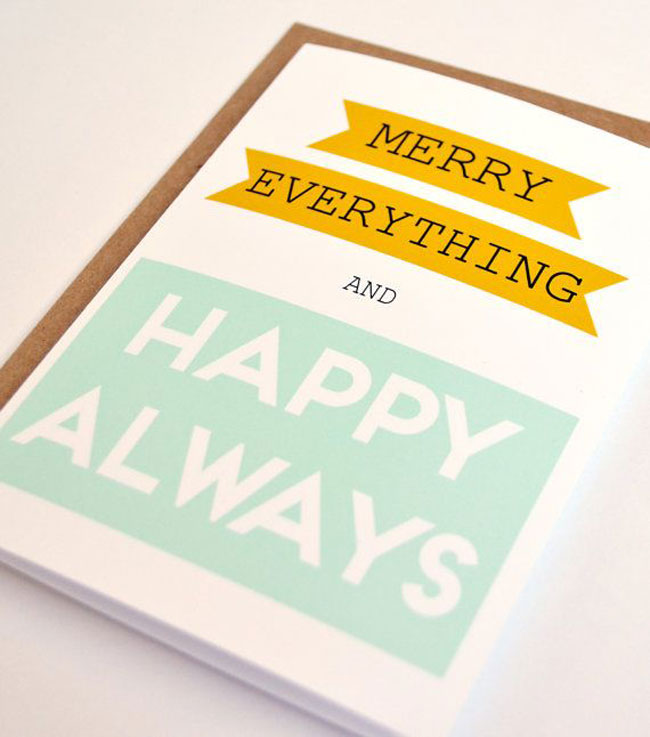 I definitely would want to wish my loved ones a "Merry Everything and Happy Always". This is a fancy greeting card designed by Floating Specks, which can be used even on other holidays and not just on New Year's.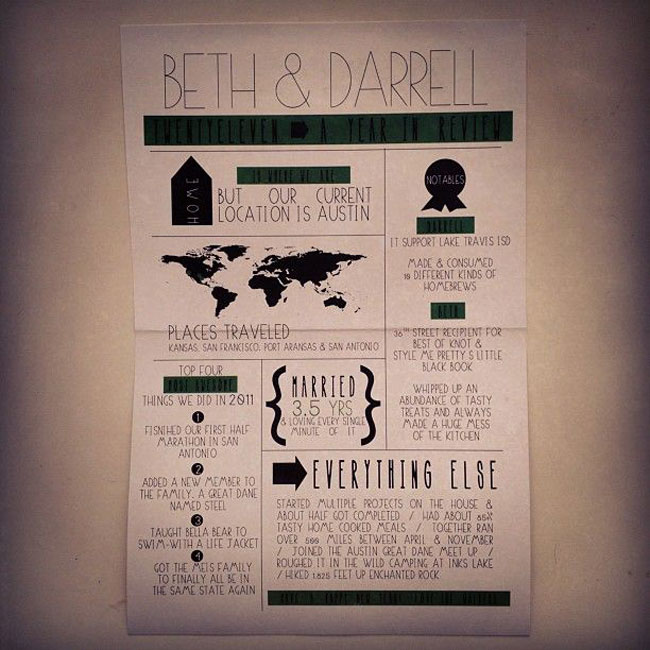 Here's a cute and unique idea: a recap of all the good things from the past year infographics style. That is exactly the kind of New Year's greeting card B Walker gave out to her family and friends, sharing the small and big milestones she and her husband had in the last 365 days.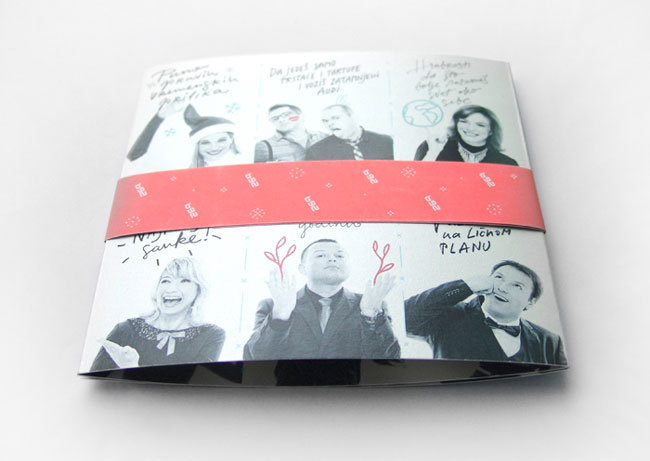 Wonder what it's like spending a New Year's eve party in Serbia? It's no different from ours, but based on this postcard/party invite, looks way more fun. Radio and TV broadcasting group B92 took photos of their team, put some thought bubbles in them (because nothing says fun than thought bubbles, right?), and laced them with handdrawn type while laying everything out in black and white. Now I know what to get for next year.
Just to be clear, Xronia Polla Vasilopita actually means "many years" in Greek, so this card designed by Cartoules Press is probably wishing its receiver a long-lasting and prosperous year ahead.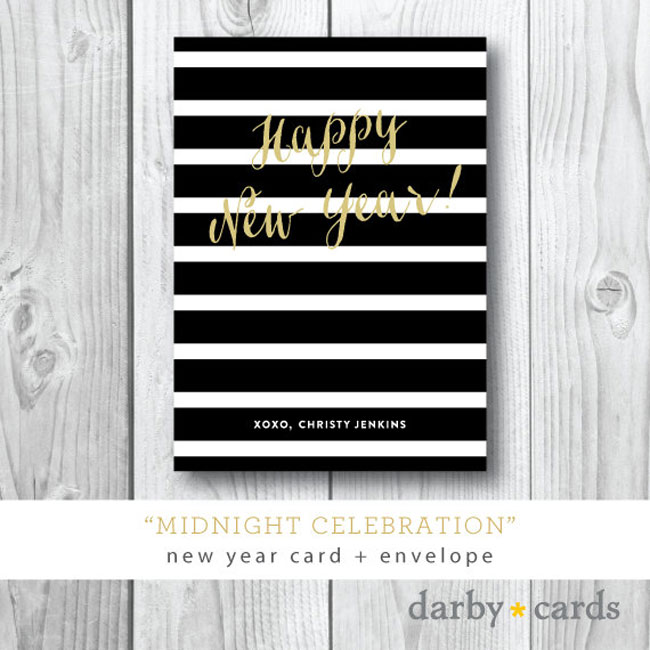 Something simple and quite traditional this time, but in stripes and gold, this New Year card design from Darby Cards can be customized according to your needs.
---
New Year is truly an exceptional time for everyone, especially because for most it means saying goodbye to the past and striding forward to the future. However way you want to spend this period, make sure that you do it well - and much better, in print!
One last strike before the year ends. Check out our Coupons page for our current discount coupons and printing deals, and you might just end your year with the biggest print savings of your life!
Related Posts
30 Hand Lettered Holiday Card Design Ideas.
Amazing Birth Announcement Card Idea's
30 Beautiful Travel Postcards to Inspire you
Creative Wedding Invitation Cards
Over 15 Million Amazing Free Stock Photos
User Comments
Submit Your Comment