30 Beautifully Hand Lettered Holiday Cards
Posted by Olivia dela Rosa on December 08, 2014
---
We are just a few weeks away from the most anticipated time of the year, and I can't help but gush over the festive (and also stressful) weeks ahead. We know that you already have been preparing your gifts, and to celebrate the spirit of Christmas why not send out your love to your guests by giving them a holiday card? A simple yet straightfoward letterpress card might just do the trick in giving a modern twist to this beloved tradition.
In preparing for the coming Christmas season, we have created a list of hand lettered holiday cards to remind you how beautiful this time is. This selection is carefully curated only from the best illustrators, calligraphers, and stationery design studios, and we have 30 holiday postcards and greeting cards tailored just for you. May your days be just as merry and bright as what we have in store for you on this post!
(We like making things easy for our readers. That's why on our Coupons page, Overnight Prints is offering 58% off on printing postcards. That's 58%! If that's not an excellent deal, I don't know what is.)
---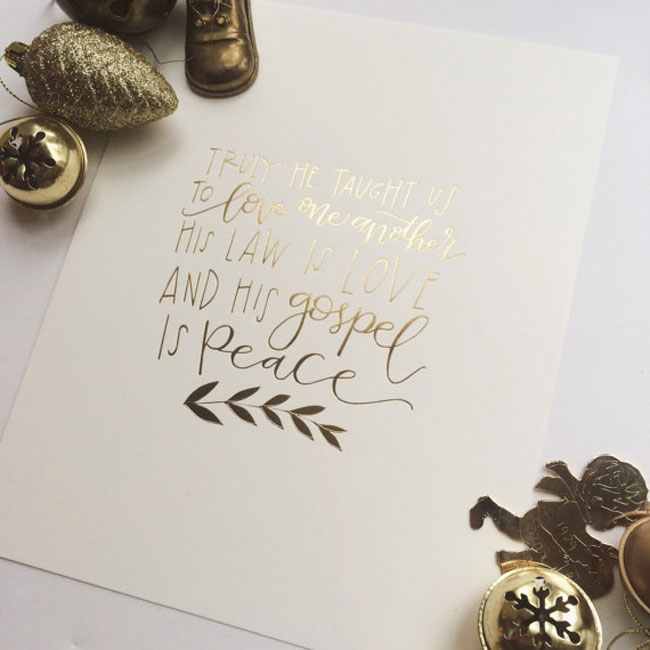 Brim Papery created this 8x10 gold foiled Christmas print that you can purchase via Etsy.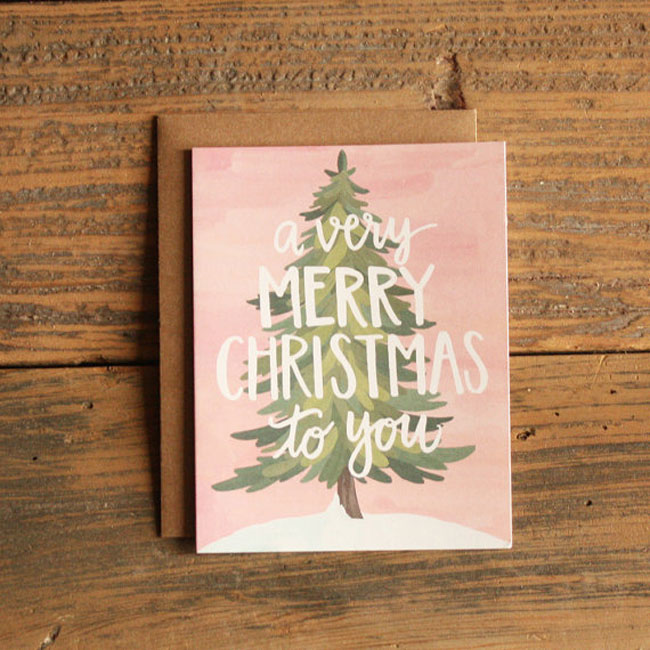 With this hand-drawn offset printed holiday card from from One Canoe Two, it is truly a very merry Christmas.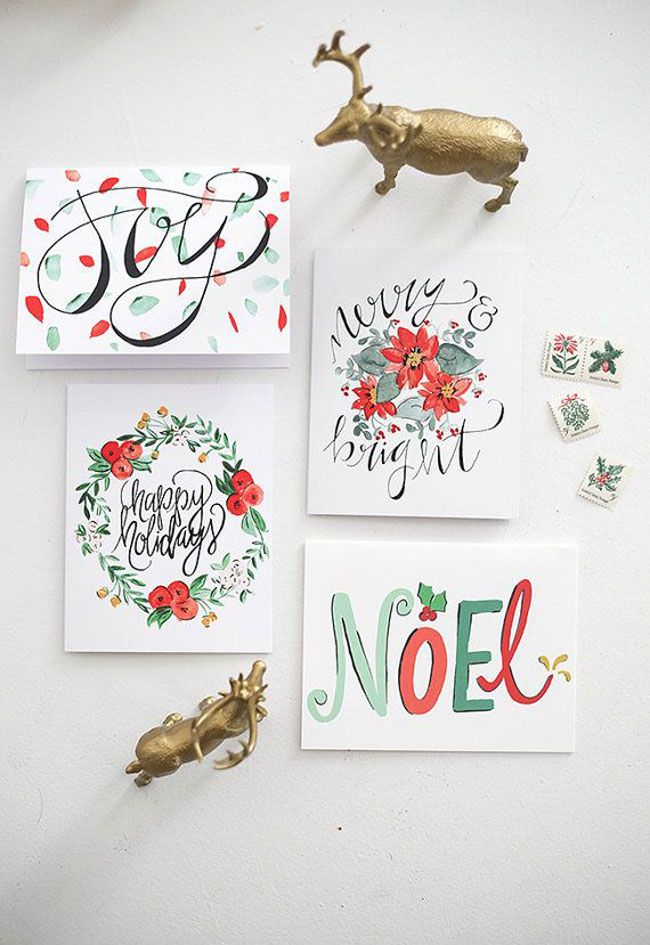 Watercolor illustrations brighten up holiday cards, like these ones from Shannon Kirsten.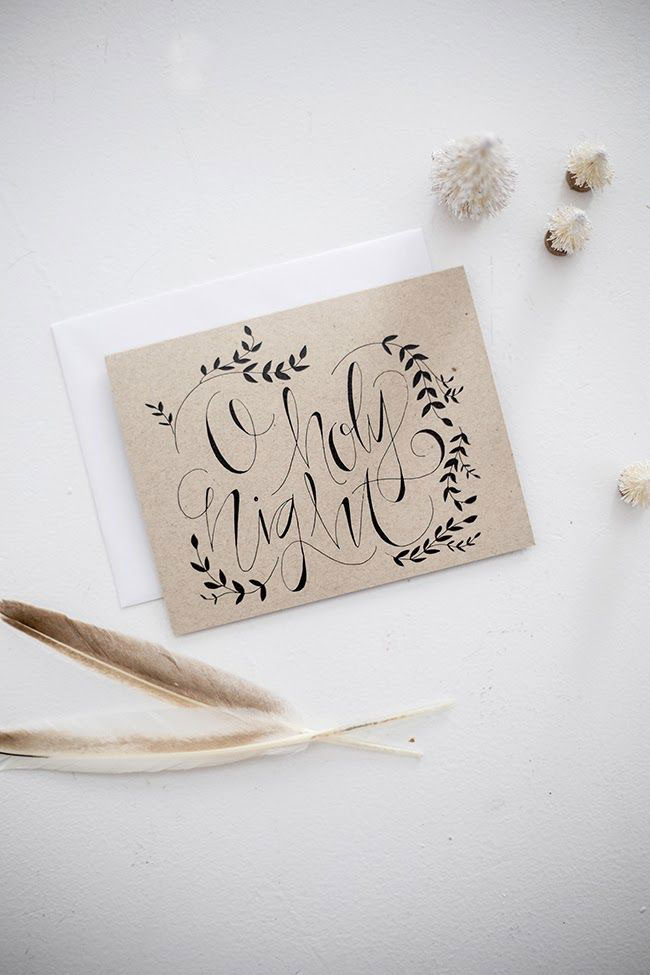 Another work from Shannon Kirsten showcasing her outstanding ink work.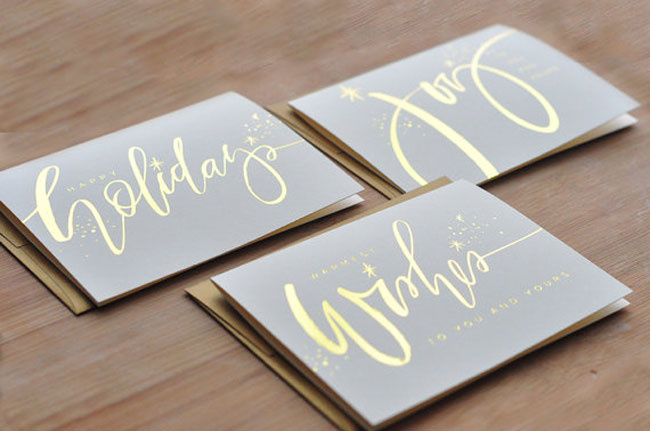 Elegant gold foiled calligraphy card set from Julie Song Ink from her Etsy store.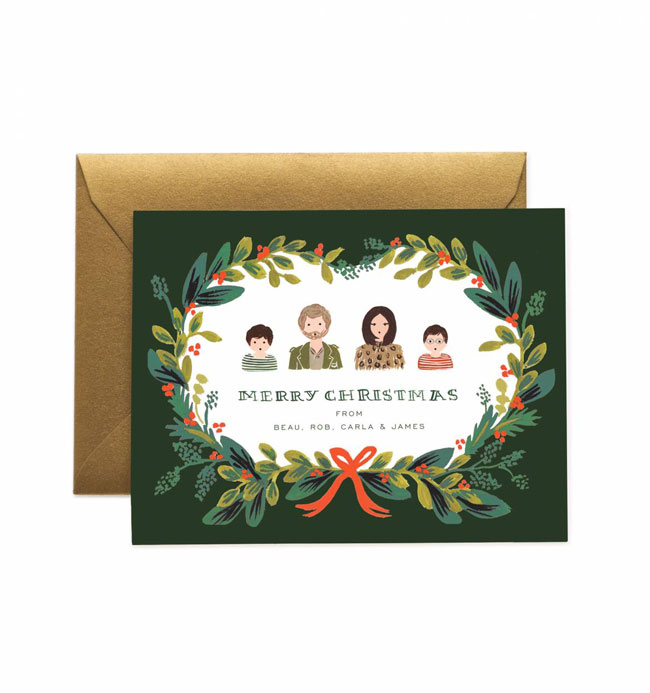 Rifle Paper Co. is a wonderful resource of all paper products, even custom-made holiday cards just like its Holly Wreath line.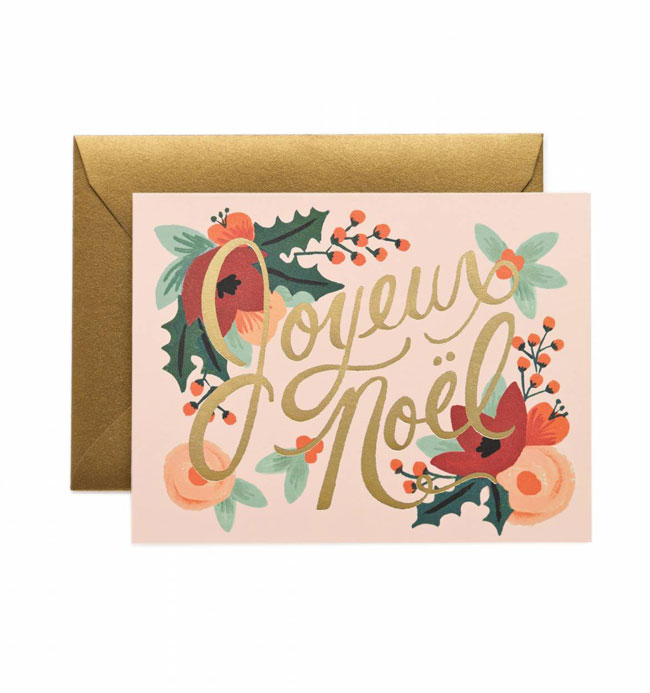 Rifle Paper Co. also features its trademark holiday greeting cards, and we're loving this blush and gold themed card set.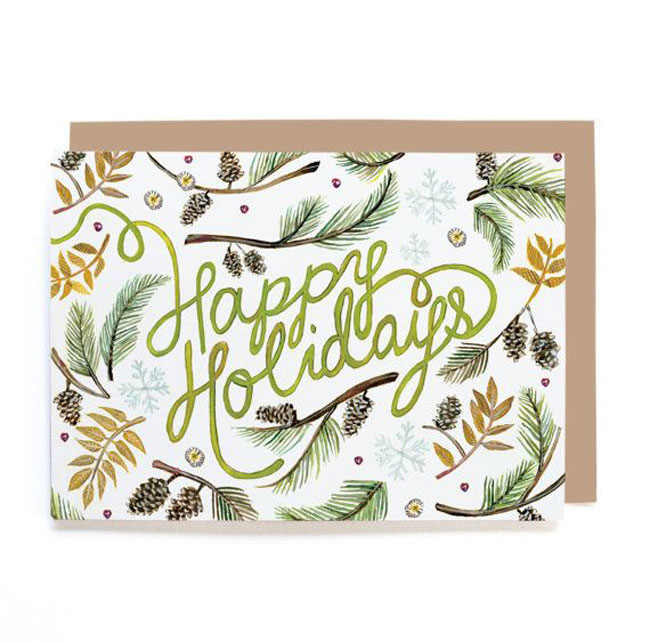 Corporate holiday cards don't need to be generic and dull. Lana Frankel can create beautiful and whimsical ones like this.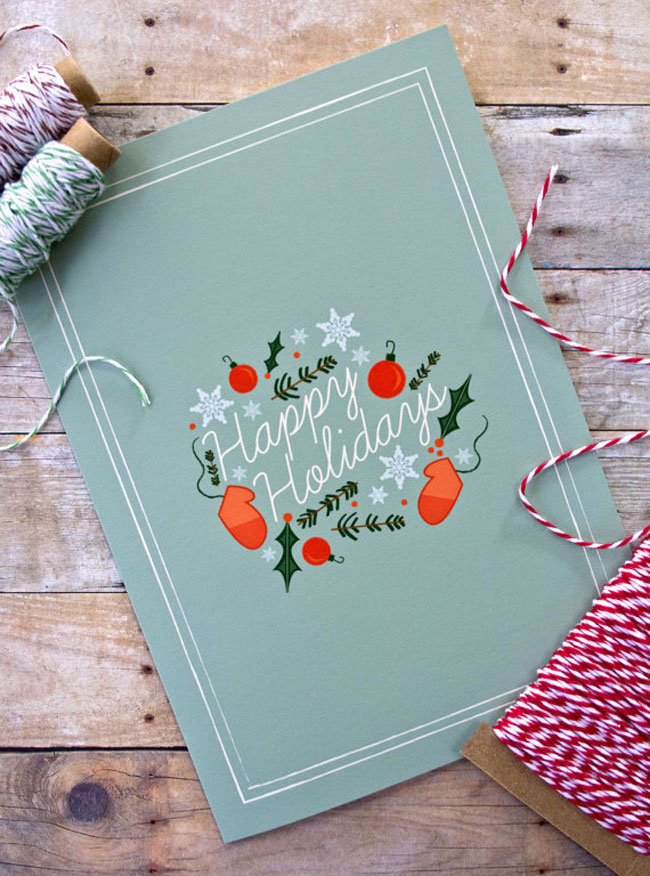 Looking for rustic, woodland themed holiday cards? Katie Crawford has a great selection of cards you can choose from.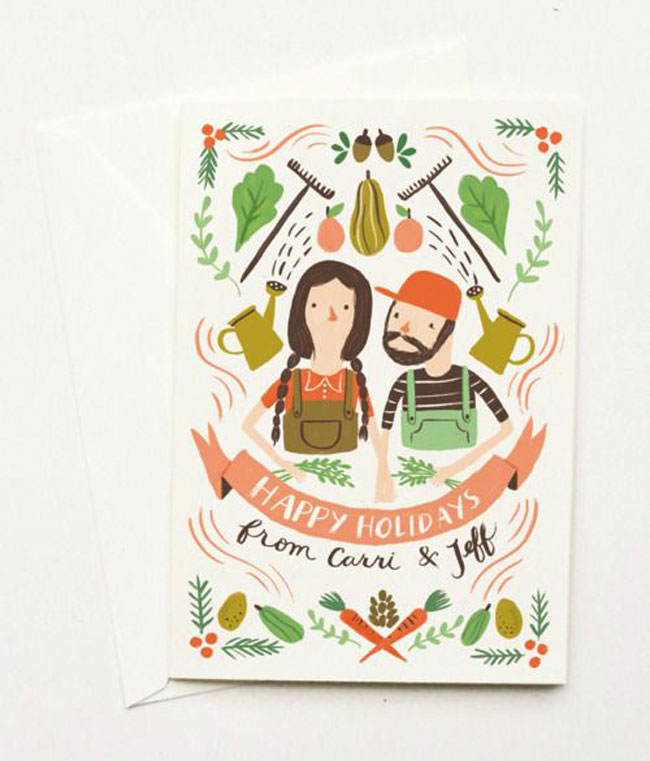 Hand lettered and drawn works are Quill and Fox's specialty, as shown in this customized holiday card they made.
---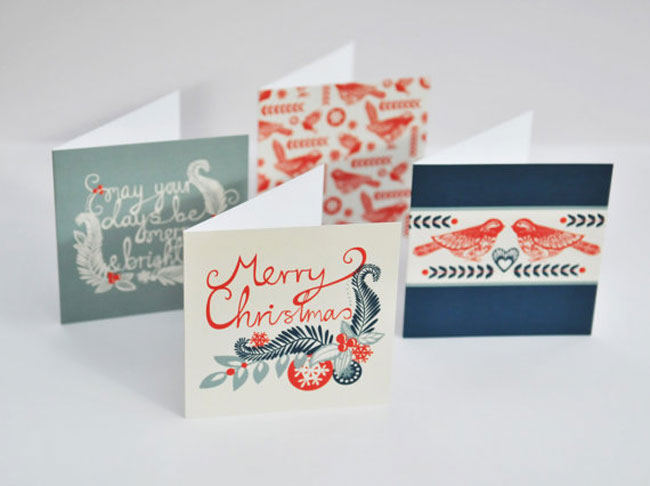 Folksy and festive, these cards from Emily Hogarth are perfect for the holiday season.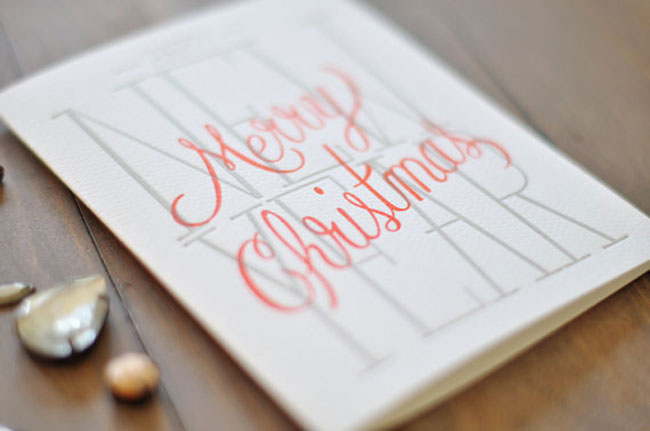 Wednesday Press came up with this lovely holiday card from their letterpress holiday selection.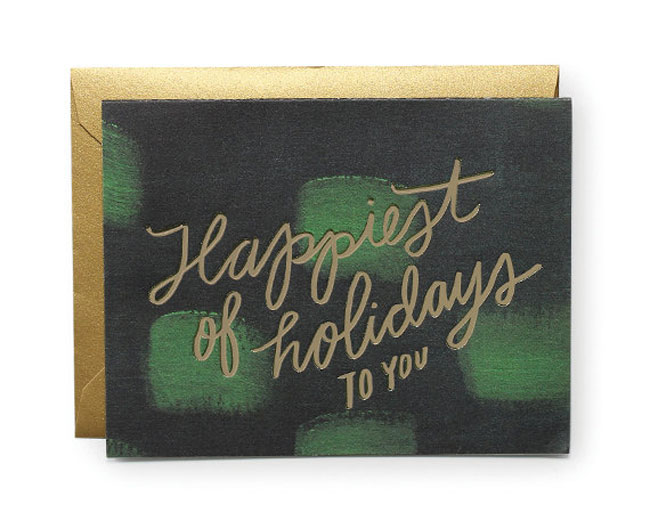 Gold foiled and flat printed holiday card from boutique letterpress studio Moglea.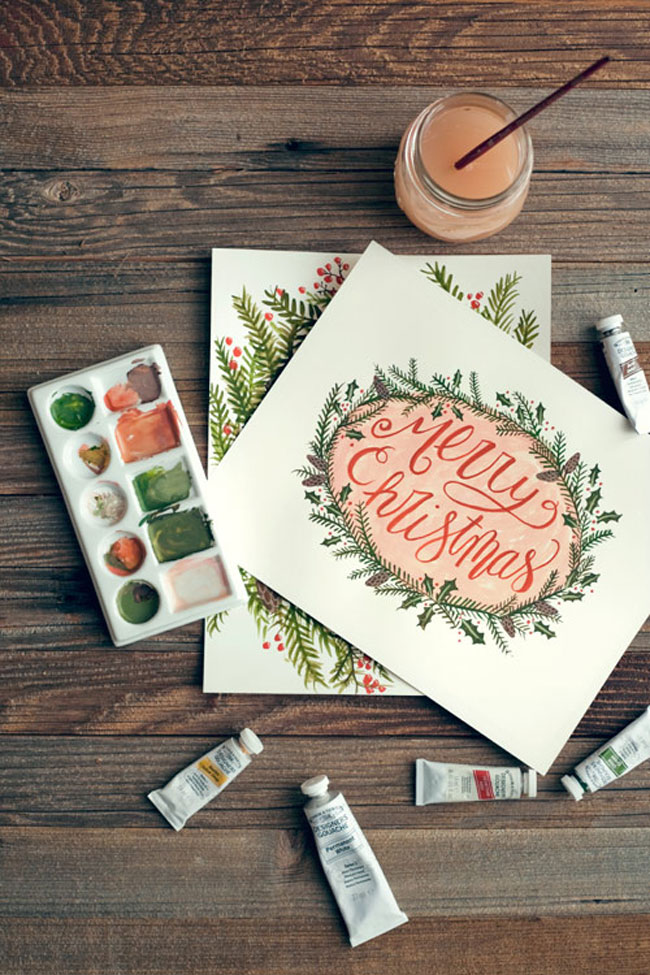 Have a gouache-laced Christmas with this Wit & Whistle holiday card.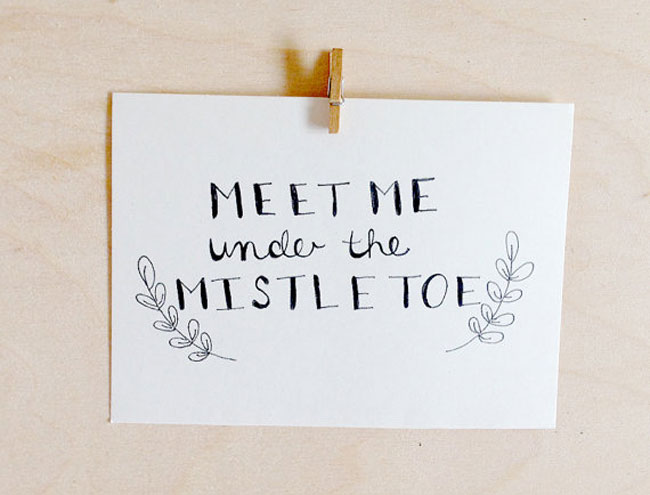 Perfect for couples: Meet Me Under The Mistle Toe holiday card from Fox & Wit.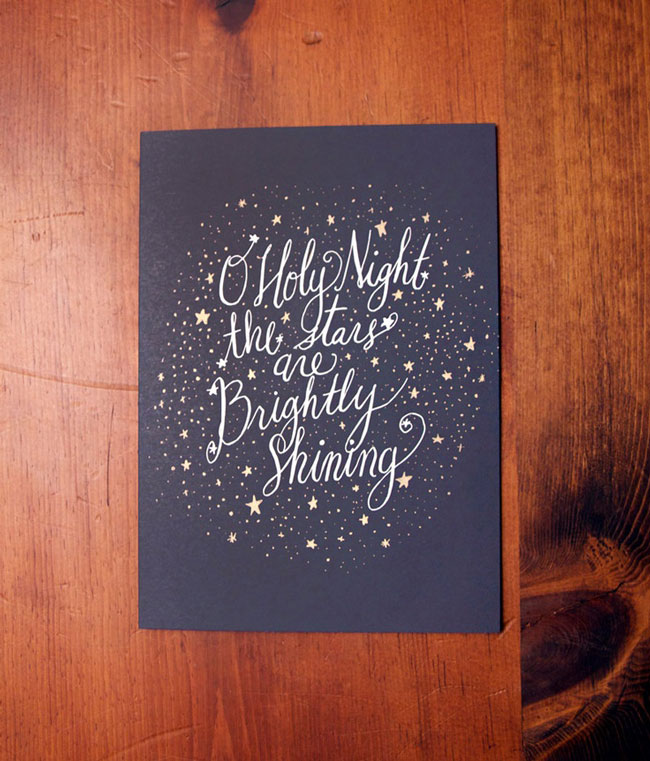 Fancy stuff from Thimble Press, like this Christmas-hymn inspired gold foiled holiday card printed in offset.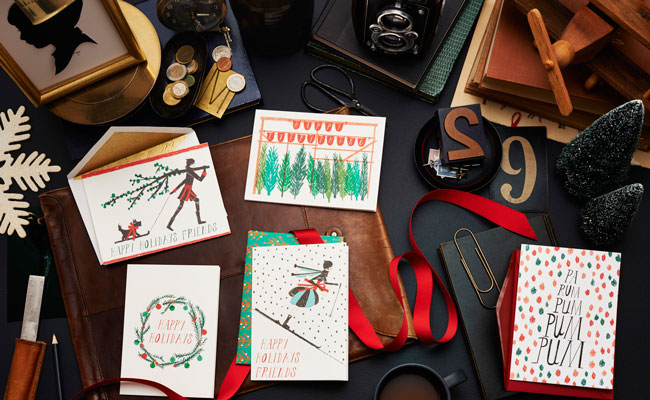 Pa rum pum pum pum: Hand-drawn types for holiday cards from Mr. Boddington's Studio.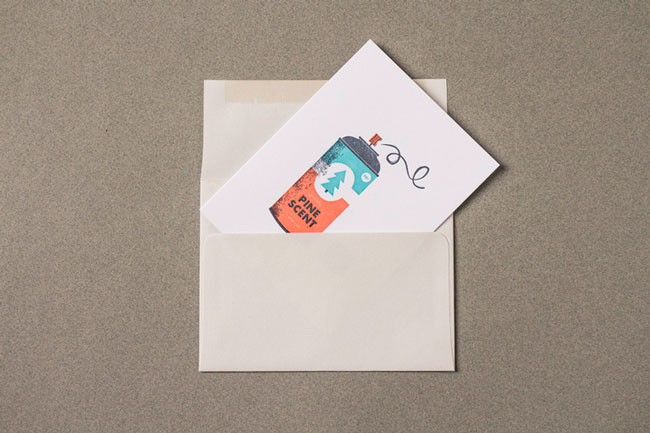 Illustrated "Pine Scent" holiday card from Everlovin' Press, coated with vellum finish and letterpressed to perfection.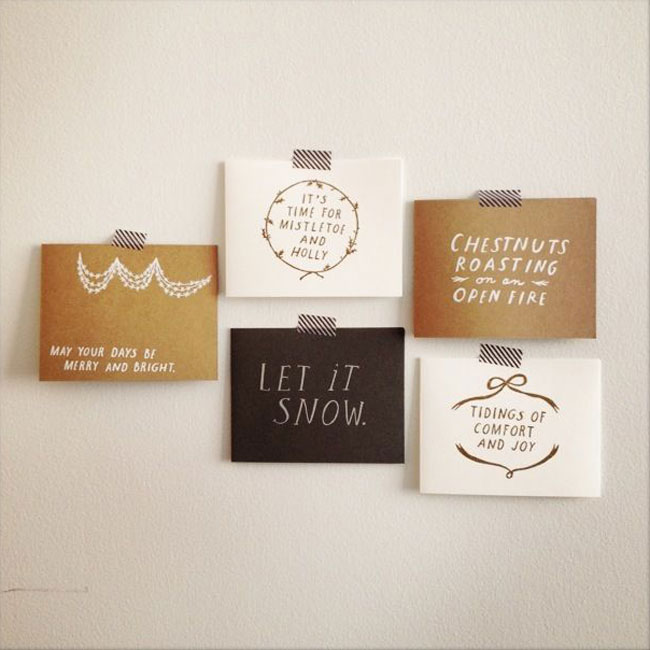 Shanna Murray created the illustrated decals adhered onto these Terrain holiday cards.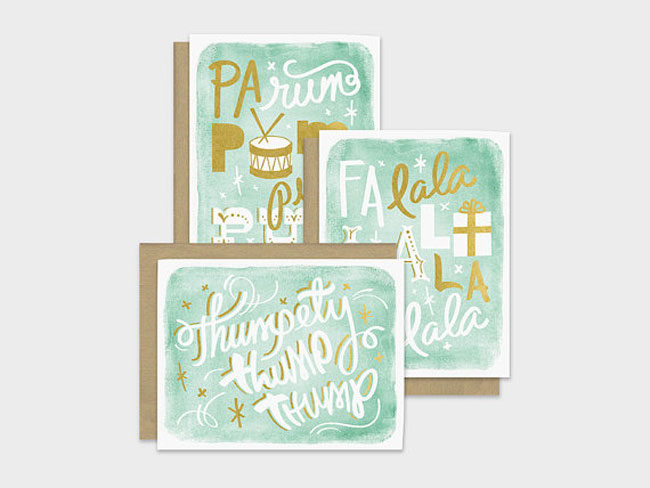 Mint, white, and gold themed holiday cards from Have and Hold studio.
---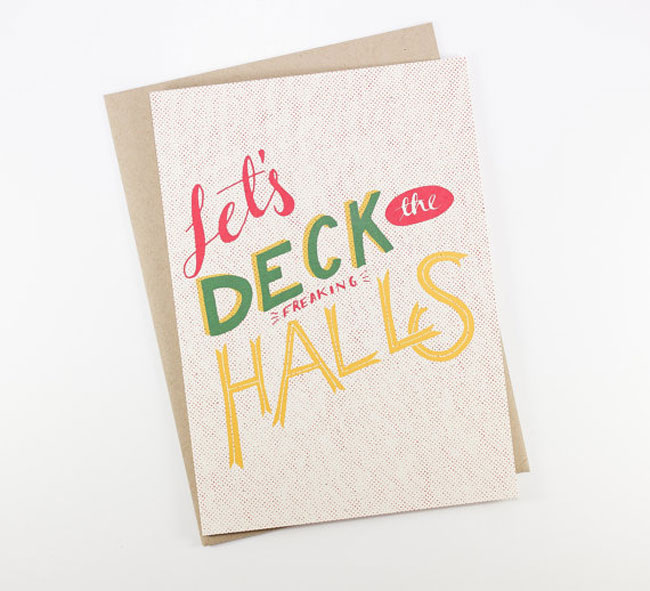 Deck the (freaking) halls this Christmas with this hand-drawn type holiday card from Sea and Lake.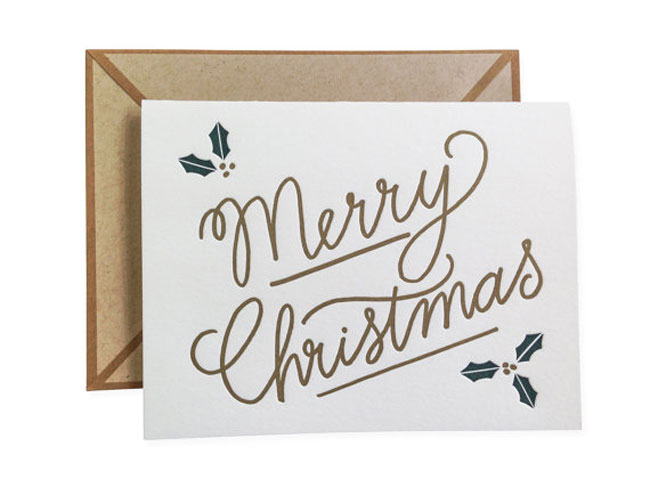 This simple yet very sophisticated hand lettered holiday card from Ink Meets Paper comes with an equally beautiful kraft envelope as well.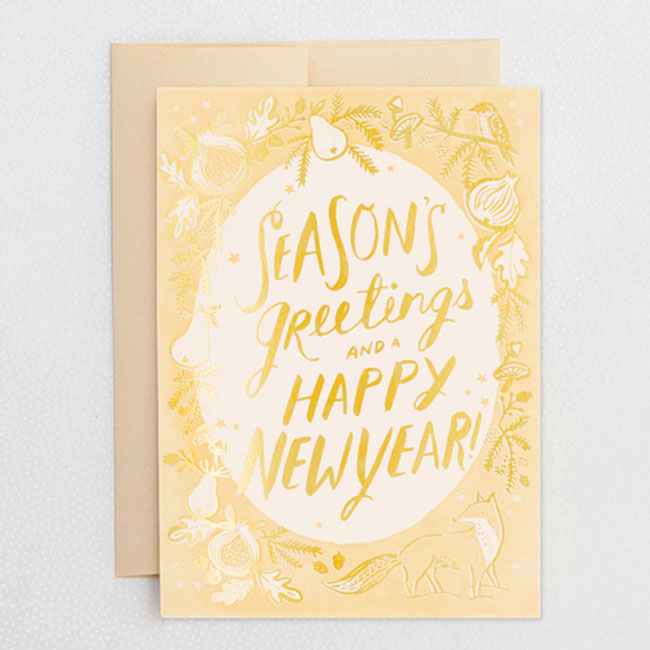 More gold foil for you this season! Harvest Wreath hand lettered holiday card from Hello! Lucky.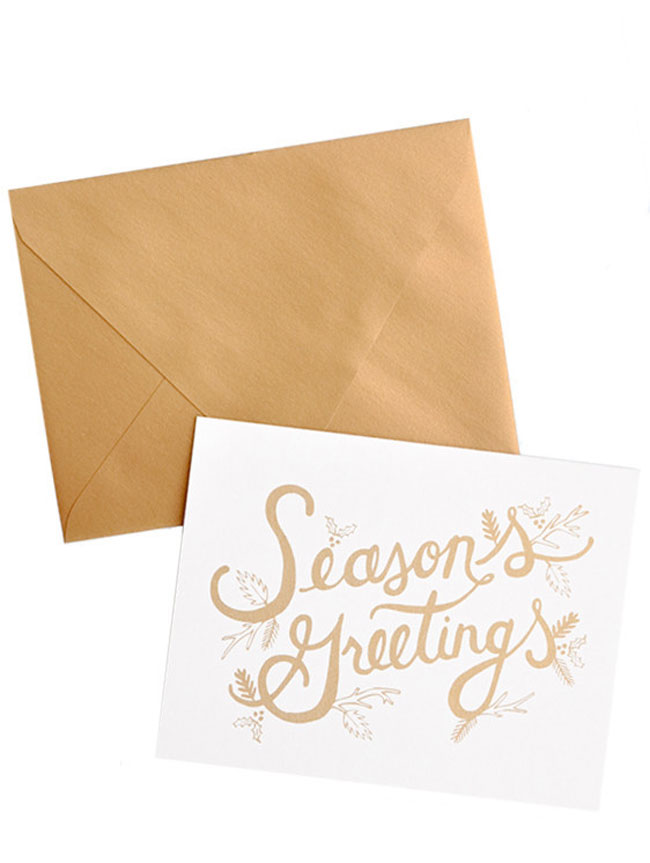 Greet your loved ones with glimmer and gold. Screenprinted season's greeting card from Leif, finished with metallic ink and contained inside a gold envelope.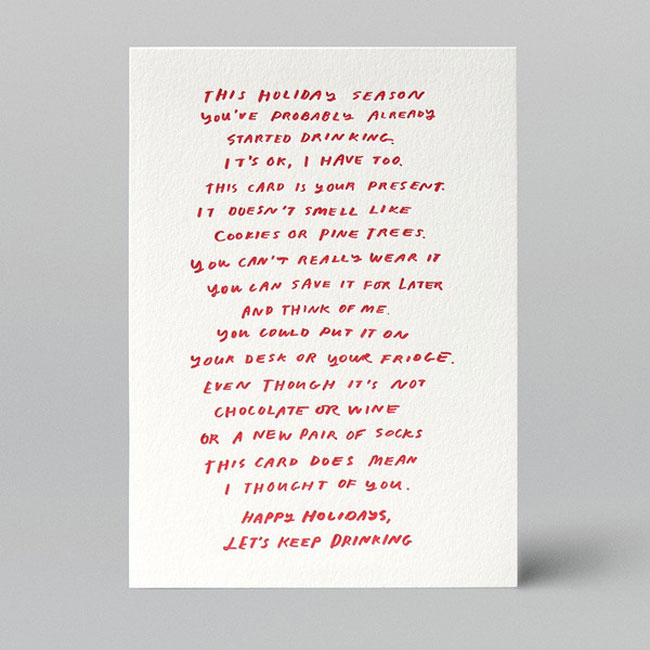 'Tis the season to be jolly and to indulge oneself in good wine. This card knows: Keep Drinking Card by W+K Goodness.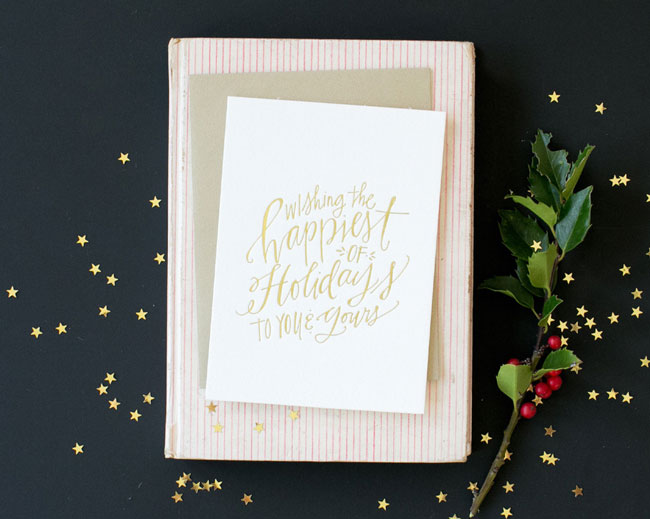 The happiest of the holidays deserves a greeting like this hand lettered white stock card by Lindsay Letters.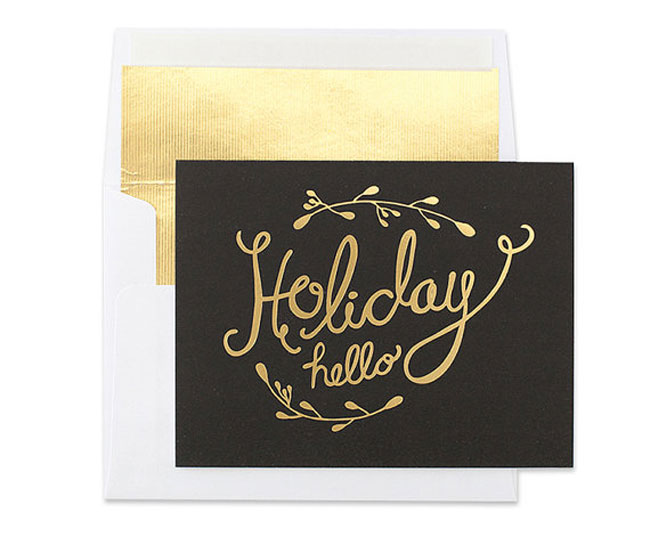 Your design-conscious friends would surely love the unique handdrawn type on this gold foiled holiday card by Lala Grace.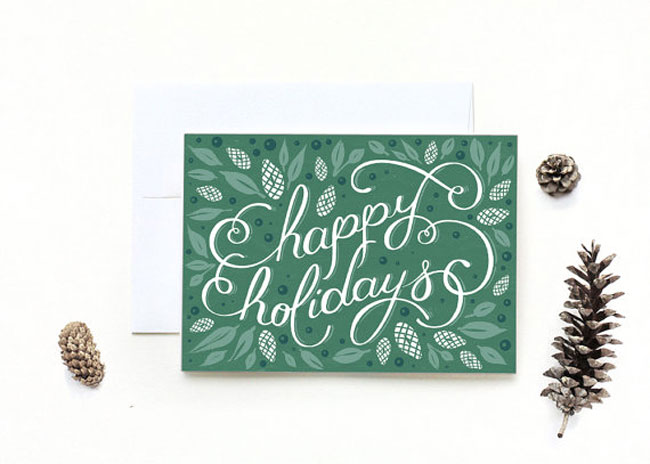 McManness Paper Goods' beautiful 10-piece set of calligraphy illustration holiday cards.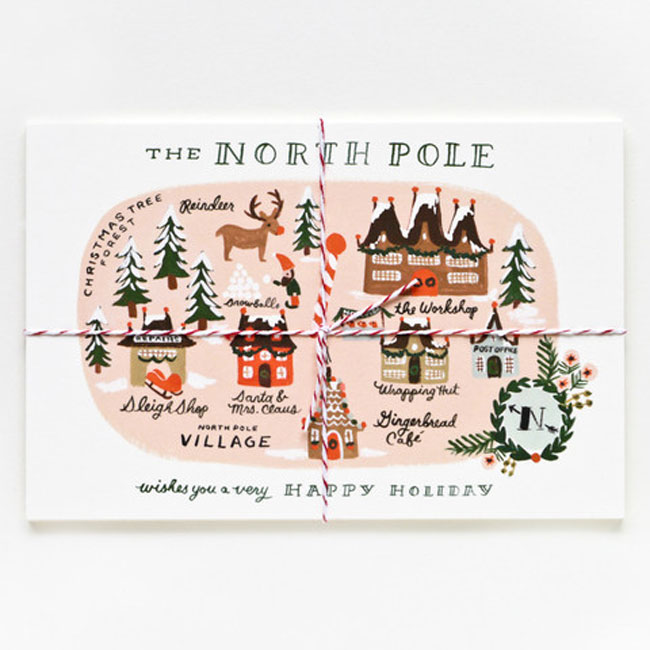 Your search for the most whimsical holiday card to give this Christmas is over, with this North Pole map postcard by Rifle Paper.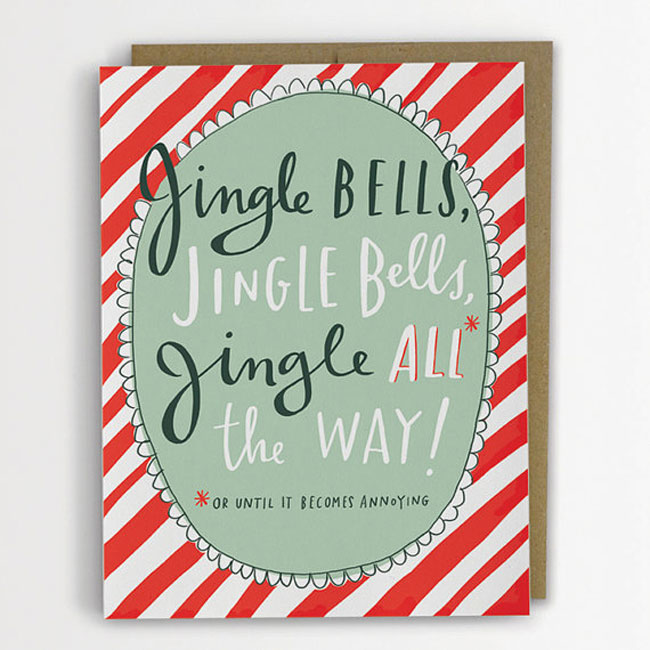 Inject just a tad bit of humor into your holiday card by sharing this hand lettered work by Emily McDowell.
---
Now that my cravings for creativity are satisfied, I am looking foward to satiate my other craving: my appetite for Christmas dinner. Happy holidays everyone!
This page needs your input. Share us your thoughts and comments (wishes?) on the comment box below!
Related Posts
12 Amazing Birth Announcement Card Ideas
Creative Wedding Invitation Ideas
30 Beautiful Travel Postcard Ideas
Fall in Love with Letterpress Printing
User Comments
Submit Your Comment